Sales Have Ended
Registrations are closed
Congratulations on holding yourself accountable. An email will be sent with the Zoom link the day of the meeting. Looking forward to meeting you. Crystal PS If you have any questions please give me a call 0413874034
Sales Have Ended
Registrations are closed
Congratulations on holding yourself accountable. An email will be sent with the Zoom link the day of the meeting. Looking forward to meeting you. Crystal PS If you have any questions please give me a call 0413874034
Accountability Group - Everyone needs accountability. Imagine having a group that holds you accountable to get things done weekly!
About this event
Accountability - refers to an obligation or willingness to accept responsibility for one's actions. ...
Do you need this? Have you been wanting to get things done but just end up not doing it for a variety of reasons. You need this group. We will hear what you want to do and achieve that week, ask a few questions, get your commitment and then all you have to do is do it.
When you have to report back the following week - it's amazing how you will do it and then this becomes your new habit.
Interested? Free - now you have no excuses not to get things done.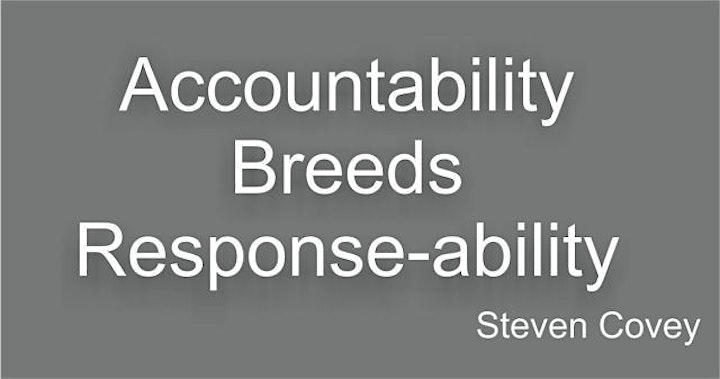 Organiser of Your Weekly Accountability Group (Free) 4pm start
Business owners often start their business with a vision of what their business will allow them to achieve in their personal lives. The day-to- day realities of running their business take over and they lose track of how their business should be aligned with achieving their personal vision of success.

If you are a business owner, ask yourself the following questions:
- Are you ready to take your business to an entirely new level?
- Who's in control – you or your business?
- How are you at balancing your business and personal lives?
- Do you need help seeing the opportunities available to you?
- Do you feel like you're fighting fires all alone?
- Where do you turn to for the truth about your business?

I own and operate The Alternative Board® (TAB) in Sydney - Northern Beaches (Pittwater).
I help forward-thinking business owners increase profitability and improve their lives by leveraging local business advisory boards, private business coaching and proprietary strategic
services.

If you'd like to learn more about our invitation-only membership model and how it may be able to help you with your business, let's connect and explore if I might be a fit for your business.

Crystal Petzer
Managing Director at The Alternative Board - Pittwater
☎ 0413874034
✉ crystal@thealternativeboard.com.au
http://www.thealternativeboard.com.au

Specialties: Small Business Coaching, Advisory Board Facilitation, Peer Boards, Business Growth Support, Strategic Business Growth, Business Coaching Sessions, Business and Personal Vision and Life Coaching