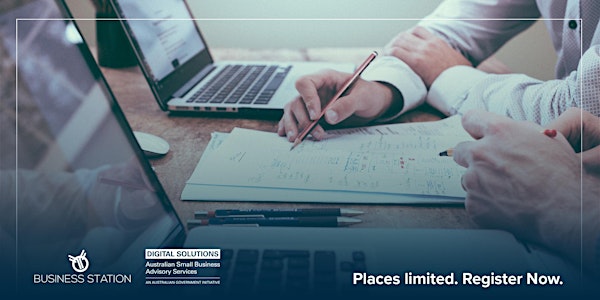 You want to quit your job and start a business? With Dante & Victoria [1OW]
Sales Have Ended
Registrations are closed
Thank you for your registration to our ASBAS Digital Solutions Event.
Sales Have Ended
Registrations are closed
Thank you for your registration to our ASBAS Digital Solutions Event.
A live, interactive session where the truth about starting a business will be shared and your questions will be answered
About this event
PLEASE NOTE: To register for this event you must be a business (0-19 employees)  and provide your ABN. 
This session will be recorded and sent to everyone who has registered. Register now!
Level : Beginner
Date/Time:
Monday, 7 February 2022
WA: 04:00 PM to 05:00 PM (AWST)
NT: 05:30 PM to 06:30 PM (ACST)
QLD: 06:00 PM to 07:00 PM (AEST)
You may have been considering it for years. Or it might just be that all these changes in life are making you nervous about being an employee. It might even be that your values don't align with those of your workplace.
Almost every single one of us who started our own businesses stood exactly where you are now.
You want to back yourself. You want to make the change. You want to take the big leap into the unknown. But you have a million questions and concerns.
How will I make money?
How will I find customers?
Is this even a good idea?
Will anyone buy what I'm selling?
How do I register a business?
What are the rules?
Is there any support?
Am I all on my own?
This live and interactive session starts with two of our advisors who have owned, and still run their own businesses. Dante St James & Victoria Yuen will explore these topics:
1. How to know if you are ready to start a business, and how it will impact your life
2. What kinds of businesses you can start with minimal investment or even do from home
3. The very basics you need to do to be legally registered to operate as a business
4. Where you can get help with starting and growing your business for free or at low cost.
And finally, it's all about your specific questions. We'll give you time after each part of this workshop to ask your questions about your particular circumstances.
This workshop is brought to you by Business Station and AusIndustry under the Digital Solutions Program.
ABOUT PRESENTER
Victoria Yuen
Victoria has been teaching small business owners how to use the power of social media to build their business for over 8 years. She previously owned and taught in her Yoga studio, ran a Fair Trade gift shop, book store, and owned and managed a Wellness Centre.
She has had multiple eCommerce stores and currently makes her own products and sells them on Amazon in the US and Australia. She is the author of 3 books on managing your stress and in her spare time, she is one of the facilitators for the Encore, a free breast cancer wellness exercise program.
Victoria's strength lies in taking overwhelm in finding social media and online marketing complicated and making it easy and manageable for any business to thrive.
With her extensive experience in business, eCommerce, and years teaching Digital Marketing, Victoria uses her Bachelor of Teaching and Cert IV in Small Business knowledge, to create workshops that make sense, are practical, are easy to follow, and put into place for your business.
Dante St James
Dante St James is one of Australia's most accredited and recognised digital skills trainers, having started coding his own games on a Commodore 64 in 1985, to building websites from 1996 and having worked in media, marketing and technology since then. Having seen the rise of the web, web 2.0, social media and now the beginnings of the metaverse, Dante has maintained a place at the forefront of technology for nearly four decades.
Now based in the Northern Territory, Dante has been recognised as a finalist for three years running in the NT Digital Excellence Awards, has been selected as one of five accredited trainers for Meta (Facebook) Australia, holds training contracts for Google's Digital Springboard program and working with the Australian Government's Digital Solutions and Entrepreneurship Facilitators programs.
Dante has accumulated 107 certifications in various technologies and business skills, which he sees as vital for the operation of his training and marketing agency, Clickstarter, and the growth of his mobile and NBN reseller business, Cellular One. In 2022, Dante has launched StartUp Territory, a pre-accelerator program for new businesses and the Marketing Institute of the Northern Territory.
#startup #newbusiness #thegreatresignation
About Digital Solutions - Australian Small Business Advisory Services
Digital Solutions is one of the most generously supported digital transformation programs for small business by the Commonwealth Government. This iteration of the program has been run by Business Station in QLD, WA and NT for three years and has had a significant positive impact on the small business community.
This event will give you the chance to learn about the details of the program, what's on offer and who can access the free or highly subsidised support, training and resources! Perhaps you will find them beneficial for yourselves, your network or your clients.
To better understand what's on offer, we will encourage each attendee to register themselves to the program before the event, or otherwise by attending this workshop, you will be registered.
Important – Participating businesses must be aware that this information will be provided to the Commonwealth Department of Industry, Science, Energy and Resources for program evaluation and reporting purposes; and businesses may be approached by a representative from the Department to complete a survey on the services provided.