You Are Not Your Brain: Virtual Masterclass Series

Tuesday, 3 November 2015 at 6:30 pm

-

Tuesday, 8 December 2015 at 7:30 pm (Pacific Standard Time)
Event Details
Develop new techniques for taking control of your brain, changing bad habits & ending unhealthy thinking in this five week masterclass with two world-leading authorities in coaching and neuroscience. 
Do you ever feel as if you:
Over-think problems or worry about things that are out of your control?

Place unrealistically high expectations on yourself?

Get stuck or panicked because of fear and worries? 

Blame and beat up on yourself? 

Engage in unhealthy behaviors to escape life's daily stresses? 

Act against your overall best interest?
You most likely answered 'yes' to one or more of these. We all do periodically. One thing is clear: when we do experience these things, we don't like it and we wish we could change it.
The great news is - you can!
In the You Are Not Your Brain Virtual Masterclass Series you will learn Dr Schwartz's revolutionary 4-step solution and develop new mindfulness techniques for taking control of your brain.
Say goodbye to all the negative self talk and deceptive brain messages and hello to increased productivity, confidence, performance and happiness! 
Watch the workshop promo video
(opens in a new window)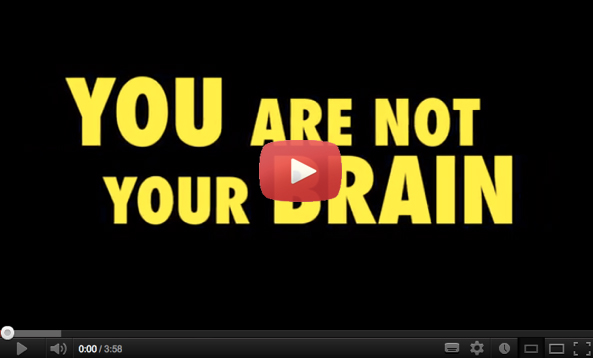 In this program you'll explore each of the four steps in depth:
RELABEL: Learn how to identify deceptive brain messages (unhealthy thoughts) as they happen
REFRAME: Learn how to change your perception on the importance of these thoughts (it's not ME, it's my BRAIN!)
REFOCUS: Learn techniques for shifting your attention to something that is positive, healthy and beneficial to you.
REVALUE: Learn the importance of truly understanding and believing that deceptive brain messages are not real, and have little to no value to you in your life.  
These 4-steps were developed by Dr Schwartz initially in his work with OCD patients and have since been adopted by millions of health practitioners in their work and people in their lives through Dr Schwartz's best sellers 'You Are NOT Your Brain' and 'Brain Lock'.
Why you should not miss this masterclass:
This is a unique opportunity to spend six weeks learning from and having exclusive access to two of the world's leading authorities in neuroscience and coaching!

Connect with like-minded people in your class and learn from one another to enhance the impact the program has on your everyday life!

Bring the theory of the book to life and learn practical, new techniques for maximizing your productivity and performance everyday!

And at a price like this, you'd be crazy not to!
This class commences on Tuesday November 3, 2015 at 6:30pm US Pacific time.
In other parts of the world the class will take place at:
Tuesday November 3, 2015 at 9:30pm US Eastern time

Wednesday November 4, 2015 at 1:30pm for those from NSW or VIC in Australia

Wednesday November 4, 2015 at 12:30pm for those from QLD in Australia

Wednesday November 4, 2015 at 3:30pm for those from New Zealand

Wednesday November 4, 2015 at 10:30am for those from Singapore

Wednesday November 4, 2015 at 2:30am for those from the UK
This masterclass WILL sell out.
Register now to secure your place!
 If you are a coach and wish to gain CCEU credits for your coaching accreditation you must submit weekly homework actions. 

PLEASE NOTE: if you suffer from serious or severe OCD issues, this masterclass is not suitable for you. We reserve the right to reject your application to attend this masterclass. In the event of this happening, you will be fully refunded. 
For those suffering from severe issues, we recommend seeking the help of a psychiatrist or therapist who will be better able to help you.

See 

http://ocduk.org/  or http://www.ocdla.com/ for further information.
When & Where

Online Event - available to anyone all over the world
I
Los Angeles, CA


Tuesday, 3 November 2015 at 6:30 pm

-

Tuesday, 8 December 2015 at 7:30 pm (Pacific Standard Time)
Add to my calendar
Organiser
Jeffrey M. Schwartz, M.D. is one of the world's leading authorities on OCD and neuroplasticity and was the co-founder of the entire neuroleadership field. 
Josie Thomson is an executive coach, international speaker, trainer and seminar leader. An expert in her field Josephine is one of the few internationally certified master coaches in Australia (MCC). She has been awarded Coach of the Year for three consecutive years, the International Gold Stevie Award for Maverick of the Year 2014, and Telstra Business Woman of the Year State Finalist.