Location
Pertaringa
327 Hunt Road
McLaren Vale, SA 5171
Australia
Roaming Zen & Bec Hardy Wines invite you to a yoga & bubbles picnic. Enjoy a fabulous Spring Sunday morning in Mclaren Vale!
About this event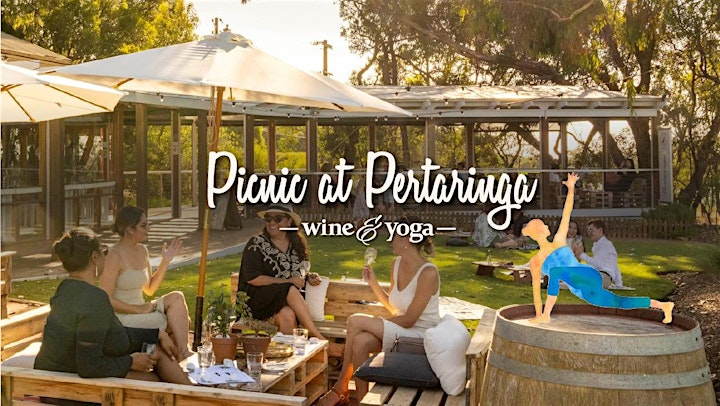 Roaming Zen and Pertaringa Bec Hardy Wines have come together to share the delicacies of this beautiful bespoke vineyard in Mclaren Vale
Enjoy a morning of Yoga overlooking the vineyard and views with Jen Roaming Zen and after together enjoy a yogi's picnic morning tea, tasting & bubbles on the lawns.
The first female vigneron in one of SA oldest wine family's Hardys, Bec's wines are elegant, sprightly & refined. Growing up with years of wine heritage, Bec's passion for wine, the land & producing a quality product are second to none.
Pertaringa Cellar door celebrate's 40 years this year, so it couldn't be a more perfect time to experience Pertaringa and their fabulous wines.
What to bring?
BYO Mat, Blankets & any other props that make your Yoga special for you - blankets & layers
Experience is $75 for the morning!
Look forward to practising with you & sharing this wonderful bespoke vineyard with you !
Jen x
About Pertaringa & Bec Hardy
Established in 2015, Bec Hardy Wines is a family-owned wine business based in McLaren Vale, South Australia. Bec is a 6th generation member of and the first female vigneron from one of Australia's oldest wine families, the Hardys.
The Hardy name has been synonymous with South Australian wine since the 1850s and Bec Hardy continues that tradition, building on the experience and reputation of her predecessors with a modern twist on 170 years of winemaking heritage. Bec's family has been tending vineyards in the premium maritime region of McLaren Vale since the her great-great-great grandfather, Thomas Hardy, arrived from the UK in 1850. Thomas was the region's first settler and is widely regarded as the father of the South Australian wine industry.
Just like her father Geoff left the family company in 1980, Bec is now making her own way in the Australian wine world with Bec Hardy Wines. In 2020, Bec acquired the 40-year old Pertaringa brand from her father Geoff and brought it under her Bec Hardy Wines portfolio.
Despite the challenges of 2020, the Bec Hardy Wines team was very excited to be recognised by Austrade for excellence in exporting at the Australian Export & Investment Awards.