About this Event
We will divide the day into three sections:
+ A tantra yoga practice with Nina
+ A creative masterclass with Patty
+ A sound journey with Karina
You will leave feeling centred, clear, empowered & connected to your fullest potential.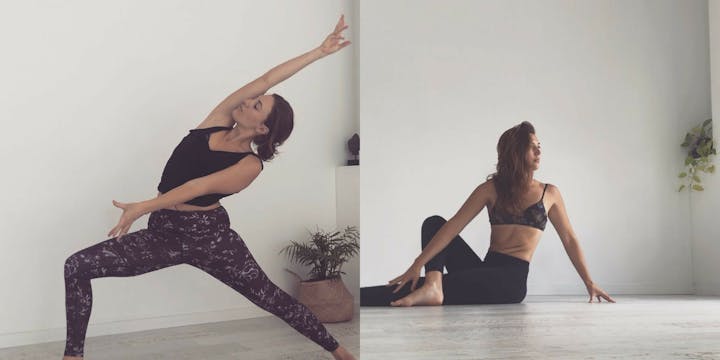 Section #1: A tantra yoga practice with Nina
With the intention of slowing down, connecting to your prana/energy and mastering grounding presence using pranayama techniques, kriya meditation & mantras.
Move through a specially crafted energetic/pranic based sequence, inviting more grounding into your body, calming and stilling the mind through the physical practice & enlivening the energy centres through awareness and activation of bandhas. This traditional tantra hatha practice will aim to leave you in a deep state of connection through mantra and powerful kriya meditation.
Meet Nina
Nina's passion for yoga keeps growing as she loves to take students on a journey of self-discovery.
Through her own experience she knows how connected and centred yoga can make you feel, and she wants to help others experience the same.
At her most recent yoga training she discovered the deeper power of Tantra based yoga, where she fell in love with kriya meditations, specially crafted yoga sequencing, and guided pranayama practices.
Nina sees this sacred practice to be not just a physical one, but a way of delving into a spiritual sense of connection, where by you learn and grow from each experience you move through.
She has a kind & caring approach, supporting and guiding you through your practice.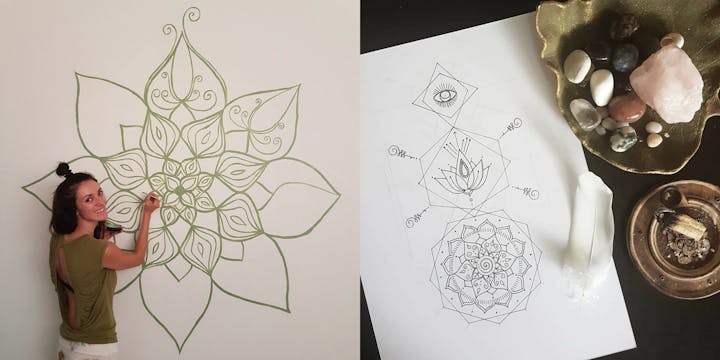 Section #2: A creative masterclass with Patty
This creative masterclass involves sacred geometry & mandalas. This section is all about creating with intention, letting go of limiting beliefs & discovering your inner potential.
We will begin the creative process with a guided meditation. Getting really clear with intention, affirmations and individual mantras whilst creating mandala and sacred geometry. Reinforcing your new positive affirmation.
Meet Patty
Patty is a certified yoga teacher & artist on a journey of continuous self-discovering and growth. Her biggest passion & purpose is to inspire others to live an intentional life: she believes that we are all creative beings who have forgotten about it, and that by tapping into that unexplored energy we can empower ourselves to step into our full potential and create the life we dream of.
She shares her believes and tools through her yoga and art workshops by exploring creativity, limiting beliefs and the power of create with intention.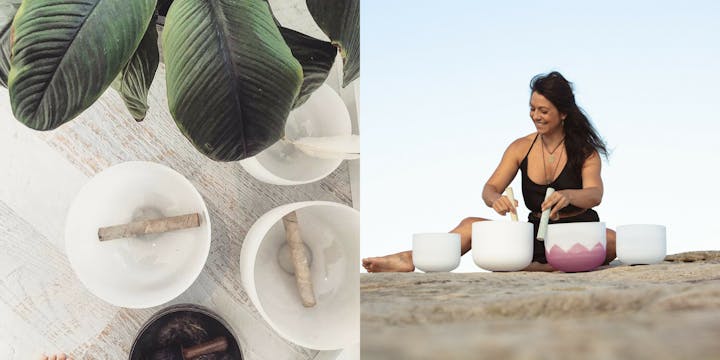 Section #3: A sound journey with Karina
To finish the retreat Karina will be taking you through a vibrational journey to the main centres of the body including a sound healing with crystal bowls and channelled vocals.
Through embodiment practices & some free movement, you will learn to create sound from the three major centres of the body through chanting Aum (Om).
You will then rest into space and bliss with sound meditation.
Meet Karina
Karina's passion lies in sharing the incredible benefits of vibrational meditation and healing using crystal bowls and her powerful voice. Her voice has been described as "strong, feminine and powerful" and "Sends waves of shivers over the body." She believes the process of letting go is not limited to the mind, and that the most effective forms of release and healing occur when the body and mind are addressed as a union.
Karina is a sound healer, yoga teacher, mentor, she teaches vocal activation and Sound Bowl Meditation, Yoga Teacher Mentor, is a Theta Healer and conducts sessions 1-1 around Sydney and online. You can read more about Karina at her website https://theyogamovement.com.au/ or on Instagram at @karina.pupo.yoga
Cancellation Policy
In the event that you are unable to attend the event, we require a minimum of 24 hours notice for cancellations. In such case, a credit note will be held on your account. We do not offer refunds. Late cancellations and no-shows incur full fee. Fully booked/sold out workshops will only be credited if the place can be transferred to another student.