This 6 week investment of your time will see you leaving the studio with a fat smile on your face each week!
About this event
This 6 week investment of your time will see you leaving the studio with a fat smile on your face each week. Do we need to explain the benefits of yoga to you, or have you heard or read about the amazing benefits already?
In this super charged and fast paced time, it is becoming vital to nurture the health of your mind. Yoga does just that but with the added bonus of getting strong, flexible, fit and well balanced all around.
"It's just a shame I didn't start sooner, I had no idea I could feel this good!", one of our Beginners yoga students said. If you want to feel good, then you fit right in with this yoga course for beginners:
This course will consist of:
Introduction Theory: The 8 Limbs of Yoga
Breathing Techniques (Pranayama)- how to shift from stress to calm
Sun Salutations postures - move your whole body
Standing Balancing postures - feel calm & confident!
Floor Postures - for healthy spines and super strong long legs!
By joining this 6 week course you will learn how various stretching poses translate to your body. For example, if you're as flexible as a bar fridge (Ouch...), well, your teacher will show you how you can use various props to bend yourself into shape without hurting yourself. As little as just once per week of practice and you will notice a huge difference.
Tom, one of our members came to our studio feeling tight and inflexible. He had never been able to touch his toes. After 6 weeks of practice at least twice a week he can now touch the floor (to his mother's astonishment, we've been told!!!). If Tom can do it, so can you.
Many of our students notice that they:
sleep better at night
stop having sore backs
feel lighter and in a better mood
stop stressing and smile more
feel more open and at ease
feel better in their own skin
start loving and accepting themselves and beat themselves up less
get better core strength and taller posture
have more focus at work
have less pain from long term injuries
You will also notice yourself getting stronger and more mobile. "I feel stronger now than when I used to pump the weights in the gym, it's amazing"... one of our students and an ex-gym junkie confessed to the studio. She is now hooked to yoga and hasn't looked back.
For the gym geeks; getting more flexible muscles gives you longer range of movement, longer range gives you more power. So it's not a surprise that our new yogis feel amazed at their new gained strength and mobility after just a few classes. You will be amazed too. Pinky promise!
Each week our experienced teachers will be teaching you some new basics of yoga. Week two will build on week 1, and from there you will progress from Yoga "nube" to Yoga confident. Each class is 1 hour and 30 minutes long and while your teachers have their own individual style & personality you will get a chance to experience how varied yoga can be. You fit right in.
Are you ready to take the step? Well... it is not uncommon to feel a little shaky before starting your first class with us, but just check our Facebook reviews and you will find that almost everyone writes about the warm welcome they receive. You will, too. Just do it. This is the best decision you will ever make.
Your investment:
Members & Intro offer members: $100
General admission: $180
Early bird (up to 1 week prior to start) $159
This course includes our 1 month intro offer: a whole month of trying unlimited classes from our timetable for $69
No refunds on missed classes, but credit can be given for extraordinary circumstances.
Book your spot today, as numbers are strictly capped.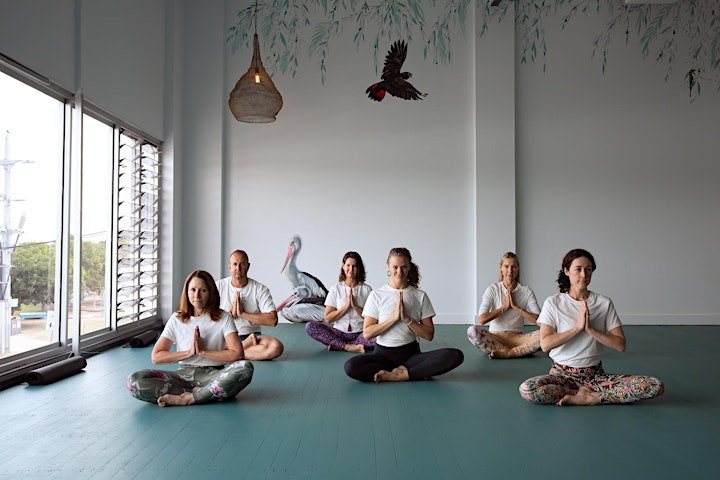 Organiser of Yoga Basics course
With so many extra events and courses offered by Forster Yoga Studio, here is an overview of all that is being offered:
Beginners Yoga, Meditation, Women's and Men's Circles are regular offerings, while workshops with master teachers are offered on a at needs basis. Music events such as Mindful Dance classes, Kirtan and Sound Healing will also be listed here. Look out for community events that are free, but are offered to connect our community and help heal the world one laughter at a time, one hug at a time.