Year of the Dees! The 2021 Premiership Show at Shoppingtown Hotel!
Oliver, Petracca, Gawn & Goodwin LIVE for the 2021 Premiership Show at Shoppingtown Hotel, Doncaster!
About this event
Shoppingtown Hotel presents without a doubt the greatest Dees Fans experience imaginable.....
The 2021 Premiership Show featuring Petracca, Oliver, Goody, Gawn all live, for ONE NIGHT ONLY & a show that will blow your mind!
Dees Fans, this is decades in the making! The Mighty Dees - and the main men behind them - together for one show only! All the stories, laughter & secrets, behind one of the greatest football journeys of our time.
You won't see or hear this anywhere else!
Plus! Your opportunity for an exclusive pic with the premiership coach and players!
February 17, Shoppingtown Hotel
General Admission - $69* Show Only!
Add a Photo Package: Professional picture with Petracca, Oliver, Goody, Gawn - only $125* (2 people can share this experience)(Each person must have a general admission ticket)
Please note: Terms & Conditions:
* This is an ALL AGES family friendly event.
* This is STRICTLY a no-sign event (for personal items). Memorabilia will be available for purchase on the day for Melbourne FC collectors who wish to take home a piece of signed football history.
This event will be run in accordance with the latest Victorian Government guidelines and COVID safe practices. This includes maintaining a 1.5m distance during all times and masks to be worn until your professional photo is due to be taken.
Per the Chief Health Officer's current direction, all attendees' must sign in on the venue QR code, provide proof of double vaccination or a valid medical exemption, along with photo ID.
THERE ARE STRICTLY NO REFUNDS ONCE YOUR TICKET HAS BEEN PURCHASED, HOWEVER YOU MAY ON-SELL OR GIFT YOUR TICKET TO ANOTHER PERSON.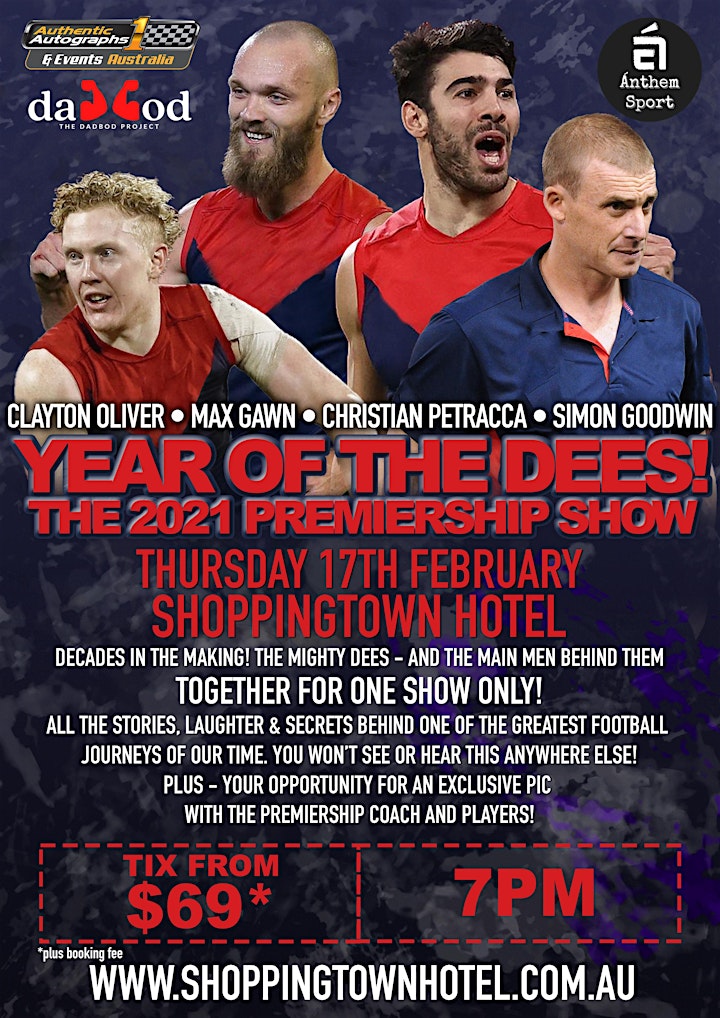 Organiser of Year of the Dees! The 2021 Premiership Show at Shoppingtown Hotel!