Learn long exposure photography and create amazing images of beautiful Melbourne and the Yarra River's bridges from sunset into evening.
About this event
The Yarra River on a still night provides the perfect foreground for stunning photographs of Melbourne at sunset and into the early evening. The many and varied bridges that cross the Yarra provide another dimension to your compositions.
In this group workshop, we will teach you everything you need to know about long exposures including how to balance the exposure triangle to best advantage and how to compose the perfect twilight and night time city landscapes.
Thanks to our brand partners at Maxxum Pty Ltd, we will have a range of Samyang Australia lenses to try out, as well as Haida's excellent M10 filter holder system with ND filters, and tripods from Benro. So if you don't have all the gear you need, we've got your back!
Workshop attendee numbers are strictly capped at 10 for all Explore Photography group workshops, so that every guest has the best possible opportunity to learn and try out gear.
This workshop will be held along the Yarra River in the Melbourne CBD. We will meet in the middle at the Evan Walker Bridge and walk up and down either side of the river. There are so many spots along this route that will give you the stunning views of the city. Hopefully the night will be nice and still so we get awesome reflections in the Yarra!
That said, weather is an important factor for a workshop that is held outside so we will be keeping an eye on the forecast and keep all guests well advised in the week prior. If it's looking like we may not have ideal shooting conditions, we will look to reschedule the workshop. If our reschedule dates are not suitable, full refunds will be issued.
Skill Level & Gear Required:
This is essentially a long exposure workshop, so you will get the most out of this if you already have a basic knowledge of your camera. We will be delving into manual settings but can assure you it will make sense! You will ideally need a DSLR or Mirrorless camera with interchangeable lenses for long exposure photography. You will also need a tripod, but if you don't have one, don't stress - we'll lend you an awesome Benro tripod! If you have any questions about what to bring, please email us at workshops@explorephotography.com.au.
Most of our workshops can also cater for absolute beginners and those who just want to learn to take better photos with your compact camera or phone. So if you aren't worried about any of the more advanced techniques like long exposure, and just want to learn the absolute basics like composition and basic camera settings, we'd love to have you along!
Hosts:
Rob Embury is a landscape, weather and nature photographer based in Melbourne, with a passion for photographing the sky. His goal is to capture scenes that inspire people to witness something they haven't seen or noticed before, and to hopefully find the same beauty in nature as he does. Rob loves passing his knowledge on to others, and has been teaching photography workshops for over 3 years.
Anna Gottlieb has a Bachelor of Photography and a passion for photographing extreme weather. She loves nothing more than the thrill of chasing the worst weather on the planet. Anna was awarded the Graduate Award for Excellence in her Bachelor year, and was recently made a finalist in the 2021 National Photographic Portrait Prize. She is an all rounder photography wise, and has been running workshops and photowalks for 5 years.
COVIDSafe Info:
We closely follow the latest advice and guidelines from the Chief Health Officer, and take all the necessary safety precautions to keep both our tutors and workshop guests safe.
While masks are not a requirement, it is advised that you bring one with you. We practice social distancing among guests where possible, but please note that to provide the best tuition we are at times required to handle our guests' camera equipment, and get closer than 1.5m.
We ask that any guests who are feeling unwell for any reason in the days prior to the event please contact us immediately. We will be more than happy to issue you with a credit for a future workshop for when you are feeling better.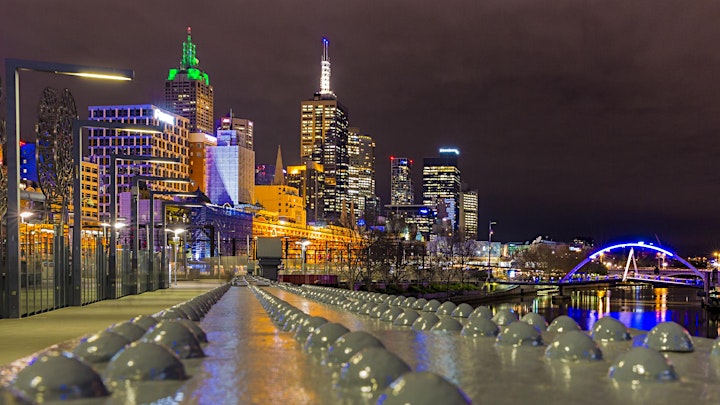 Organiser of Yarra Bridges at Twilight - Long Exposure Group Workshop
Based in Melbourne Australia, Explore Photography runs local and international photography workshops and tours for photographers of all skill levels. Hosted by highly experienced and established photographers, Explore Photography workshops and tours can help you to develop your own personal vision and take your photography to the next level, in a fun and supportive environment.