Yakult Australia presents the Yakult Public Factory Tours for Mandarin speakers.
About this event
欢迎大家前来参观养乐多位于10 Monterey Road, Dandenong South的工厂。透过专门设计的参观通道,您可以安全地观看养乐多完整的生产过程。
我们拥有养乐多专属的高科技食品生产线,包括制造养乐多形状独特的瓶子、罐装和包装养乐多的设备、培养益生菌和监控产品品质的环节。
参观者不单有机会学习和了解饮用养乐多及摄入益生菌的好处,每位访客都有机会免费品尝新鲜美味的养乐多。
工厂参观大约持续一个小时,每周二到周五,配备中文解说。名额有限,请务必提前预约,确保时间合适。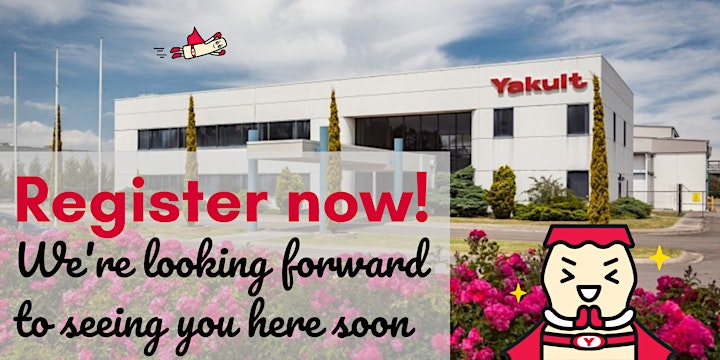 请注意 – 工厂有四段楼梯和电梯(仅供轮椅和拐杖使用者)。我们建议前往养乐多工厂参观的最低年龄为2岁。婴儿车和折叠式婴儿车不得进入工厂区域,儿童需要能够自行上下楼梯。为此带来的任何不便,我们深感抱歉。养乐多澳大利亚视访客的安全为重中之重。
Organiser of Yakult Australia Factory Tours (Mandarin ) - 养乐多工厂参观(中文解说)
Yakult is produced, bottled and packaged in Dandenong, Victoria from the finest ingredients.
Yakult Australia Pty Ltd commenced production on the 22nd January 1994. Australia was the first English speaking country to launch Yakult, chosen due to its close proximity to Asia. In 2004, Yakult was introduced into New Zealand. Since then, Yakult has enjoyed phenomenal market penetration and success in Australia and New Zealand. Yakult's greatest goal is to bring smile to faces everywhere.