Event Information
Refund Policy
Refunds up to 7 days before event
Description
WHO SHOULD ATTEND?
Executives and Managers searching for innovative leadership development solutions that can build agile and effective leaders equipped to meet rapidly changing business priorities.
FOUR REASONS YOU SHOULD ATTEND:
The methodology behind X2 Leadership and what makes it so effective at shifting mindsets and behaviour

The four interacting ingredients used to grow leaders' thinking and improve the way they lead

How X2 Leadership accelerates mental shifts and behavioural change

How to connect X2 Leadership to your business reality
EVENT DESCRIPTION:
In today's fast paced and complex environment, leaders need to constantly reinvent themselves, challenge the way they think and quickly make the mental shifts that will allow them to realign their behaviours to meet the changing environment.
This is profound change that traditional content-heavy leadership programs cannot deliver.
Hence, there is a pressing need for innovative leadership development solutions that are adaptable and able to instil rapid change at a deeper level.
WHAT THE MASTERCLASS WILL COVER:
Why traditional models of leadership development don't work

X2 Leadership: a two-stage development process

Connecting leadership development to reality

Four key ingredients to make a lasting impact on leaders' thinking and behaviour

RAP: a process to trigger mental shifts and realign leadership behaviours

Managers as thinking partners: making thinking visible

The importance of reinforcement

Measuring X2 Leadership outcomes

Case study
X2 LEADERSHIP MASTERCLASS
This is a practical and impactful Masterclass for business leaders.
X2 Leadership Masterclass offers an opportunity to step away from everyday demands and take the time to reflect upon the leadership challenges in your organisation.
1. You will first explore the challenges your organisation is facing and the readiness of your leadership team to tackle those challenges. We will facilitate thought-provoking conversations of what's working and what's not.
2. Based on X2 Leadership methodology, we will then work with you to map-out a leadership development process that will equip your leaders with the mindsets, behaviours and tools that match your organisation's unique situation.
This Masterclass is also an opportunity to connect with other business leaders and share case studies, experiences, new thinking and ideas to implement in your business.
WHAT YOU WILL TAKE AWAY FROM THE MASTERCLASS:
A clear picture of the possible leadership derailers that get in the way of addressing the challenges your business is facing

The mindsets and key leadership behaviours required to meet the needs of your business

A leadership development roadmap that is aligned with your business priorities

Appropriate metrics to measure success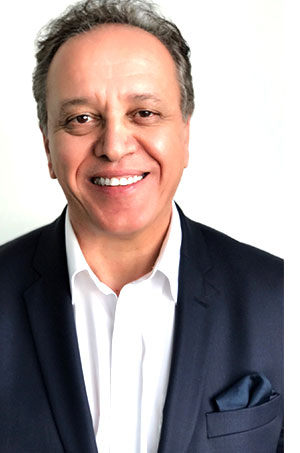 The Managing Director and founder of Altus Pacific, idir specialises in leadership development and change. His experience spans three continents, working as a Senior Lecturer and Researcher in Organisational Psychology and as Organisational Development Manager with a major international company. Over the past 20 years, he and his team have partnered with a variety of Australian and international organisations to deliver effective people development and change solutions. Idir is the creator of X2 Leadership.
Idir holds a PhD in Organisational Psychology and is a Member of the Australian Psychological Society.
FAQs
What's the refund policy?
X2 Leadership reserves the right to cancel or re-schedule the offered session. In the event of cancelation a full refund of course fees will be processed within 10 business days of cancellation or rescheduling notice. Cancellations by registrants are only permitted with a minimum of 7 days notice ahead of course delivery date with refunds provided less a 10% processing fee. Substitutions are permitted at any time as well as rescheduling attendance to an alternate session within a 12 month period
Do you provide Reduce rates for group?
If you are part of a group of FOUR (4) or more people, then please email the organizers info@leadingeventmanagement.com for a group discount.
Date and Time
Location
Refund Policy
Refunds up to 7 days before event