Description
WRITING THE BODY
with Quinn Eades
Every body has a story; what's yours?
With Quinn Eades, learn how to write from (rather than about) the body. Discuss the ethics and politics of life writing, techniques for writing trauma, the ways that writing stories from 'other' bodies can broaden minds and promote social change, and most importantly, put that all to the page.
Participants will be given a series of writing exercises, some of them set to music, in order to produce their own embodied text. You will have time to play with the writing produced, using a range of creative and experimental techniques.
Unavailable to make it in person? You can also watch this workshop via online live stream! Live stream tickets are available here.
Learning Outcomes:
You will improve your writing skill-set through practical exercises and group discussions in the key areas listed below:
Critical and literary terminology in relation to bodies and writing.

How to think differently about ways to write the body.

Productivity techniques for writing.

How to have conversations 'with' rather than 'about' theory.

New ways to articulate life stories.

Experimental writing techniques including cut-ups, blackout poetry, playing with white space, and exquisite corpse.
Format:
This is a craft workshop for all writers. More information on program formats and level definitions can be found here.
About Quinn:
Quinn Eades is a writer, researcher, editor, gutter philosopher and poet, whose book, Rallying, was awarded the 2018 Mary Gilmore Award for best first book of poetry. He is also the author of All the Beginnings: A Queer Autobiography of the Body. Quinn is a Tracey Banivanua Mar Research Fellow at La Trobe University, Melbourne, and is the founding editor of Australia's only interdisciplinary, peer reviewed, gender, sexuality and diversity studies journal, Writing from Below. He is currently working on a collection of fragments written from the transitioning body, titled Transpositions.
In 2015, Quinn Eades changed his name and gender. Prior to 2015, he was writing and speaking as Karina Quinn.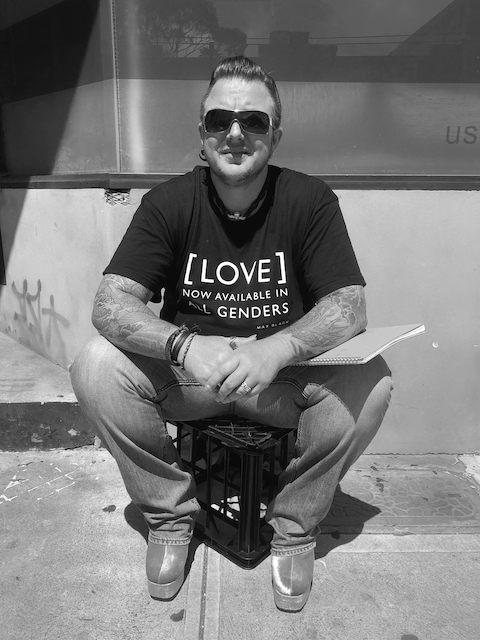 FAQs
Are there ID or minimum age requirements to enter the event?
Unless otherwise stated, Queensland Writers Centre workshops and events are suitable for participants aged 16 years and over. If you are under 18 years of age, please check with us for suitability before purchasing a ticket.
Membership will be confirmed on arrival, in the event it isn't current, membership will need to be arranged.
What are my transport/parking options for getting to and from the event?
Information on getting to the State Library of Queensland can be found here.
What can I bring into the event?
You can bring either pen and paper or a laptop along with you to write with. If you do bring a laptop, please remember to bring a power adaptor if necessary.
Will this event be live streamed?
Queensland Writers Centre aims to provide material to its membership regardless of where they reside within Queensland by live streaming some events. Attendees may be broadcast periodically throughout the event as recording takes place. If you wish not to be filmed, let staff know prior to the event.
How can I contact the organiser with any questions?
You can contact us by phone on 07 3842 9922 or email us at admin@qldwriters.org.au
What's the refund policy?
If Queensland Writers Centre cancels an event, we will try to reschedule it for a later date. If we cannot reschedule the event, or if you are unable to attend on the amended date, your payment will be refunded in full.
Except in special circumstances, if you cancel a booking for, or are unable to attend an event, workshop, seminar, or course, Queensland Writers Centre cannot provide a refund. You can contact us to discuss your situation on 07 3842 9922 or email us at admin@qldwriters.org.au
Terms and Conditions
All information is correct at the time of publication. We reserve the right to make changes to the advertised program information (including course content and tutors), but if this occurs, we will try to provide as much notice as possible.
We expect that all participants will behave respectfully and professionally towards their tutor and fellow students. We reserve the right to remove anyone who behaves in an aggressive or disruptive manner. If a participant is asked to leave the class on this basis, we will not offer a refund.
We cannot accept responsibility for any loss, damage or expense sustained by students as a result of an event or circumstance whether arising from natural cause, human agency or beyond our control otherwise.