Description
Calling all crew! Purchase your tickets now to receive the EARLY BIRD DISCOUNT!
---
Wipe the tears from those eyes; the festive season may have come to an end, but Wrap Party is ready to launch our first event for 2018!
With many projects already in the making, this year is set to be even more fruitful than the last!
So push aside your over-used party tutu, formalise those exceptional festive-induced production ideas and come expecting endless opportunities to collaborate!
Wrap Party Events facilitate genuine industry discussions, sprout new connections, fuel continued collaboration and house comradery.
Make as many new connections as possible and dive into all networking activities on offer, including; speed networking, networking buddies, sticker ninja, small group round table discussions and a short informative presentation.
Alternatively, stay under the radar and slip in for a few quiet beverages and a catch up with some work mates.
Either way, be sure to bring along your business cards to hand around, display on our poster and, most importantly-
To enter our BUSINESS CARD LUCKY DOOR PRIZE! At our last event, one lucky member won a day's FREE hire of Cato's Green Room Truck..
Entry includes a complimentry drink & canapes.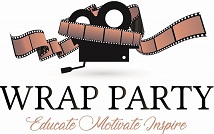 A huge thanks to AFTRS for satiating our thirst & hunger, making this an awesome evening of festivities!