Description
So Christmas is on its way and even for those of us who love love love the Festive Season it can be a hectic, busy and maybe even stressful time. You intend sending Christmas/New Year cards but it just doesn't get done and to make yourself feel better you justify it by saying:
• Realistically I just didn't have time this year!
• I'm sure it'll be ok to email!
• It was going to cost me too much anyway!
• Will they even notice if I don't send a card this year?
BUT you still feel baaaad :/
Because you KNOW how important it is acknowledge and appreciate the support of your clients, suppliers and supporters.
Because you WANT to connect with family and friends and send them good wishes for Christmas and New Year (and maybe even include some photos of your family!).
Because you KNOW how good YOU feel when you receive an unexpected "thank you".
Because if you're in business you understand the VALUE of RELATIONSHIP marketing and growing your brand.
This workshop will not only motivate you to create a practical, easy to execute PLAN for finishing 2017 on a high energy of appreciation and gratitude for the key people in your life and/or business but you'll actually be able to get your cards sent.
In the first part of the workshop, Veronica and Lesley will each give a short presentation. Veronica will present the key principles of the neurology (brain science) behind the "feel good" customer experience and Lesley will show you
how to use one of the world's most loved and appreciated systems that is cost effective and will surprise and delight your family, friends, customers everytime they receive a personalised card and/or gift from you in the mail.
The second part of the workshop will be hands on - time to get those cards DONE! And you CAN get them DONE in one hour because the Send Out Cards system is highly leveraged and saves time, energy and money.
Remember to bring along your laptop, tablet or other device (you can even send your cards from your mobile phone!). And if you want to include photos or logo make sure you have them on your device.
SO - you don't want that guilt trip this year ? You want to feel great and leave others feeling great at the same time? This workshop is for YOU.
THIS CHRISTMAS BE REMEMBERED FOR REMEMBERING OTHERS!
This is our final workshop for the year and includesa light supper and the opportunity to get those cards SENT.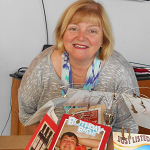 LESLEY KING is a Senior Manager with her own successful Send Out Cards business. Having used the system for 9 years Lesley is an expert in SendOutCards and how it can help businesses to both appreciate their customers as well as get repeat and referral business from existing customers.
Lesley has a background in customer service and has been involved in a number of community and charitable projects. In a world where our lives seem busier than ever and increasingly our communication is via technology, Lesley is very committed to helping people stay connected in a more personal way.
Over the years that Lesley has used SendOutCards both personally and as a business, she has come to realise that it's not what we say or do, but it's how we make people feel that really matters. Her mission is to help people, through using the SendOutCards system, celebrate life and make others feel appreciated, whether it be in our personal lives, or work or our business.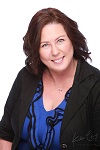 VERONICA SMITH is a qualified and experienced business educator, trainer, coach and mentor with a passion for understanding human behaviour and applying the latest principles to business and enterprise.
Very early in her career, Veronica recognised the value in growing strong, positive and authentic relationships with her clients and team. As a result, she has developed an incredible range of strategic systems that can be implemented into any business type.

Twelve months ago, Veronica began using the SendOutCards system and it has become a favourite for everyone that recieves a personalised card and/or gift in their mailbox. And guess what? Although her emails will sometimes go unopened, the card in the letterbox is opened and read EVERY SINGLE time!!