Sales Have Ended
Ticket sales have ended
Please contact me on 0419 419 572 if you have any issues.
Sales Have Ended
Ticket sales have ended
Please contact me on 0419 419 572 if you have any issues.
A CFT Wheelie Bin Worm Farm + worms - A CFT Workshop & bring a guest at no charge - Total value $529 - And you may get a $70 BCC Rebate !!
About this event
The CFT Wheelie Bin Worm Farming Workshop
( CFT stands for "Continuous Flow Through" )
Saturday November 6th, 2pm-330pm
At Forest Lake Community House (Brisbane)
3 Alpine Place Forest Lake, 4078
With This Workshop You Get:
• You may qualify for a BCC $70 rebate on worm farms (see rebate info at www.TheWormMan.com.au/rebate)
• A Wheelie Bin CFT, with starter bedding (value $279)
• Workshop for two people - approx. 1.5 hours Face To Face, at Forest Lake - adjusted to give special attention to Wheelie Bin CFT's - bring a guest included ($90 value)
• 400 grams composting worms (value $130)
• 2 x 1.25kg bags of conditioner (value $20)
• 1 x harvesting rake - a 3 prong cultivator, with one prong cut off (value $10)
• Full (printed) written instructions on how to start and feed the Wheelie Bin CFT
• Access to the Worm Farming At Home Student's Portal - where you will find all of the free info sheets for all of the processes we discuss and more, plus a handy email form to use to contact Brian.
• Delivery available, please ask me for a fixed price (starting at $35 within 15 minutes drive of Collingwood Park 4301.)
Ticket includes one wheelie bin and bringing 1 guest. Interested, well behaved children are welcome as your guest.
(Please "buy" a FREE guest ticket with your ticket so that I have everyone's details for COVID control & reporting etc. If you haven't decided who you are bringing, just put the guest ticket in your own name and forward me the actual guests name after. You can change who you bring later. We must check everyones name upon check-in at the event.)
$529 TOTAL VALUE - PLUS You May Qualify For A $70 BCC Rebate !
What you will learn in the Workshop itself:
♦ How to start and run your new CFT Wheelie Bin worm farm successfully, including fixes to common problems.
♦ We also briefly study the common small plastic stackers and a simple DIY bucket "Garden Feeding Station".
♦ And of course, lots of info about farming composting worms.
Suited For / Is THIS You?
Are you sick of putting food and garden waste into landfill?
You may want to learn how to generate a beneficial soil conditioner for your garden from your waste ....
This farm is SO MUCH EASIER to operate than the plastic stacking ones !
WHAT IS A CFT Wheelie Bin & What Does It DO For You ?
A CFT is an amazing system. By the way, CFT stands for Continuous Flow Through.
When you compare a Wheelie Bin CFT to a "normal black rectangular stacking bin sold in Australia", a CFT wheelie bin can hold up to 4 times the worms ! This means they eat 4 times the waste and create 4 times the castings !!!! (See attached chart)
They are easier to run, easier to harvest and the castings is not muddy and wet. On top of that they hold 4 times the worms of a normal stacking system.
Biography:
Brian is a commercial Worm Farmer and a qualified and experienced educator, based at Collingwood Park.
Brian has kept worms for over 25 years, turning it into a business in 2013.
He is now a full time worm farmer & professional educator.
Brian works with councils, schools, events and other organisations, to conduct workshops, events and educational kids activities.
He is qualified in two Horticulture disciplines and is also a qualified Horticulture Trainer (TAE40116).
https://thewormman.com.au/about-me/
PLEASE NOTE:
Changes to bin design:
The bin's new design includes a vent in the lid, eliminating the vents in the body of the old design. The "Avoid" graphic is then placed on the front of the bin.
Worm farms are best used out of the rain. If you need a rain proof lid, talk to Brian.
No fees apply to produce a bin "in the old style", but I need time to do one.
Colors / Color Fastness
Bins used are new, but may be made from units recovered from the wast stream, so are a random color. The color or some other cosmetic problem may be slightly wrong but it is still structurally sound.
Moving The Bins Once Full Not Recommended:
Bins are not recommended to be moved once filled, they are too heavy for the wheels.
For MORE INFO on this event, or T&C's, please see website:
https://thewormman.com.au/cft-wheelie-bin-worm-farming-workshop/
https://thewormman.com.au/terms-and-conditions/
For tickets purchased within 3 days of the workshop, your wheelie bin may have to be picked up from Collingwood Park or delivered after the workshop, as there's a limit to what time I have just before a workshop. Thanks for understanding.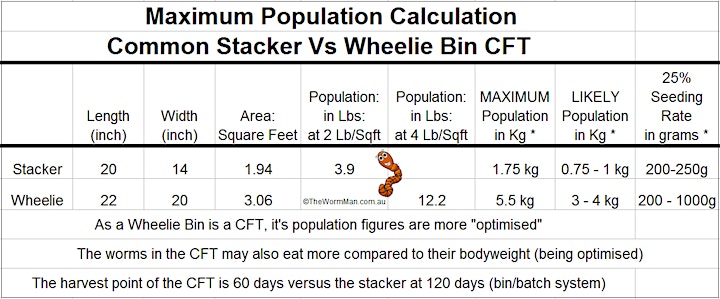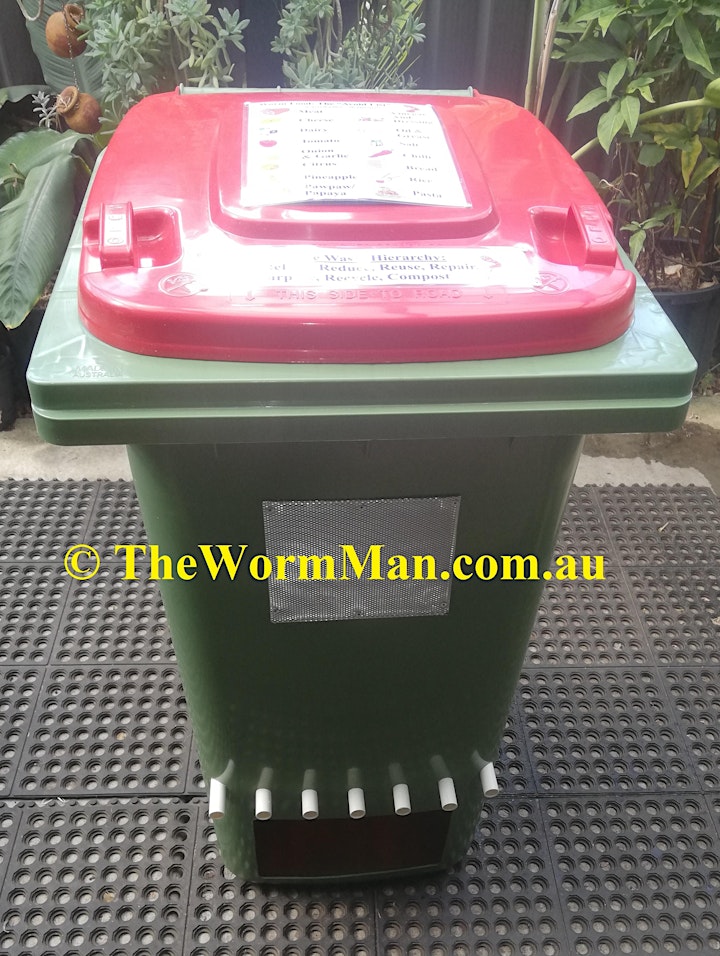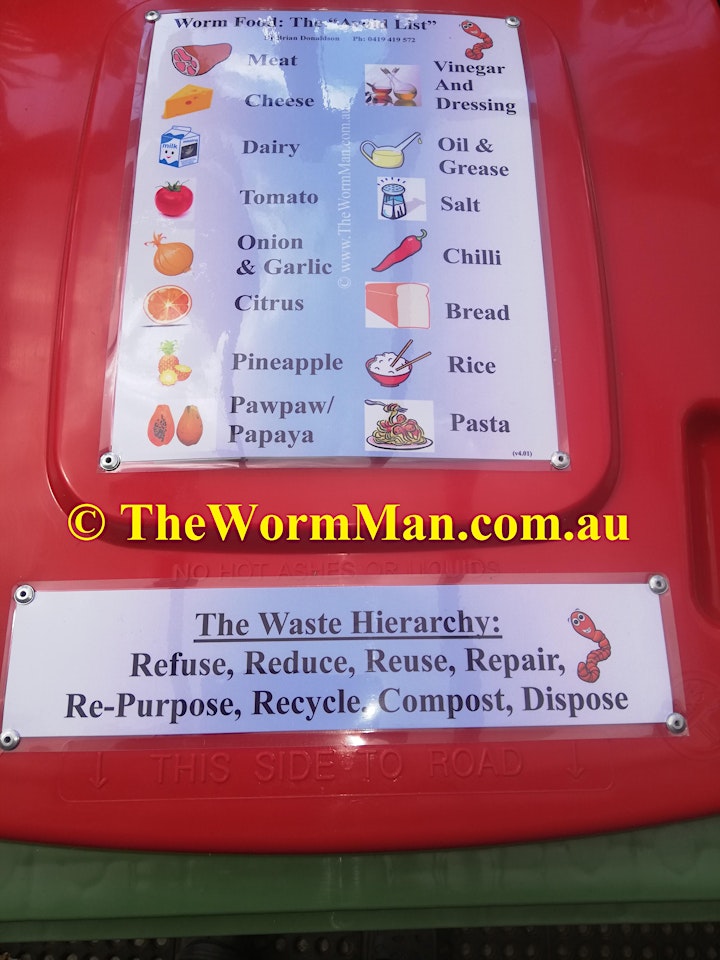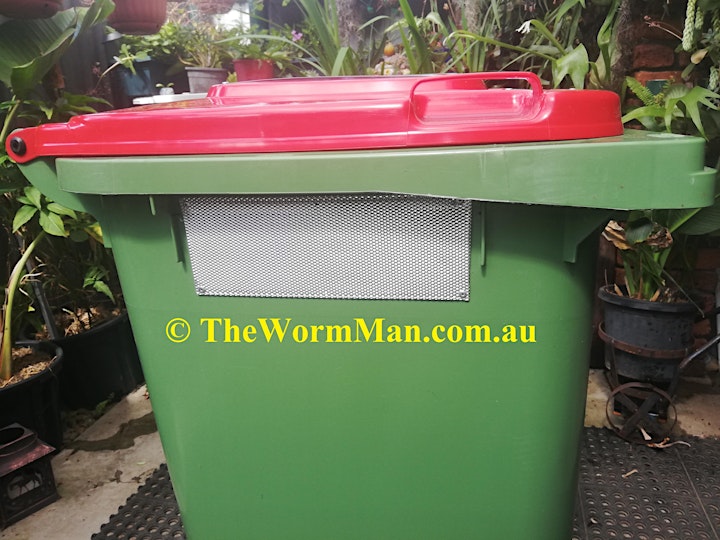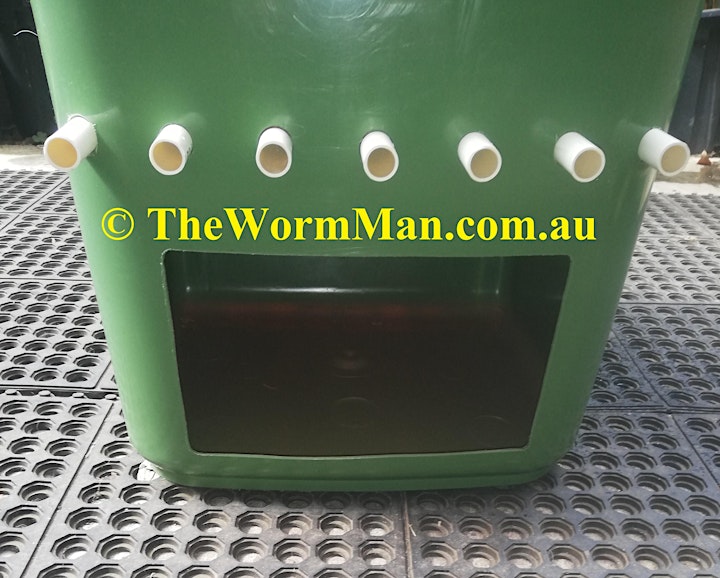 Organiser of Worm Farming With A CFT Wheelie Bin - With Brian The Worm Man
Hi ! My name is Brian Donaldson.
I'm a Commercial Worm Farmer, from Collingwood Park, on the Ipswich side of Brisbane.
I'm also a professional, qualified educator and an author of E-books about worms.
I teach adults through workshops, speaking at events, helping others on facebook and my free- info packed website.
I teach kids and their parents through fun, engaging and educational activities, incursions & event "entertainment".
Reducing waste going to landfill reduces greenhouse gases from reducing waste services & landfill emissions and returns valuable nutrients to the soil instead of wasting them in a landfill.
See my profile for my qualificvations & experience etc.