MS support groups invite you to bring a picnic & join them on Sunday 30 May at Mt Penang Parklands in support of World MS Day #msconnections
About this event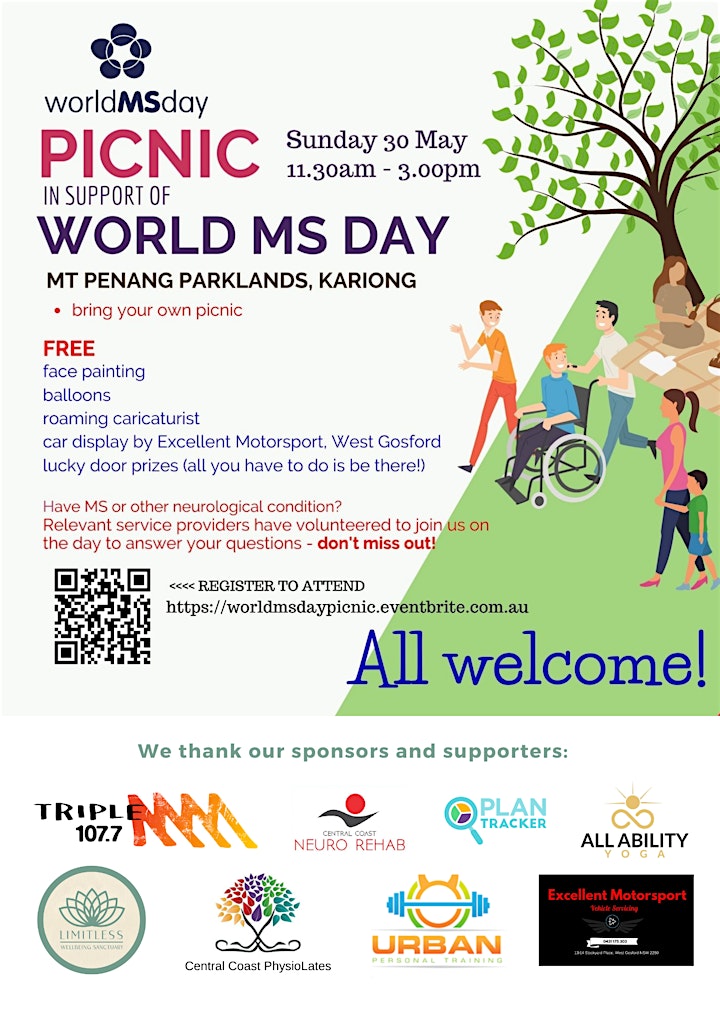 World MS Day's theme in 2021 is 'connections', so local Multiple Sclerosis (MS) support groups are connecting with each other as they enjoy a picnic in the grassed Ampitheatre at Mt Penang Parklands, Kariong - and you're invited to come along, picnic, enjoy the scenic surrounds, and connect too!
There'll be free balloons and free face-painting for the kids plus a roaming caricaturist sketching random faces young, old and in-between - AND a car display provided by local business Excellent Motorsport and Automotive Repairs - something for everyone! Once registered to attend you have an extra chance to win a lucky door prize, *drawn at 2.00pm - so be sure to click 'Register' on this page and be there for the 2.00pm *draw!
This is a FREE event, just bring your picnic food and drink (or buy something to eat at the Waterfall Cafe alongside the carpark) and bring a rug or fold up chair to sit on (a limited number of chairs will be available). NOTE: no glass and no alcohol permitted in Mt Penang Parklands.
There'll be information for people with MS (and other neurological conditions) about local services available to them - and plenty of opportunity for everyone to enjoy their picnic, explore the parklands, have some fun, and at the same time show support of MS people everywhere - or simply to show support for friends or family (near or far) living with MS.
To demonstrate a variety of options available locally, for interest of people living with MS (or other neurological conditions) local service providers have volunteered to share information with us - among others, these providers include Central Coast Neuro Rehab, All Ability Yoga, Urban Personal Training, Central Coast Physiolates and the very new Limitless Wellbeing Sanctuary from (Coast Community). We are also very happy to have representatives with us from Plan Tracker, to help with NDIS plan management information.
Providers with us will be available to answer questions on services they provide, and some will offer 'sample' sessions eg chair yoga (All Ability Yoga), or relaxation therapies (Limitless Wellbeing Sanctuary) such as a hand and arm massage, reiki or chakra balancing - please see the relevant provider on the day.
Providers with us on World MS Day serve clients living with Multiple Sclerosis and other neurological conditions. There may be other providers of the same or similar services where you live.
A CoVid Safety Plan is in place for this World MS Day picnic. CoVid Marshalls will be on site to monitor compliance throughout the afternoon.
Accessible toilet facilities are available near the Waterfall cafe alongside the carpark.
Please register to attend via the 'Register' link on this page, if there are any unforeseen changes or in the case of updates you will be notified.
We thank
Gosford City-East Gosford Lions Club / Lions Club of Green Point Avoca Inc for their generous support and assistance with this event, and
MS Central Coast Branch for their financial donation toward entertainment and venue charges
Central Coast Neuro Rehab, Limitless Wellbeing Sanctuary, Urban Personal Training for their generous offer to share with us on World MS Day; and
All Ability Yoga for sharing with us on the day, and for their kind offer of film sponsorship of this initiative
https://www.facebook.com/excellentmotorsport/ for their sponsorship and contributions on the day
HireUp for their participation and sponsorship
This picnic in support of World MS Day is an initiative of NSW Central Coast MS support groups who seek to raise awareness of Multiple Sclerosis (MS).
Don't forget to register via the Register button on this page - see you there!
#msconnections