World Menopause Day Panel Discussion
About this event
Join us for an exciting conversation on World Menopause Day as we shine a light on how you can define your own Menopause journey leading into, during and after this significant life stage.
Hosted by Lisa and Natalie of Own Your Health Collective and passionately joined by three amazing women on our panel.
MISH WRIGHT - A writer, educator and speaker passionate about creating more holistic health outcomes for women.
SHAE ELISE ALLEN - A sexual wellness educator, speaker, somatic coach and transformational guide.
DR FATIMA KHAN - A highly skilled Peri-menopause & Menopause Expert, with a holistic approach to women's physical, emotional and mental wellbeing.
This event is your opportunity to learn about how you can embrace the power of this life stage whether you are coming into it, experiencing it or post Menopause.
Supported and sponsored by Pixii, Me Time Just for Me, Gevity X, Good Mix, Shae Elise Allan.
Each attendee will go in the draw win a fabulous prize pack featuring a great range of products and services to support your health and wellbeing.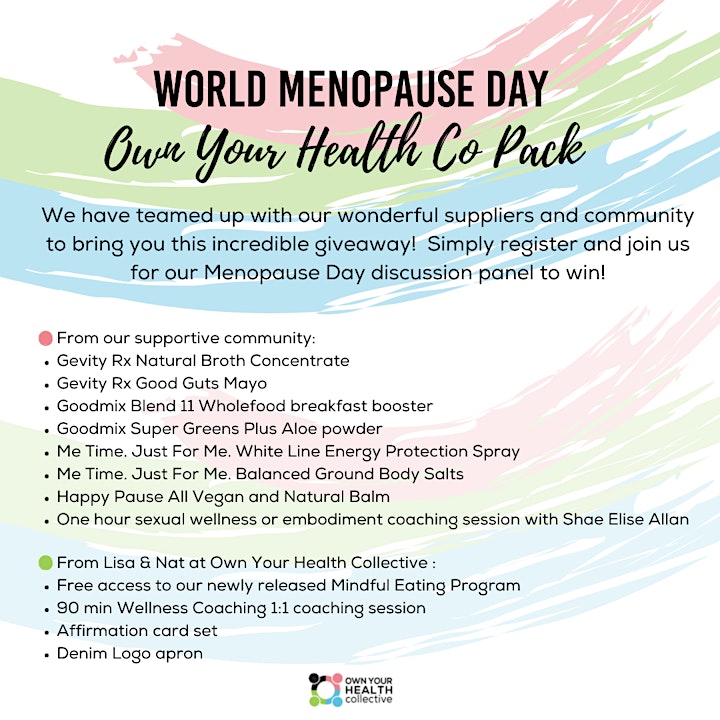 Organiser of World Menopause Day Panel Discussion
Own Your Health Collective is a "wholistic" health and wellbeing company focused on making healthy simple at work, life and play. Together Natalie and Lisa share over 40 years experience working in the corporate world and understand the pressures associated with creating a happy, low stress and healthy working environment. They know that a thriving culture attracts new people and has existing staff turning up daily, ready to thrive. Our experience and knowledge creates programs, workshops and training to help transform the everyday health, performance and energy of individuals at work and in life.