Description
WOBI (formerly Business Executive Education) are proud to present the third edition of the World Marketing & Sales Forum on the 8th and 9th of November 2016 at Melbourne Town Hall. In 2016 a selection of the world's most renowned marketing and sales experts, our disruptors, will come together to generate an inspiring atmosphere where new ideas are formed and creativity leads the way.
WMSF aims to provide you with an update of the most relevant topics delivered by experts in marketing and sales. Disrupting your business enables revolutionary changes across industries and throughout every sector of business.
With the many disruptions impacting businesses today – this forum will expose the upside opportunities they present for those alert enough to both spot them and react accordingly. Be inspired by our speakers and content.
Be sure to use the Eventbrite promo code EventBrite10 when registering on our website!
2016 Speakers: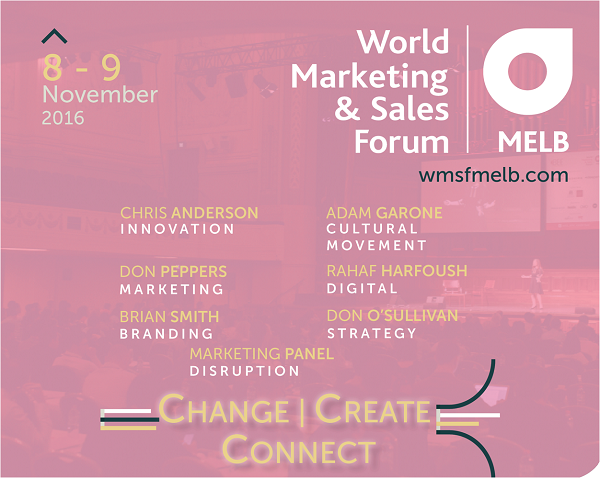 Chris Anderson - Innovation - Former Editor-In-Chief of Wired Magazine, Author of 'The Long Tail' & CEO of 3D Robotics

Adam Garone - Social Movement - Co-Founder of Movember

Don Peppers - Marketing - Global authority on customer focused strategy

Rahaf Harfoush - Digital - New media expert & member of Obama's Social Media Team

Brian Smith - Branding - Founder of UGG & innovative entrepreneur

Don O'Sullivan - Strategy - Associate Professor Marketing Melbourne Business School

Marketing Panel - Disruption -

Carolyn Bendall - Head of Marketing at ANZ

Fiona Le Brocq - GM Brand & Marketing at Medibank

Kimberlee Wells - CEO at TBWA Group