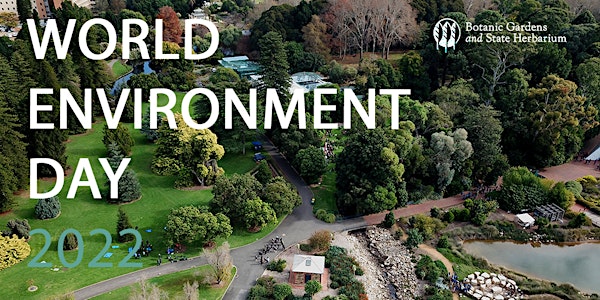 World Environment Day 2022 | Schools Bookings
Location
Adelaide Botanic Garden
Behind the Goodman Building
Hackney Road
Adelaide, SA 5000
Australia
Sales Have Ended
Registrations are closed
Bookings have now closed. Please call us on 08 8222 9343 or email DEWWED@sa.gov.au for more information.
Celebrate World Environment Day at Adelaide Botanic Garden! Classes in Years F-7 are invited to this fun, educational event.
About this event
Since 1996, Adelaide Botanic Garden has educated tens of thousands of SA school students at its annual World Environment Day celebration.
World Environment Day is the United Nations' most important day for encouraging worldwide awareness and action for the protection of our environment.
The theme for World Environment Day this year is 'Only One Earth'.
When: Tuesday, June 7, 2022 | 9:30am to 2:00pm
Where: Adelaide Botanic Garden
Who: Classes of Foundation to Year 7 students
Cost: Cost of $10 per child, with a minimum spend of $175 per class. Category 1 to 4 schools receive a 25% discount. Schools will be invoiced after the event.
Places are limited to 20 classes, so be quick! Each ticket booked is per class. Schools are asked to book a maximum of 4 classes (4 tickets). Please contact us if more spots are required.
Classes will choose from a curated, pre-booked 'Stream' of exciting and educational activities.
Following our Welcome to Country, students will have fun as they learn about the environment in four activity sessions per Stream. This includes three booked activities lasting for 30 minutes each as well as an included ticket to the Wildlife Photographer of the Year exhibition.
We are happy to welcome classes to visit the Wildlife Photographer of the Year exhibition at Adelaide Botanic Garden. This world class exhibition features wildlife photography from around the world. Classes are allotted a 30 minute session in their schedule in which to visit it. Due to the nature of the exhibition and some potentially disturbing images for younger viewers, classes in Foundation to Year 2 are instead invited to use that time-slot to explore the Early Years Sensory Trail.
We have a mix of guided walks, interactive activities, creative sessions, and specialist presentations amongst the 'Streams'. Each thematic 'Stream' of activities reflects relevant content descriptors in Australian Curriculum HASS and Science. These 'Streams' are suitable for any year level, but may suit particular years' Curriculum Descriptors, including:
Stream 'A' (Years 3 to 7) **SOLD OUT**
Class entry to Wildlife Photographer of the Year exhibition
Guided Grey-Headed Flying Fox camp in Botanic Park – Adelaide Botanic High School & Fauna Rescue
Meeting the 'Animals Around Us' – Nature Education Centre
Insect Investigators Citizen Science Project – South Australian Museum
Stream 'B' (Years 3 to 7) **SOLD OUT**
Class entry to Wildlife Photographer of the Year exhibition
Aboriginal Tools for Living – Trent Hill Indigenous Culture for Kids
Waste and Recycling Relay for Schools - Veolia
Entomologist for a Day – Green Adelaide
Stream 'C' (Years 3 to 7) **SOLD OUT**
Class entry to Wildlife Photographer of the Year exhibition
Animal Conservation - Jane Goodall's Roots and Shoots
How to Reimagine, Recreate and Restore School Gardens & Play Spaces – Nature Play SA
Feral Plants – Botanic Gardens and State Herbarium
Stream 'D' (Years 3 to 7) **SOLD OUT**
Class entry to Wildlife Photographer of the Year exhibition
Wetlands Guided Trail – Friends of the Botanic Gardens & SA Water
Protecting our oceans with Sea Shepherd – Sea Shepherd
Living Wetlands Explored – Urrbrae Agricultural High School
Stream 'E' (Foundation to 2 / Lower Primary appropriate)
Class participates in self-guided Early Years Sensory Trail
Seeds Planting in the Little Sprouts Kitchen Garden – Botanic Gardens Kitchen Garden staff
'Plants for Musical Instruments' - Flavio and Ryan of Botanic Gardens
"These Curious Things!" with Professor Flint – Heaps Good Productions
More details of specific presentations will be provided upon booking.
This year we have introduced a schedule to reduce potential for COVID-19 spread.
We request masks be worn in indoor spaces
Fewer than 1000 visitors
Years F to 7 classes only, with a maximum of four classes per school, and a maximum of 30 students per class
A ratio of 1:10 adult to child supervision ratio
Cleaning materials supplied to presenters
Registrations close midday on Tuesday 31 May 2022.