World AIDS Day - Remembering the despair of the crisis and celebrating the break-throughs.
About this event
As we head towards World AIDS Day on 1 December 2021, join us in this interactive webinar that explores what it was like to live in the epicentre of the AIDS crisis in the US 40 years ago, how times have changed for some of those who live with HIV/AIDS, ways in which we can make it safer for LGBTIQ+ people with HIV to come out at work and in other parts of their lives, if they wish to do so.
We have two guests from different backgrounds who will share their experiences on this significant day.
Guest 1 - Steve Spencer, who was diagnosed with HIV in 2018 and who has now become an educator about living with HIV. He'll tell us his story, the current status of HIV/AIDS in Australia and in other continents such as Africa, the differences to people's lives that things like PrEP have made, the next steps in HIV/AIDS prevention, and why it's important to commemorate World AIDS Day.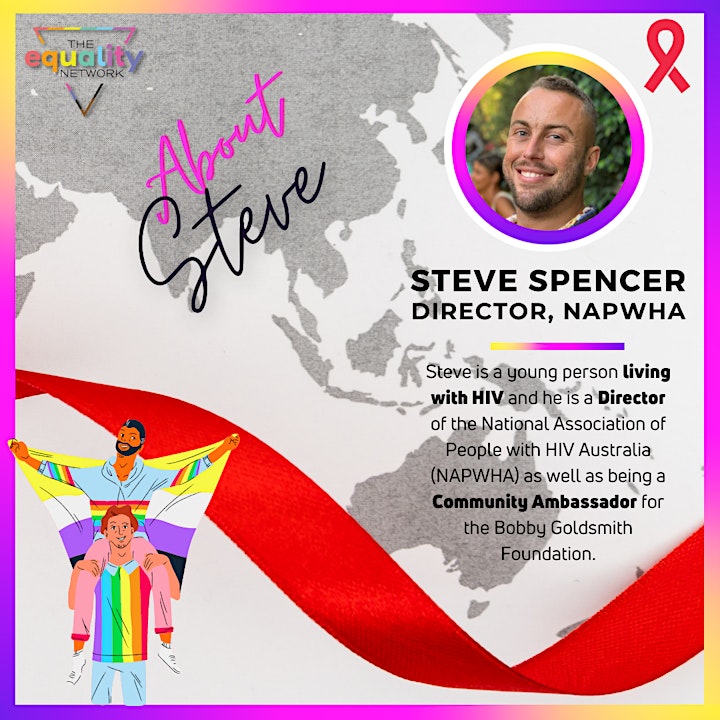 Guest 2 - Mark David Petty was born July, 1956 and is a 5th generation San Franciscan. He was born four blocks from where he lives now and raised not far from there. He majored in psychology and textile design. Having retired 5 1/2 years ago, he spends his free time with his husband, Dennis and their dog, Buster Bear, and works on his art panels.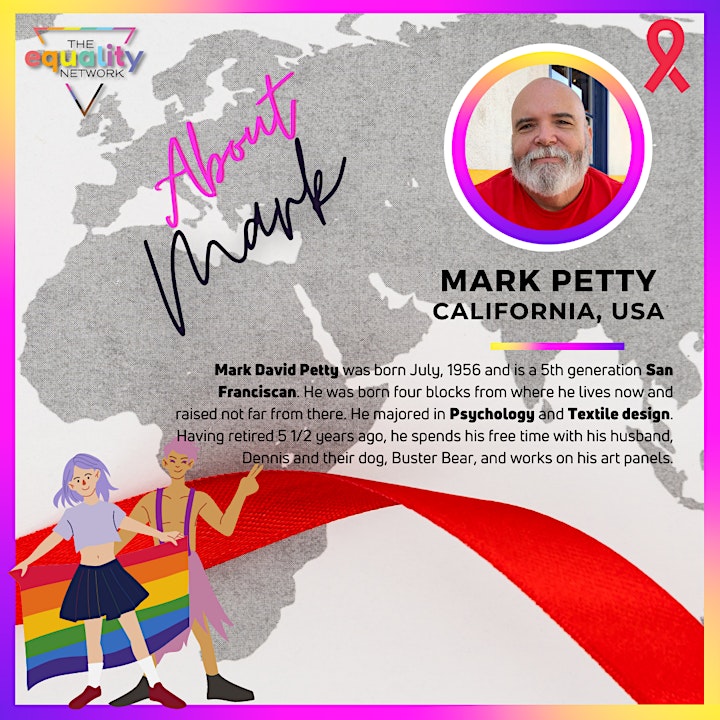 Each year, on 1st December, the LGBTIQ+ community commemorates World AIDS Day. It's a time when we reflect on some very dark times in our history, times when people living with HIV/AIDS suffered massive discrimination and harassment, largely as a result of ignorance and lack of education about the facts of HIV/AIDS.
And governments around the world were complicit in this. AIDS was known as the 'gay disease'. There was no urgency in looking for a cure or the development of preventative medical treatments. And members of the general population, partly spurred on by the inaction of governments, media and entertainers, felt they had a license to harass, bully, intimidate people from the LGBTIQ+ community just for existing, but also feared they'd catch HIV/AIDS but didn't know how.
It took a long time for the facts about HIV/AIDS to become known and to make their way into the general public.
1 December is a solemn day when we remember those who fought against the scourge of HIV/AIDS but also when we give thanks for the allies and supporters who took a humane, compassionate approach to the crisis and who helped, and continue to help, destigmatise HIV/AIDS.
About the Organiser: The Equality Network
The Equality Network is a movement that aims to help change workplaces to become more LGBTIQ+ inclusive, to move on from the rhetoric to actions so that inclusion becomes a natural part of all workplaces, whether in the private or public sector.
Organiser of World AIDS Day - remembering the despair and celebrating the break-throughs