Workshop on Design Thinking and Lean Start Up
Description
For Whom:
This is for startups and established businesses who are looking for the recipe to create rapid and lasting demand for their products and services.
Key Concept Cover:
– Innovation principles for every business
– 4 Priorities & 4 characteristics of the best innovators in the world
– Design thinking & lean startup model to bulletproof your business
– Validation board: Principles and Practice
2.5 hours workshop to understand a very important concept for any business, established or startup on how best to become an agile and innovative business.
You will also be introduced to validation board, which, is vital to convert your business idea into a tested product or service within a week and also remove any incorrect assumptions from your business model which can be damaging. It is based on testing assumptions businesses make and finding the wrong assumptions as fast as possible. This is so our businesses and startup ideas can succeed as quick as possible opposed to ending up with little or no success after months of hard work.
KEY NOTE PRESENTER
Dinesh is the founder & CEO of NetStripes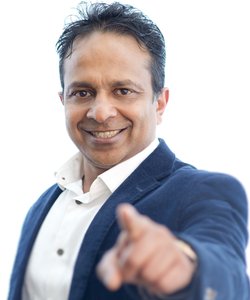 He is a leading authority on Small Business Innovation and Digital Readiness.
His current passion is to help small businesses throughout Australia grow their businesses by conquering the world of innovation and digital strategy which he believes can change the course of small business in this country.
As a thought leader on innovation & digital readiness he is regularly called upon as a speaker and panelist and addresses several thousand businesses each year. Recent media appearances include ABC News, Sky Business, BRW, AFR.
Dinesh counts over 15 years of providing strategic direction & visionary leadership from tech start-ups to public listed businesses in the Australian and Asia Pacific region.
He has functioned as a board director of several businesses. An MBA and a Bachelor's Degree in Computing underpin a solid foundation of what's required in growing businesses and people.