Workshop on Customer Personas and Buying Cycle
Description
For whom:
This is a must attend workshop for every small business owner and startup. It will help you save years of messing around by trial and error.
Key Concepts Covered:
• Importance of customer personas
• Understanding your customers buying cycle
• 3 ways to develop customer personas
• Strategising based on your customer buying cycle.
• Converting customer needs into products and services based on personas and their buying cycle.
This is a 2.5 hours workshop on customer personas and buying cycle which will help small business owners and startups to understand their customers better in order to fulfil their needs.
One of the most important success factors for any business is to understand: who our ideal customers are, understand their needs, their buying behaviour of customers, the way they buy, what they look for and how. As businesses, we can serve them and build trust and loyalty way before they start checking online for products or services.
Learn what the big businesses do from one of the authorities on Small Business innovation and digital readiness, CEO of NetStripes, Dinesh De Silva, on "Succeeding online" by understanding your 'Customer Buying Cycle & Customer Personas'.
Join this interactive session where you can ask questions and meet other like-minded business owners and startups.
KEY NOTE PRESENTER
Dinesh is the founder & CEO of NetStripes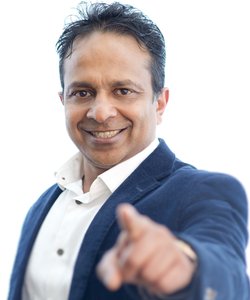 He is a leading authority on Small Business Innovation and Digital Readiness.
His current passion is to help small businesses throughout Australia grow their businesses by conquering the world of innovation and digital strategy which he believes can change the course of small business in this country.
As a thought leader on innovation & digital readiness he is regularly called upon as a speaker and panelist and addresses several thousand businesses each year. Recent media appearances include ABC News, Sky Business, BRW, AFR.
Dinesh counts over 15 years of providing strategic direction & visionary leadership from tech start-ups to public listed businesses in the Australian and Asia Pacific region.
He has functioned as a board director of several businesses. An MBA and a Bachelor's Degree in Computing underpin a solid foundation of what's required in growing businesses and people.