Description


WORKSHOP | Fabric Identification for Sourcing: Terminology & Concepts
Join us for a 3 hour intensive workshop on Fabric Identification for Sourcing; Terminology and Concepts with textile expert Carolina Quintero as part of this year's International Sourcing Expo.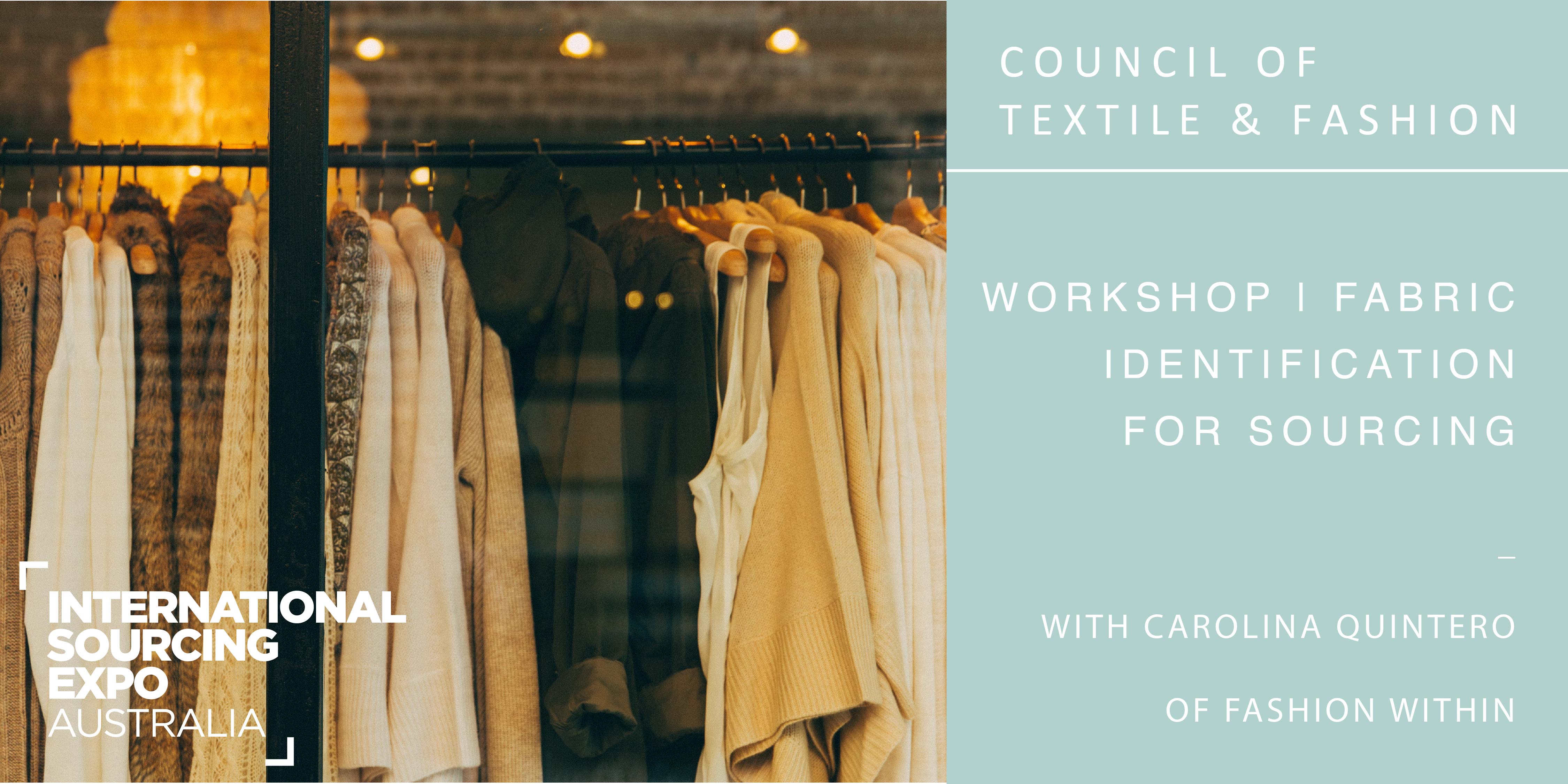 The Details:
WHEN | 10.00 am -1.00 pm on Tuesday 15th November
TRAINER | Run by Carolina Quintero of Fashion Within
WHAT | 3 hour intensive workshop
WHERE | Melbourne Convention & Exhibition Centre as part of the International Sourcing Expo.
ENTRY | $145 via Eventbrite, and Free registration for the Expo HERE


What to Expect:
Whether you are working with local or off-shore suppliers and manufacturers, having a sound knowledge base of key concepts and terminology is essential.
With over 15 years of industry experience, and clients including Jeanswest, Carolina will guide you through what to look for, consider, and ask for when sourcing fabrics for product development.
The 3 hour intensive workshop will provide an overview of the terminology, concepts and identification qualities to aid your businesses sourcing activities and ensure a quality product.
Points covered:
Fibers & Yarns: Properties, characteristics, identification and classification.

Fabrication: Knits, woven & non-woven, Key terms, quality, weights & characteristics.

Meaning of international certifications: Bluesign, C2C, Oeko-tex, etc.


---



Meet Carolina Quintero from Fashion Within:
Following the completion of her studies in Textiles, Carolina has over 15 years' experience in the fashion and textile industry in the areas of textile technology, innovation, product development and procurement.
Carolina began her career as buyer and moved into product development and R&D roles. She has worked at the Council of Textile and Fashion as Strategic Project Manager for the Textile & Fashion Hub and held the role of Innovation Manager at Pacific Brands' – The Work Wear Group.
Currently undertaking PhD studies at RMIT University, Carolina is working as a teacher and running her own business, providing services for the industry. Her business, Fashion Within, offers customized consulting and training services in Fashion and Textiles technical areas to ensure improvements on the quality of the final product that will impact productivity and revenue.
With clients including Jeanswest, Estudio Textil - Vera Felippi, Mercantile Rowing Club and Light Knight International, Carolina's services and specialties include:
• Training in technical areas: Fibres, fabrics, fashion and textile processes and finishes, product development, product specifications, labelling, etc.
• Advice on technological innovations and product development.
See more from Carolina here - www.fashionwithin.com

---
Register for the International Sourcing Expo 2016


This workshop will be taking place as part of The International Sourcing Expo 2016. We are excited to once again be industry partners of event, kicking off from the 15-17th of November at the Melbourne Convention & Exhibition Centre. As Australia's major trade platform for international sourcing of fashion, apparel, textiles and accessories, the event provides an established face-to-face channel to access international suppliers, designs, products and services. To access the workshop space, you must be registered to visit the Expo, this is free and can be done HERE >>>
---