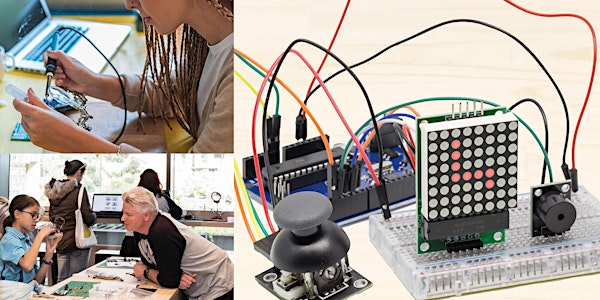 Workshop: Build your own Arduino-based Snake Game! Seniors, Adults + Kids.
Have a blast from the past! Build your own Arduino-based version of the classic phone game Snake & then PLAY! Lots of fun & yours to keep.
About this event
1.5 hours | SPECIAL $45 per ticket
Note: by booking this workshop you acknowledge that all eligible participants are fully vaccinated and can provide proof on check in.
Jaycar Maker Hub
We're dedicated to inspiring people of all ages to explore electronics through fun hands-on educational workshops based on core electronics skills.
Workshop Description
Join us for a 1.5 hour (90-minute) hands-on workshop for absolute beginners of any age. Enthusiasts will get a kick out of this one too!
This workshop is a great introduction into the world of Arduino.
We'll guide you step-by-step in building your project. Then you'll get to play your new game; can you win against Snake? Continue the fun playing your game at home!
The price includes everything needed.
You Will Learn
• To prepare your workbench for the project
• About the materials you'll be using and their purpose
• What Arduino is and how it is used
• Circuitry and wiring
• Troubleshooting methods
You will Get
• A workshop bag with all materials needed + guide book. Most materials can be re-used for other projects.
• Guidance from a dedicated workshop team member
• Hands-on fun, no devices needed!
• Your completed project to take home
What to Bring
• Your interest to learn and join in the fun
• Kids under the age of 16 years require an adult over 18 years to remain with them throughout the workshop. The supervising adult doesn't require a ticket but we welcome all ages to join in so why not grab a ticket too!
What to Wear
• Comfortable clothing
Appropriate for
• Ages 8 years and up
How to get there
• This workshop will take place in We Make at Rhodes Waterside Shopping Centre, next to Jaycar. Level One, Rhodes Waterside, Shop 56B, 1 Rider Boulevard, Rhodes
COVID Guidelines/procedures
• A workshop team member who has had symptoms of COVID in last 14 days will not run the workshop. Jaycar Maker Hub will adhere to relevant restrictions.
• Please complete check-in procedures and provide proof of vaccination status
• Please do not attend the workshop if you feel unwell, have symptoms of COVID 19, have been in close contact with anyone diagnosed with COVID 19, or have returned from overseas travel within the past 14 days.
Workshop Customer Feedback
• Hello, I just wanted to mention that this course [Wall Dodge Robot] was very helpful and informative, Rachel did an amazing job explaining everything and walking me through the project and I am very glad that jaycar is running these courses because they are very accessible and a good starting off point for beginners like myself. - Grayson
• We thoroughly enjoyed an Arduino workshop at the Jaycar Maker Hub. Fantastic instructors walked us through building the classic game of snake…we got all the materials and the workshop. They run several workshops through the week so we will definitely be doing more. - Kurt
• WOW, your Arduino Workshop was AMAZING! You're a Totally Terrific Tech Team! - Daniel
• Amazing MakerHub concept. I just took my 11 y.o. son and his friend for an Intro to Circuit workshop and we had a ball. Thank you Rachel for the awesome session. She is so knowledgable, passionate and patient. What an incredible and unique idea, beyond simple common coding and focuses on the hardware side of things. – Sony
• Attended Maker Workshop with my 9 year old daughter for Solder a wearable badge and mbot coding. Dan (Instructor) was explaining in detail and safe manner. I was worried about hot soldering iron but he managed to complete workshop on time. My daughter did everything herself. She is doing another projects herself. Great activity. – Pragnesh
Organiser of Workshop: Build your own Arduino-based Snake Game! Seniors, Adults + Kids.