Description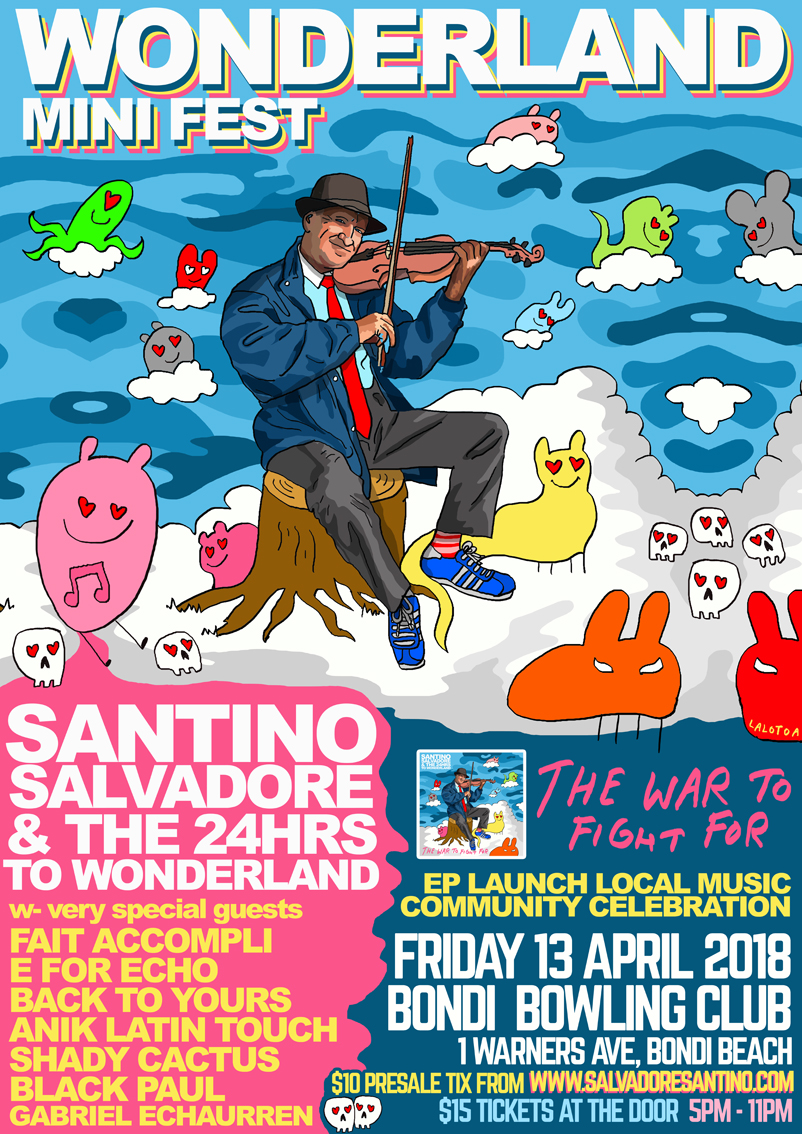 WONDERLAND Mini Fest will take you right into the Bondi music scene, whilst celebrating Santino Salvadore & The 24hrs To Wonderland newest EP "The War to Fight For"!

Hosting a special one-off show featuring the most incredible local artists and bands for an authentic night of live original music!

WONDERLAND Mini Fest
@ Bondi Bowling Club
1 Warners Avenue, North Bondi
FRIDAY 13th APRIL
Doors open 5pm

SANTINO SALVADORE & THE 24HRS TO WONDERLAND
w - very special guests
FAIT ACCOMPLI
E FOR ECHO
BACK TO YOURS
ANIK LATIN TOUCH
SHADY CACTUS
BLACK PAUL
GABRIEL ECHAURREN


PRESALE TIX - $10
TIX AT THE DOOR - $15
------------------------------------------------------------------------------------------------------------------------------------------------------
SANTINO SALVADORE - BIO

Santino Salvadore is a singer/songwriter and leader of ''24hrs To Wonderland'', a Pop-Rock band with an incredible variety of influences (Reggae,Funk, Rock & Blues), based in Bondi, Sydney (NSW).

His debut EP ''Life,Music & Bread'' was released in late 2015 in Edinburgh (Scotland), where the artist spend a few years of his early life. The EP received widespread approval during the Fringe Festival (2015-17').

Moved to Sydney (Australia) in 2015, Santino gets a band together that supports his capacity of telling stories through his songwriting and personality, called ''24hrs To Wonderland''.

Recently he got to be a full time artist through being an activist (Bondi Artists United - open artistic movement), performer/busker and music events coordinator in Bondi, Sydney.

Santino and his band released two new singles ''The Keyword is Money'' (April 2017) and ''The Smile Of A Clown" (February 2018) . Both singles are from the newest EP ''The War To Fight For'', will be released in April 2018.

There will be a Sydney City & Regional Tour 2018 Announced soon!

Facebook - https://www.facebook.com/santinosalvadoremusic/
Instagram - https://www.instagram.com/santinosalvadore/
Website - http://salvadoresantino.com

For info & live bookings email: santinosalvadore@gmail.com

BE READY TO GET YOURSELVES LOST IN WONDERLAND!

SUPPORT LOCAL INDEPENDENT ARTISTS!