Description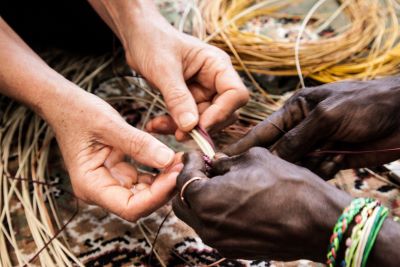 This workshop offers participants a rare opportunity to connect and learn from 3 Kunwinjku women weavers, Priscilla Badari, Sylvia Badari, Christine Nabobbob, and Chelsea (11 years old) from Gunbalanya, Northern Territory.
The creation of fibre objects has a long history in Arnhem Land. Woven dilly bags, ceremonial headdresses and string bags appear amongst the oldest rock paintings in the area, dating from over 20,000 years ago. Works of fibre craft were important for food gathering, food preparation and ceremonial purposes. The Kunwinjku women of West Arnhem Land, continue to develop this tradition while experimenting with contemporary artistic innovations.
In an intimate environment, you are invited to share culture, stories and weaving skills with these very special Kunwinjku women. With hands on guidance you will be guided through the dyeing and weaving process's, exploring their natural materials, colours, and weaving techniques.
In Addition to the weekend, an optional Friday afternoon is available where a small number of women will gather to dye the pandanus for the weekend, using the top end colours. Additional $65. if you are interested in paticipating, please email Judewhite@whites.net.au
"The 'rarest' of workshops! Precious time and sharing between kindred souls! Thank you." Isolde Kopping - Participant 2017 workshops.