A women's yoga weekend retreat in Canberra to rest and reconnect with yourself, just in time for International Women's Day!
About this Event
Take some time out to rest, reconnect with yourself and learn a few things along the way over a two day suburban retreat (totalling 10 hours), set in the peaceful space of Rise Studio Canberra. The retreat dates and times are:
Saturday 6 March, 12pm to 6pm
Sunday 7 March, 10am to 2pm
Hear about "Awakening Shakti in Times of Challenge" from guest presenter, Katie Welsh. Learn about being a "Green Goddess" with guest presenter, Erin Gordon. Explore "The Feminine in Yoga Practice" and "Women's Empowerment Through Yoga" with Sare. This weekend will also include a Self Love Restorative Practice along with other yoga practices woven between presentations, gorgeous essential oils and beautiful lunches. More details on the retreat line up below.
Tickets are limited for this event (13 in total), with the Early Bird Price at $270 per person available to Friday, 26 February 2021, and Full Price at $320 per person after that. Ticket sales close at 12pm, Friday 5 March 2021.
So who is joining Sare for this retreat?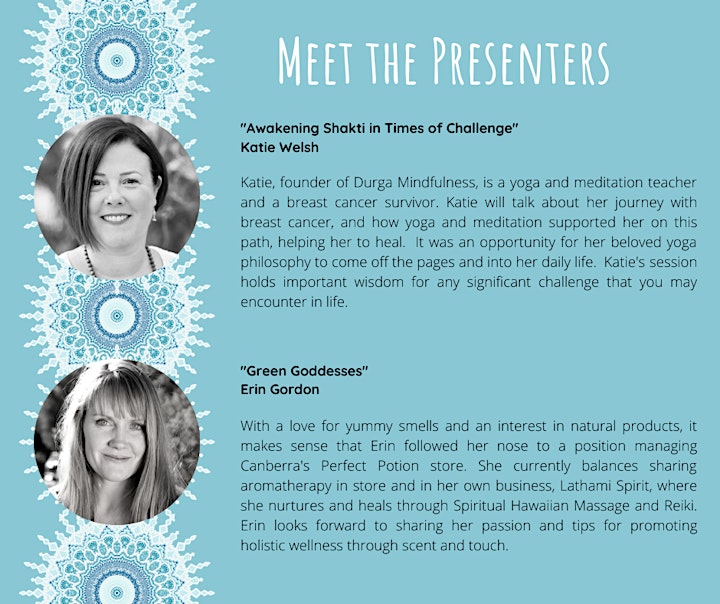 Retreat Programme
Saturday
12pm - Welcome Lunch
1pm - "Awakening Shakti in Times of Challenge" Presentation with Katie Welsh
2:45pm - "The Feminine in Yoga Practice" An explorative yoga flow
4pm - "Women's Empowerment through Yoga" Presentation with Sare
4:30pm - "Self Love Restorative" Restorative Yoga and Relaxation
6pm - Finish Day One
Sunday
10am - "Yin for the Sacral Chakra" A Yin Yoga practice focused on Svadhishthana Chakra
11:15am - "Green Goddesses" Presentation with Erin Gordon
12:30pm - Lunch
1:15pm - Women's Circle for intention setting, reflection on the retreat and a closing meditation
2pm - Finish Day Two
Attendee Health and Fitness Statement
In purchasing a ticket to the event, you agree to the following statement:
I fully understand that engaging in the practice of yoga involves a risk of injury, as with any physical exercise.
A Participant Activity Readiness Questionnaire (PARQ) will be supplied before the event to the email address I supply as part of this registration. I can request a copy of the quesionnaire form to ensure I can attend before purchasing a ticket. If any of the questions are answered "yes," I understand that I will need to supply clearance from my doctor before participating in this event. Conditions that may require clearance include: heart and/or blood pressure conditions, bone or joint conditions that could be made worse through practicing yoga, dizziness or fainting, or any other reasons that may cause me to question my ability to participate.
Yoga with Sare will not be held responsible for any undisclosed medical condition or unadvised change to a stated medical condition on the PARQ. I am also aware that I am free to withdraw from, reduce or modify my involvement in any activity during the event. If I notice any signs of light headedness, fainting, chest discomfort, light cramps, nausea or other discomfort, I will slowly and safely withdraw myself from whatever activity I am doing and notify the event host.
FAQs
Do you have a Covid Safe Plan at the retreat?
Yes. Rise Studio Canberra is adhering to the ACT Health guidelines on social distancing and capacity management for yoga studios. Studio equipment is regularly cleaned and mat areas are spaced out adequately. The cap for this event has been specifically set at 13 for personal comfort and ease during the retreat. Should any guidance from ACT Health change, we will be following their advice.
If you find you are experiencing any flu-like symptoms associated with Covid-19, sneezing, coughing or generally feel unwell, please do not attend on the day. See "Is my registration fee or ticket transferable?" below in FAQs and maybe transfer your ticket to a friend as tickets are non-refundable. If anyone attends and shows any of these symptoms, you will be asked to leave the retreat.
Please remember your social distancing at the event and to wash your hands thoroughly between practice and food or drinks. Hand sanitiser will also be available.
Do I have to bring my printed ticket to the event?
Save a tree and show your ID. Also, this reduces handling. Printed tickets are not necessary, but you will need to show photo ID to confirm you are the ticket holder. If you have the Eventbrite App on your mobile phone, you can check in that way as well and show the host your booking screen.
Is there a minimum age requirement to enter the event?
Attendees should be 18 years old or over. The retreat intention is to provide time away from family commitments. Also, some of the retreat content is intended for adults.
What are my transport/parking options for getting to and from the event?
There is parking available directly outside and along the street from Rise Studio. The studio is also a short walk away from the Tuggeranong Bus Interchange and South Point Tuggeranong.
What do I bring into the event?
As we are still living with Covid-19, you will need to bring your own yoga mat, something to sit on and it is preferred if you have any equipment to bring that as well. E.g. Yoga blocks, strap, bolsters, blankets, etc. Props will be made available for anyone that does not have their own equipment. If Covid-19 circumstances change in Canberra, preventing the use of some or all props, the physical activity component of the retreat will be modified to accommodate this change.
You are welcome to bring your own water bottle. Tea and lunch will be provided on both days. Tongs must be used when selecting food items. If you have specific dietary requirements, you are welcome to advise the host of your needs (vegan, gluten free, etc.) or if you are more comfortable bringing your own refreshments, you can. Please advise if you will be doing this so catering numbers are correct. A small kitchen fridge is available.
What is the refund policy?
Once a ticket is purchased, it is non-refundable.
Understandably, we are still living in a pandemic. If Covid-19 causes closures nearing the time of the event, it will be rescheduled to a later date. Refunds will only be addressed on a case by case basis if ticket holders cannot attend on the rescheduled date. A refund processing fee may apply if the event is cancelled due to Covid-19.
Is my registration fee or ticket transferable?
You may transfer your ticket to a friend or family member if something comes up and you are unable to attend the event. Send an email to yogawithsare@yahoo.com advising the change, including your name and the name of the person who will be taking your place. Last minute transfers on the day will need to be confirmed by an email as well.
How can I contact the organiser with any questions?
The best way to get in touch is to email yogawithsare@yahoo.com.