Description
Women's Kioloa to Pebbly Beach – 2 day hike, 1 night camping
We've been checking out Pebbly Beach Campsite for sometime, just two and a bit hours from Canberra and three from Sydney. It's an adventure paradise we're excited to offer for a new women's hiking and camping weekend.
Our hike will take us from Kiolola (Merry Beach) to Pebbly Beach. A 12km stretch that is eye-squintingly beautiful.
Trip Highlights:
Beautiful bush and beach hiking
Opportunities for swimming at beautiful beaches
Camping under the stars
Carrying a light pack
Details:
Meeting time: 10.00am Saturday 29th February 2020
Meeting location: Merry Beach (Kioloa) Drive to the camping area and the parking location is just before you enter the campground
Finish time: Between 2-2.30pm Sunday 1st March
Grade: Easy to moderate
Packs: You don't need to carry a tent (read below for day pack items)
Numbers: Maximum 8 women
Leader: Monique Farmer - 0403918346

Saturday Hike:
Hike Plan: Kioloa - Snapper Headland - Pretty Beach - Snake Bay - Pebbly Beach
Distance: 12km across beaches, rockers and trails

Meals: Morning tea (coffee + tea), afternoon tea, dinner
We begin the trip meeting at Merry Beach in Kioloa. The trail quickly turns from a beach stroll into a trail headland hike up and around Snapper Headland before reaching Pretty Beach, a perfect place for photos as the views are stunning.
Say good-bye to your mobile phone reception; you won't be able to text anyone from here onwards. From Pretty Beach it gets "prettier!".
With so much trail goodness, from and paths to rocky plateaus and the stunning beachside, the hike has enough "awww" moments to satisfy you "inner wild woman".
On the trail you'll have views all the way down to North Durras and Grasshopper Island. To the west you'll see Durras Mountain, which we pass below before reaching camp.
The coastal environment is perfect for spotting wildlife from whales, dolphins, sea eagles and goannas. Along the way we stop for our famous healthy morning tea and another break for lunch before reaching camp. A 3.3 hour hike with plenty of rest, swims and photo opportunities.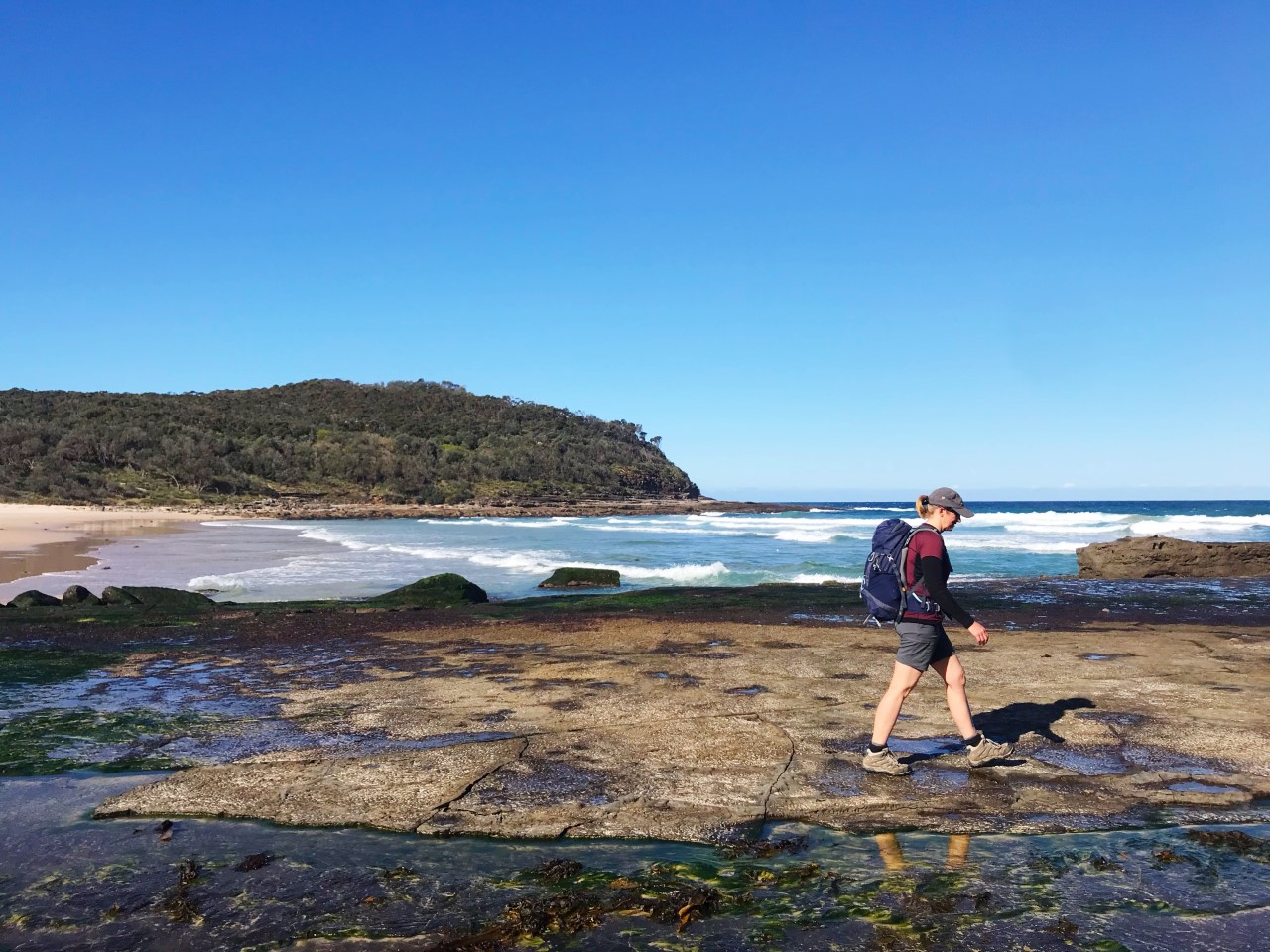 Quiet bush campsites can be hard to find, but Pebbly Beach is the perfect spot. Firstly, the beach is stunning. Camp also has flushing toilets, cold showers and cooking facilities. You can also enjoy an afternoon spread on the flat grass with a glass of wine and kangaroos by your side.
Did we mention your tents are set up for you. All ready for a great night to toast marshmallows by the fire and sleep under the stars.
Sunday Hike:
Hike Plan: Pebbly Beach - Snake Bay - Pretty Beach - Kioloa
Distance: 12km return hike
Meals: Breakfast, lunch, snacks
We wake early for a coffee/tea and watch the sunrise from the beach (if you choose) or sleep and wake when you're ready to the sound on birds.
After breakfast we pull down our tents and prepare for the journey back.
Our route back will take us back via the way we came with a complete different perspective of the coast.
Placing one foot in front of the other, we eventually reach our cars to unpack and reflect over the weekend and laughter hiking and camping together.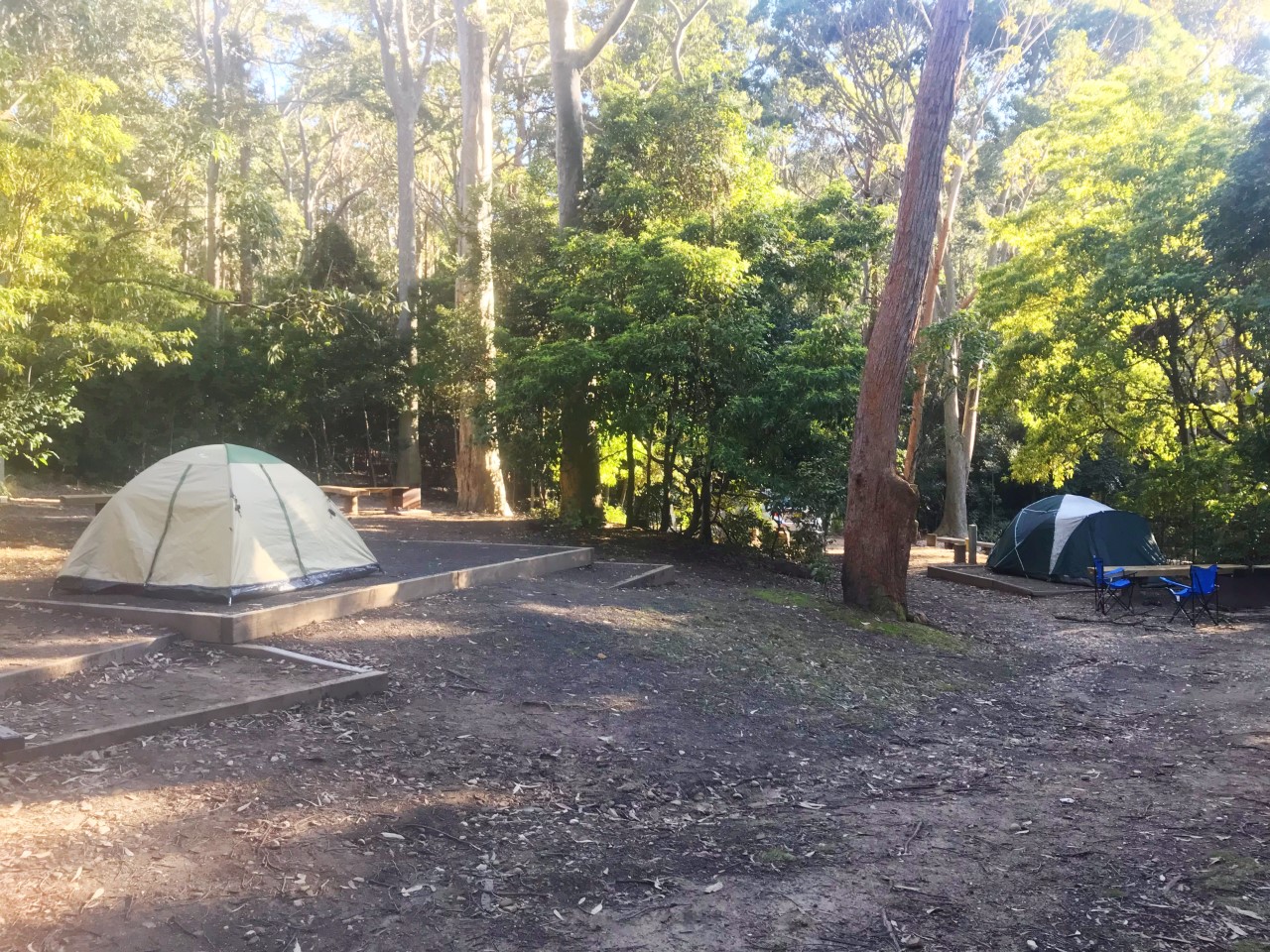 "This is my favourite part of the NSW South Coast by far! The beaches are stunning, so much wildlife and the camping location is so pretty! Everything about this trip will take you away from the busy hussle" ~ Member Lyn Murray NSW
Pebbly Beach Camping:
Drinking water available
Bathrooms
Cold Showers
Cooking facilities
Great swimming location
Packing List:
Hiking pack (45-50L capacity)
Sleeping mat
Sleeping bag
2L water
Lunch for Saturday
Head torch with new batteries
Walking boots or sandshoes are fine
Hiking socks x 2
Camera
Personal medication
Sunscreen
Hat
Bug spray
Clothes for the night
Waterproof and wind jacket
Swimmers
Small towel
Small roll of toilet paper for the trail
Included:
Group camping equipment

Tents (ladies will have their own tent. Please let us know when booking if you're booking with a friend and can share)

Cups/plates/bowels and utensils
Arrival camping c

hampagne

Meals (outlined in itinerary)
Snacks, hot drinks and coffee on and off the trail
First Aid
Emergency communication and first aid
NSW National Park Eco Pass Licensing
1x nights camping permits
Skill Level:
Easy to moderate - There are sections of this hike that will require you to walk over rocks, on beaches/sand and trail. We hike SLOW and work as a team. We recommend this trip for women who enjoy walking up to 3 hours in duration. We never rush this hike as it's so beautiful to stop and take it in.
Pack Weight:
Between 10-15kg. You will only need to carry your sleeping bag, matt and clothing. Your tents and all cooking equipment will be waiting for you at camp. Bonus!
Price:
$450 per person inc GST

Contact:
We hope you will be able to join this fantastic weekend tat Pebbly Beach. Please contact our team at womenwantadventure@outlook.com with any questions. You can also check out the latest trips at www.womenwantadventure.com.au
---
FAQs
How old do I need to be to attend this trip?
Women Want Adventure Trips are for women only, and over the age of 18 years. The average age of ladies who attend our trips is 45 years.
How physically fit do I need to be to attend this trip, I'm afraid I'll hold the group back. This trip is suited for women who enjoy walking and are comfortable with hills and steps. We don't recommend this trip if you have knee or back injuries.
I have a gluten free diet/vegetarian and other requirements. Do you cater for me? Yes. We cater for dietary requirements. Please make sure you clearly indicate when booking. We may ask you questions before departure to make sure we have the best options for you. We also pride ourselves on cooking delicious and healthy meals on all our trips. It's supervises what we can come up with in our bush kitchens!
Can I bring my own snacks? Yes of course. You leader will also have additional supplies. No-one ever complained about too much chocolate!
What type of toilet facilities will there be? There are flushing toilets at camp.
What if I book and then I can't attend? Please read our Terms and Conditions upon booking and notify us in writing as soon as possible, cancellation fees apply. You can transfer a ticket to a friend if you know someone who can attend.
I didn't get a spot on this trip as it sold out. Will there be another one? Yes. Keep an eye on new trips via our website at www.womenwantadventure.com.au.
Cancellation Policy:
We hope you do not need to cancel your trip, however if cancellation takes place the following will apply:
More than 30 days before the trip there is no charge

29-15 days before the scheduled trip there is a 20% administration fee

14 days or less before the scheduled trip the full fee will be charged (100% of the participant cost).
Please be aware that if a participant cancels their trip once it commences or they do not show they also forfeit their full trip cost. Late arrival of a participant or participants on the day may also forfeit the full trip cost. Women Want Adventure may reduce, transfer or waive the loss of fee for any reason at their sole discretion.
In the event of adverse weather conditions, Women Want Adventure reserves the right to change, alter or cancel this trip in the interests of client safety. Women Want Adventure will notify all participants as soon as possible on the day.
Cancelation due to weather:
Participants will hear from us if we need to cancel the day due to the weather. Participants must assume the day is going ahead if they do not hear from Women Want Adventures otherwise. If participants cancel their trip on the basis of weather (and we have not cancelled it ourselves) no refund will be given. If weather conditions cause us to cancel the trip we will offer alternative dates however if this option is not possible for participants refer to the Women Want Adventure Credit and Refund Policy.