The Ruined Castle is waiting for its Queens… okay it's dorky. But adventure is calling!
About this event
If you love getting outdoors, and want to put your hiking training to the test, this Women Want Adventure overnight trip the Blue Mountains is for you.
TRIP HIGHLIGHTS
Climbing Ruined Castle for sunrise coffee/tea
Camping in the wilderness
Exploring valley views of the Blue Mountains
Enjoying delicious camp meals
Hiking with a group of like-minded women
ABOUT THE HIKE
Ruined Castle walking track is an absolute jewel that can be found in the spectacular Blue Mountains World Heritage area. Beginning at Katoomba Falls Reserve, we'll make our way down the Furber steps into the Jamison Valley.
Descending deep into the valley, we'll enter the cool, lush rainforest with towering coachwood and sassafrass, and a chance to spot a lyrebird while we sit and have morning tea.
The track is a historic mining route with tell-tale embankments, so you can be sure that your guides will be sharing lots of fun facts!
After the stretch to camp, we'll explore the beautiful rock formations of Ruined Castle (it actually looks like one!) which offers great views over valleys as far as Wentworth Falls and Katoomba.
At night, we'll relax, watch the sun settle into the distance and enjoy the wilderness camp set-up.
On day two, rise to the smell of coffee and breakfast before packing up and heading back out the same trail. If you're feeling tired or don't wish to make the journey up the steps, you can catch the Scenic World Railway and meet the group at the top, but we'll be challenging you to take those steps if you can.
TRIP DETAILS
Meeting location: Katoomba Falls Reserve Parking Area, Katoomba Falls Road // NSW
Meeting time: 8.30am, please be on time
Finish time: Between 1-1.30pm following day
Grade: Challenging. There are uneven surfaces over old landslides and steep steps where some scrambling may be necessary
Fitness: Women should feel confident to be on their feet for a minimum of 5 hours on both days. Bush walking experience is recommended
Pack weight: Between 12-15kg
Distance: 8km each way (16km total)
Age: Women over 18 years
Numbers: Maximum 8 women
Non- member price: $430pp, inc booking fee and GST
Member price: $400pp, inc booking fee and GST (please use the code emailed to you or contact us)
INCLUDED
2 person tents - You can bring your own if it's lightweight and compact
Hiking 75L Wilderness Equipment pack ($30 hire fee)
Waterproof pack liners
First aid
Morning tea both days
Lunch day one
Afternoon tea day one
Dinner and dessert
Breakfast and fruit
Hot tea and coffee
All eating utensils
All cooking gear
Camp lights
Group tarp
Group ground mat
Emergency communication (PLB)
NSW National Park Eco Pass Licensing and permits
Photos of your trip posted in a private Facebook Page
EXCLUDED
Sleeping mat
Sleeping bag
Travel to and from meeting location
HOW FIT DO YOU NEED TO BE?
This trip will appeal to women who want to push themselves a little further – after all, it's called challenging for a reason! A good to high level of fitness is required as well as an open mind and a willingness to tackle a challenge when it comes up (the steps!). You can expect to spend 4.5 hours on the trail to each camp (including the stops). Some previous bushwalking experience is recommended, but it's not essential if you have never been overnight hiking before.
This trip varies between moderate and challenging. If women book and choose to catch the Scenic World Train to not complete the steps, the trip is more moderate.
Fitness and Preparation – You should be participating in cardio/aerobic sessions three- four times a week. This should be combined with some long distance hikes over steep and uneven terrain. You must be comfortable pitching a tent and carrying your items on your back.
* If you have completed the Great North Walk Overnight Hike with us OR The Six Foot Track hikes, this hike will be more suited to you.
WHAT DO I NEED TO PACK?
Hiking backpack (55-65L capacity). Unless hiring from us $20. View example
Sleeping bag View good example
Sleeping mat (insulated) Please do not pack a yoga mat. View helpful example
Water (You need to carry 2L). We suggest a 2L bladder + and a 1L water bottle
Head torch with spare batteries
Wet weather (waterproof jacket with hood – very essential)
Fleece jumper
1x hiking shirt (merino material is best. Cotton is not great)
Long sleeve shirt
Thermal top (very essential)
Thermal bottoms (very essential)
Lightweight camp trousers
Walking boots or shoes that are well worn in
3x pair of hiking socks (merino material is best)
Underwear
Camera or phone to take photos
Phone power bank and cords (optional)
Personal medication and sunscreen
Hat and Sunglasses
Insect repellent
Warm clothes for the night (you can wear your thermal top)
Beanie and gloves in colder weather
Lip balm
Small packet of tissues and toilet paper
Personal blister pack
Toiletries + ear plugs
Rubbish bag (for dirty or wet items)
Hiking poles (optional - very useful up the hills and steps). We hire for $20
Thongs or camp shoes
*Unsure about items above? Get in touch at womenwantadventure@outlook.com.
WHAT'S ON THE MENU?
Expect to be eating wholesome and fresh wraps & delicious snacks. Our home-made Anzac biscuits are famous along with afternoon delights. We love healthy food and veggies. Your guide will show you how food is best prepared for light weight packing so you can go home with helpful tips. Of course, soup, coffee and tea is plentiful.
We cater for most dietary requirements (not preferences), please inform us when booking as we need to check if we cater for you. We do cater for vegetarians, vegan's and gluten free.
Need to get in touch? Great! Because we love helping you get outdoors and on your adventure. Please email womenwantadventure@outlook.com.
FAQ's
Please click here to read our full FAQs page.
Can I bring my own snacks? Yes of course, however we have plenty of food for everyone.
What type of toilet facilities will there be? There are drop toilets at camp.
I've been on a few day hikes with Women Want Adventure but never overnight, would this trip be suited for me? As long as you feel comfortable to walk up and down steps carrying your pack of 12-15kg. Having experience bushwalking is great and you will be more suited for this trip.
Because the trip is graded challenging, does this mean first timers to overnight hiking can't attend? Not at all. We want to make sure women who book don't get a surprise of what it's like to walk down steps! If you find you don't want to walk back up on day 2, catch the train at your own expense for $25. It's actually a really fun trip if it's your first time camping overnight!
Should I bring my own Jet Boil for boiling water? No need. Your guide will have water boiled for you.
Can I bring my daughter, she's 17? Sorry, this trip is over 18 years only.
Is it steep the whole way? No. Only the first section down into the valley is steep, then it's a flat walk beneath the rain forest canopy to camp.
What if it's raining, does the trip still go ahead? Yes. We walk in the rain and will set up additional tarps at camp. There are also shelters at camp to keep dry. If it's pouring an unsafe to walk we will set a new date.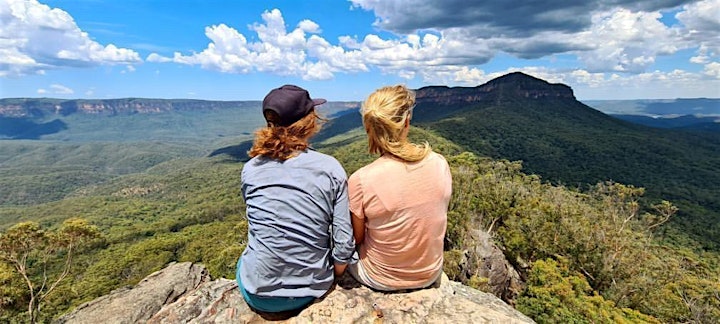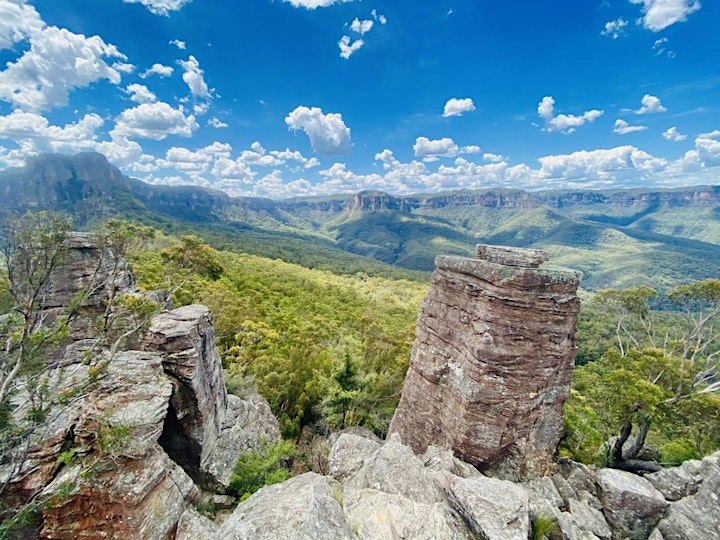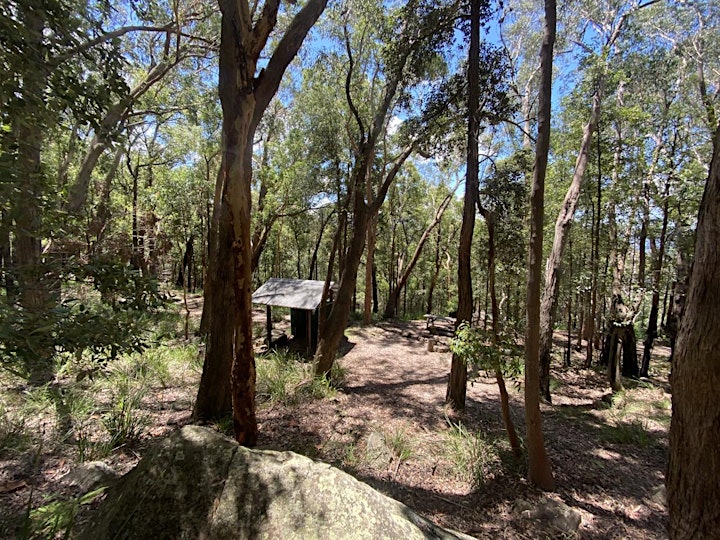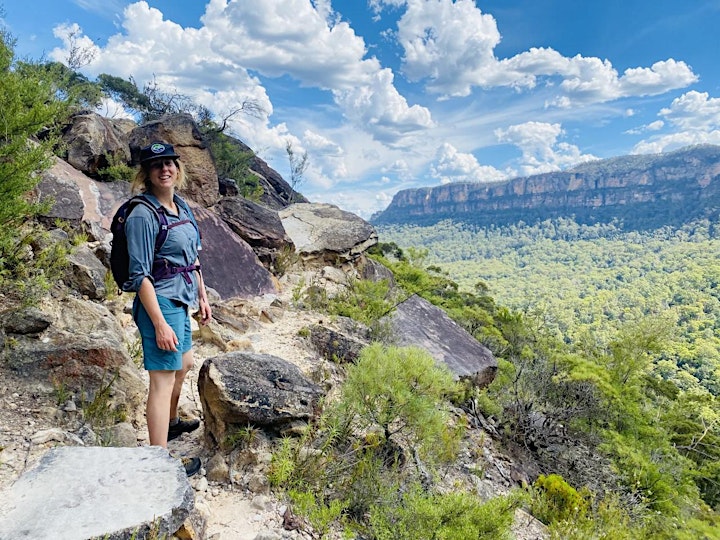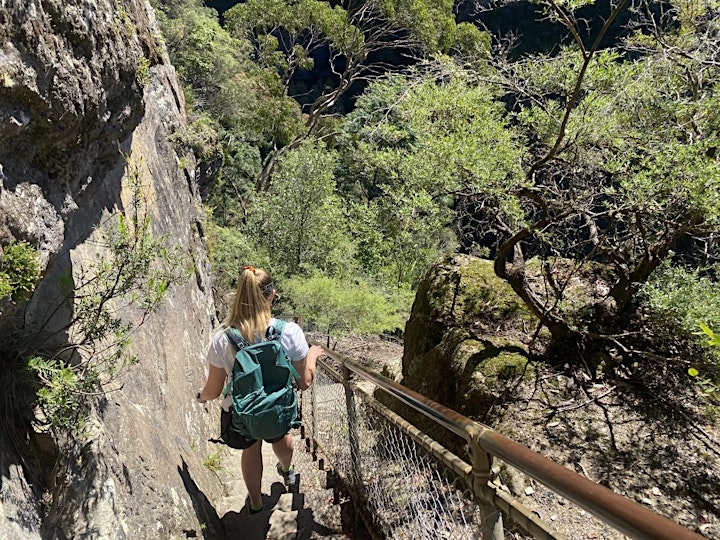 Organiser of Women's Overnight Hike // Ruin Castle