Description
This women's canoe overnight experience encapsulates the beauty of the Shoalhaven Gorge. Based in one of the best overnight paddle destinations in Australia, we explore the river banks and breathtaking natural scenery.
We pack our camping gear into the canoes to spend the night by the river, relax around the fire and feel away from every day pressures.
Your qualified flat water canoeing leader will ensure a safe, fun filled adventure choosing the pace that will best suit the group and the weather conditions for the weekend.
Start time: Meeting 9.00am at the Safaries House location "Base House"
Finish time: Between 1.30-2pm on Sunday
Level: Suitable for beginners. Some paddle fitness required. Must be comfortable to sleep in a tent outdoors
Numbers: 12 women maximum
Leader: Women Want Adventure leader - Monique Farmer
Price: $460pp inc GST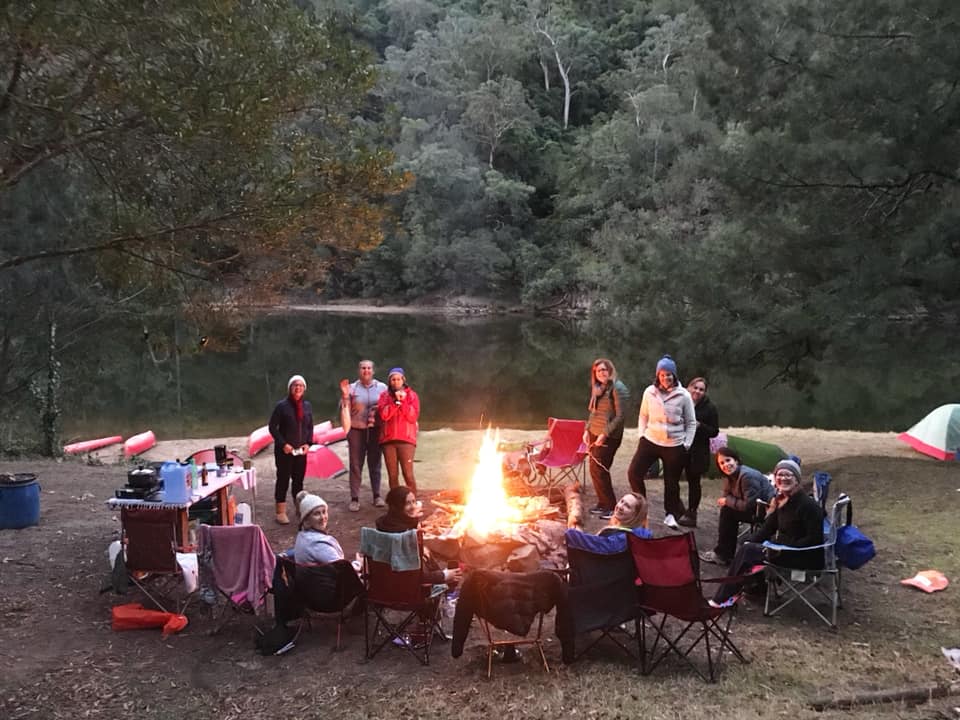 Day 1
We are meeting at the Base House 'NOT THE SHOP' (2210 Moss Vale Rd Barrengarry 2577) in Kangaroo Valley at 9.00am. We will be organsing to leave our cars at the Base House and only take our camping gear. From here at we are taking a twenty-minute shuttle to Tallowa Dam, then a 3 hour paddle into the spectacular Shoalhaven Gorge which is recognised as one of the most scenic flat water paddles in Australia, especially after rain with many waterfalls coming over the majestic sandstone cliffs.
We stop on the way to have morning tea by the river and take our time.
We camp at one of the Fossickers Flat area's by the river to enjoy the peace, no roads, no powerboats, just the noise of the birds to wake you up in the morning.
At night we have a fire, some wine and cook up a healthy meal.
Please note *This trip may change due to winds and weather. Your leader will update you before or on the trip if our camping location needs to change.
Day 2
Wake up by the river and enjoy a yummy outdoors breakfast and a swim. Return paddle to Tallowa Dam by 1.30pm. We will allow 3.5 hours to enjoy morning tea on the banks along the way. We will meet the shuttle for the return back to our cars.
What to Bring:
SLEEPING BAG
TENT (we have tents for hire $15 each, please indicate if you need to hire on booking).
GROUND MAT
CAMPING CHAIR
PERSONAL SNACKS
CAMPING PILLOW OR NORMAL PILLOW
HEAD TORCH WITH NEW BATTERY
PLEASE PACK 3L WATER. WE WILL SUPPLY ADDITIONAL FOR COOKING AND DRINKING
PERSONAL MEDICATION
RAIN COAT
A PAIR OF SHOES TO GET WET
WARM CLOTHES TO GET CHANGED INTO AFTER DAY 2
WARM JACKET
HAT
TOILET ROLL
GOOD BOOK
MUSICAL INSTRUMENT
BEANIE
2X SOCKS
TOWEL
UGG BOOTS
THONGS
SWIMMERS
SUNSCREEN
HAT
DRY BAG IF YOU OWN. OTHERWISE WE PROVIDE
CHANGE OF CLOTHES FOR NIGHT ON DAY 1 (Pack a warm jumper as it can get cold by the river)
BYO ALCOHOL
INCLUDED:
ALL CANOE EQUIPMENT INCLUDING PFD
ADVENTURE LEADER
DINNER SATURDAY NIGHT
BREAKFAST ON SUNDAY
MORNING TEA ON SATURDAY AND SUNDAY
LUNCH SUNDAY
FIRE SNACKS
SHUTTLE RETURN
COOKING GEAR
EATING UTENSILS
FIRST AID
WASHING UP GEAR
WATERPROOF CONTAINERS FOR YOUR CAMPING GEAR
SKILLS BREIFING


Directions to Kangaroo Valley Safaris Base House from Sydney.
The Hume Highway (m5) is much more direct than the coast road. Follow these directions and it will take you 2 hours to get here. Come down the Hume highway towards Canberra, Take the Mittagong exit…….Go to Bowral. From Bowral follow the signs to Nowra (do not go to moss vale). This is the Sheepwash Road. This road will take you past Fitzroy falls. You will come down Barrengarry Mountain. Once you are at the bottom of the mountain you will see us 3 klms on the left. Look for the big Kangaroo Valley Safaris sign at our gate. If you get to Hampden Bridge you have gone 1.5 klm too far.
If you have any questions about booking this trip, please contact our friendly team who will assist you.
We look forward to spending the trip with you.
Kind Regards,
The Women Want Adventure Team
0403918346
www.womenwantadventure.com.au
---
FAQ
What if it's raining? Women Want Adventure trips still go ahead in all types of weather, unless electric storms. Monique will be in contact with you in case of a change in plans. Please bring your wet weather gear as we canoe in raining weather.
How old do I need to be to attend? Women Want Adventure trips are for women over the age of 18 years.
Roughly how old are the women attending? Between mid 30's to late 60's.
Do I need to be really fit? No. We paddle very slow and take our time. You will be in a double canoe and has assistance from your partner.
Do I need to book with a friend because two ladies go in a canoe? No! Come individually! We make it work with numbers and it's a really nice way to connect with a new friend paddling up the Gorge.
Cancelation Policy for this trip: Cancellation of a booking by You must be made in writing. It is up to you to cancel your booking. We will not regard a booking as cancelled unless and until written notice is received by us. On cancellation the following charges will apply:
We hope you do not need to cancel your trip, however if cancellation takes place the following will apply:
More than 30 days before the trip there is no charge

29-15 days before the scheduled trip there is a 20% administration fee

14 days or less before the scheduled trip the full fee will be charged (100% of the participant cost).