Description
Length: 7 days, 6 nights
Start: 23rd November 2018
Finish: 29th November 2018
Grade: Moderate Hikes - Overnight hikes, some uneven terrain, you need to be fit and enthusiastic.
Start and finish: Queenstown
Accommodation: Backcountry Huts, Multi-share Cabins, Pinewood Lodge.
Included: All accommodation and meals itemised in itinerary
Price: Early Bird (ends June 4th) $2890 AUD + GST Total Trip Price: $2990 AUD + GST
Deposit: $400 (non refundable)
Numbers: 10 women maximum
Flights: Not included
Women Want Adventure Leader: Sue Thodey
*THIS TRIP IS NOW SOLD OUT!!!
Feel free to place your name on the registration and we will add you to the waitlist.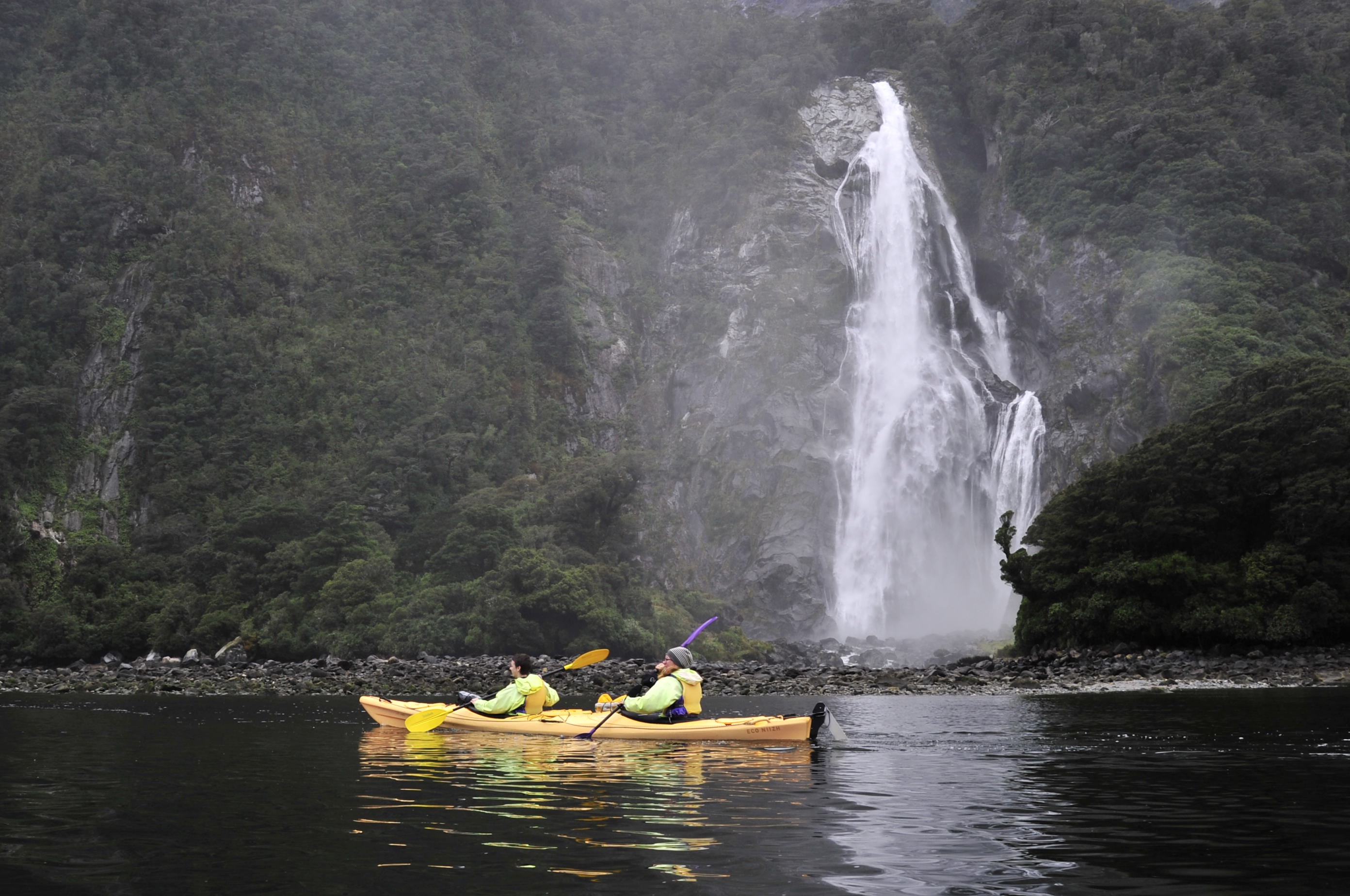 Our Women's New Zealand Hiking Trip starts and finishes in Queenstown - the adventure capital of New Zealand.
We begin our first hike in the world heritage area of Fiordland National Park with a stunning hike on The Key Summit Track. Enjoy the serenity of beautiful mountain ranges and waterfalls as you kayak in Milord Sound and hike around Lake Marian. After a night in the alpine Green Lake Hut, we head into Mt Aspiring National Park for another overnight trek in one of the most majestic places, passing by Rob Roy Glacier. This is a special combined hiking and kayaking trip to get off mainstream walks in New Zealand's South Island and experience alpine areas.
---
Day 1 (23rd Nov) Arrive to Queenstown at Pinewood Lodge Accommodation
We will meet in Queenstown at the Pinewood Lodge accommodation. It's best to arrive in the afternoon before 3pm. Transport from the airport is not included (approx $23 for a airport shuttle). Pinewood is a shared, self-contained unit with a kitchen, bathroom block and living area, sleeping up to 12 women. Check in time is after 1pm. As a group, we will meet and greet at the lodge, you will need to get your own way to Pinewood from the airport. Depending on your arrival time, the group has options to walk with Women Want Adventure Leader Sue and stretch the legs on an afternoon hike up The Queenstown Hill – 2.5 hours walking with spectacular views of the Remarkable Mountain Range OR take the Gondola as a group for an evening wine looking over Queenstown. We then head out for dinner in Queenstown. We will be collected from Pinewood Lodge the following day at 7am.
Accommodation: Pinewood Lodge Queenstown
Meals: Dinner at groups on cost
Hiking: The Queenstown Hill Walk – 2.5 hours return // 4 km. Some steep hill sections (we take it slow). This hike is optional and you may choose to wander around the town, take a ride on the Gondola or have a wine!
Day 2 (24th Nov) Depart Queenstown – Head to The Key Summit Track into The Hollyford
Wake up early (6am). We will be collected from our accommodation at 7.00am after breakfast. It's a stunning drive south towards our hike to Key Summit and down Pass Creek into the Hollyford (4-5) hours walking. It's a fabulous hike with plenty of scenery, adventure and beyond tourist tracks to make you feel like your in the wilderness. In the afternoon, we take the stunning drive into Mildford Sound for our nights accommodation at the cute "Gunns Camp" cabins by river.
Hiking: Key Summit Track (4-5 hours loop)
Graded: Moderate. Some steep sections when walking up the hill and uneven surfaces
Accommodation: Gunns Camp in Mildford Sound. Shared accommodation.
Meals: Includes breakfast, lunch and dinner + hiking snacks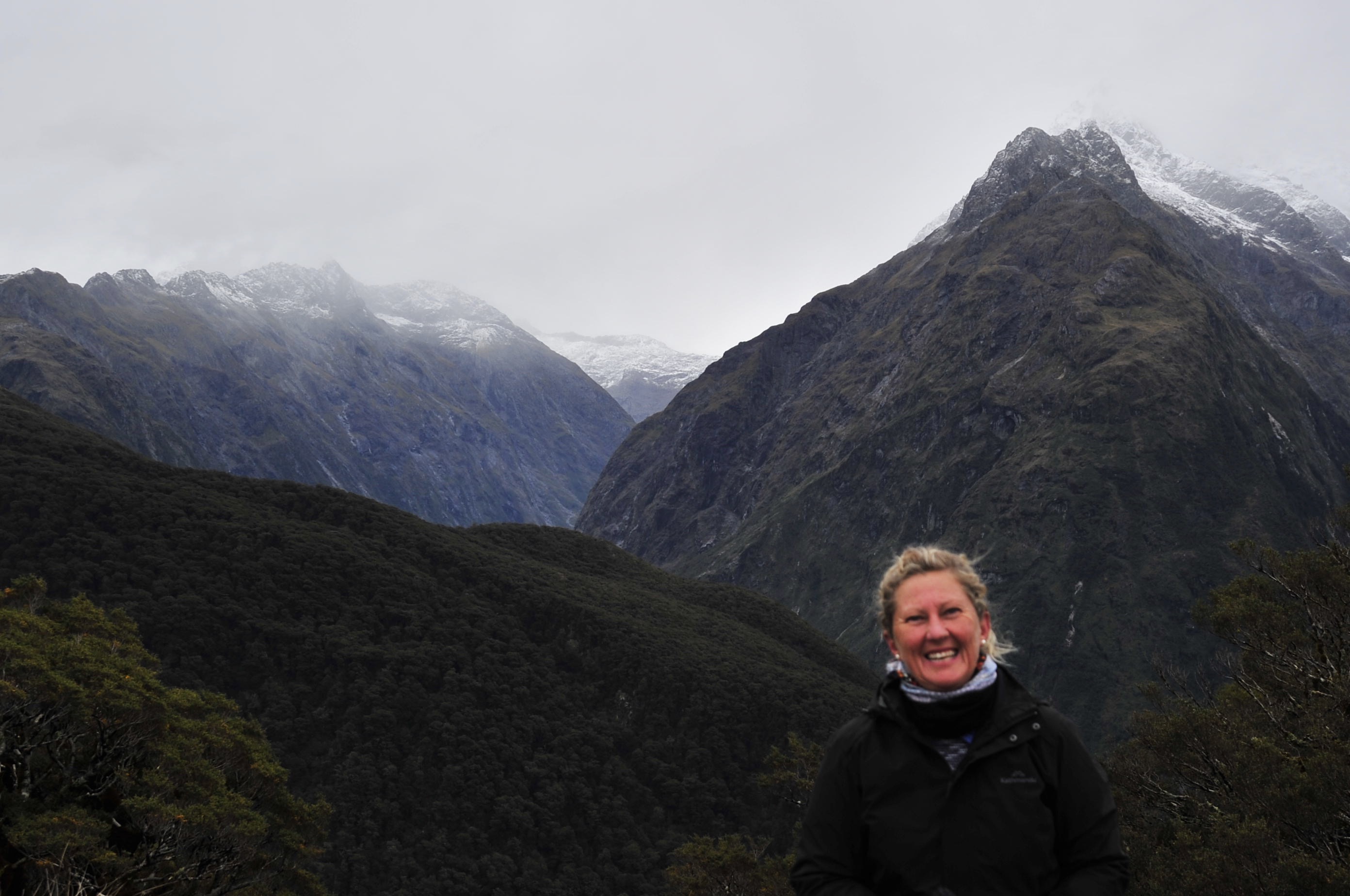 Day 3 (25th Nov) Kayaking in Milford Sound + Lake Marian Hike
We wake up early (5.15am) for breakfast then drive further into Mildford Sound to meet our guides for kayaking at 7.15am. This is the best way to experience the majestic waterfalls, cute little seals and wildlife in the area. You don't need any previous kayaking experience. You will be in a double kayak with another lady. After your kayaking experience we set out hiking into Lake Marian. This is a stunning alpine lade in a beautiful hanging valley - 3 hours return hike.
After a busy day adventuring we drive to Monowai Cabins. These are our favourite on the trip! At night, we prepare for our overnight hiking adventure to Green Lake for the next day. Make lunches are re sort our bags.
Kayaking: 4 hours (easy. You don't need any previous experience and we provide you with thermals + gear)
Hiking: Lake Marian 3 hours return // 4km
Graded: Easy – moderate.
Accommodation: Monowai cabins. Ladies will have their own bed and cabin. 2x ladies will need to share.
Meals: Breakfast, Lunch, Dinner + snacks
Day 4 (26th Nov) Overnight Hike to Green Lake Hut – or camp (weather depending)
We prepare for our first overnight hike at the cabins this morning, making lunches and finalising our bags, before taking the short drive up to Borland Saddle. Beech forest aligns the track before we ascend onto the gentle tussock peaks of the Hunter Range, where we gradually climb to Mt Burns. From here we navigate along the tops, enjoying striking views of the granite peaks of southern Fiordland across the dark colours of Green Lake. Tarns (small mountain lakes) are dotted along the route and wild deer are prominent in the area. Eventually we drop down into beech forest from the tops and link up with the southern shore of Green Lake, which leads us to a cosy mountain hut. Feel free to take a dip in the frigid waters of the lake before settling down in front of the hut fire for the night.
Question: What is an alpine hut?
Answer: An alpine hut is operated by the Department of Conservation in New Zealand. They are shared by the public and for Green Lake, it is one room for up to 15 people to sleep. It is best to bring ear plugs with you. These huts are absolutely amazing and Green Lake is heated by a fire.
*Note: Your boots WILL get very wet on the hike. We are off the beaten tracks and walk through tussock areas. God hiking boots and spare merino socks must be worn.
*Note: The weather can change in New Zealand rapidly. If there is snowfall in November we may not be able to drive to the start of this hike and will make immediate alternations for other hikes in the area.
Hiking: Green Lake Hut Walk – 5.5 hours // 10km or 3 hours // 5km. We have two options for the group. The 3 hours hike is much easier and with two leaders we can split the group to make sure you feel comfortable. The Summit Trail over the tops trail is much harder but worth the view!
Shuttle time: 45 minutes
Accommodation: Green Lake Hut (or camp).
Meals: Includes breakfast, lunch and dinner + snacks
Day 5 (27th Nov) – Hike Out Of Green Lake Hut – Drive to Wanaka
We wake up early this morning and enjoy this remote setting while having breakfast before we hike back to the road following along the lake then through beech forest and areas of alpine tussock (the easier section). Then sit back this afternoon and enjoy the drive to Wanaka. Arrive Wanaka late afternoon for dinner in town at groups on cost.
Hiking: Hike out from Green Lake Hut – 5km // 3 hours
Graded: Easy- moderate. The trail has uneven surfaces, roots and is wet. This makes it a moderate experience.
Shuttle time: 5 hours
Accommodation: Wanaka Altamont Lodge (twin share accommodation)
Meals: Includes breakfast and lunch, dinner at groups own cost (Wanaka)
Day 6 (28th Nov) Overnight Hike Mt Aspiring National Park – Wanaka
This morning we have a little sleep in after the long drive and re-pack our bags for another hike to an alpine hut – Mt Aspiring Hut. After making our lunches and stocking up on snacks, we leave our accommodation at 11am for the start of the Mt Aspiring Walk. Tonight's accommodation is at the Mt Aspiring Hut which has 360 views of the stunning valley. It's a flat walk into the hut with waterfalls and mountains soaring above either side.
Hiking: Mt Aspiring National Park – 4 hours // 6km
Graded: Moderate
Shuttle Time: 50 minutes to the start of the trail
Accommodation: Mt Aspiring National Park Hut
Meals: Includes breakfast, lunch and dinner + snacks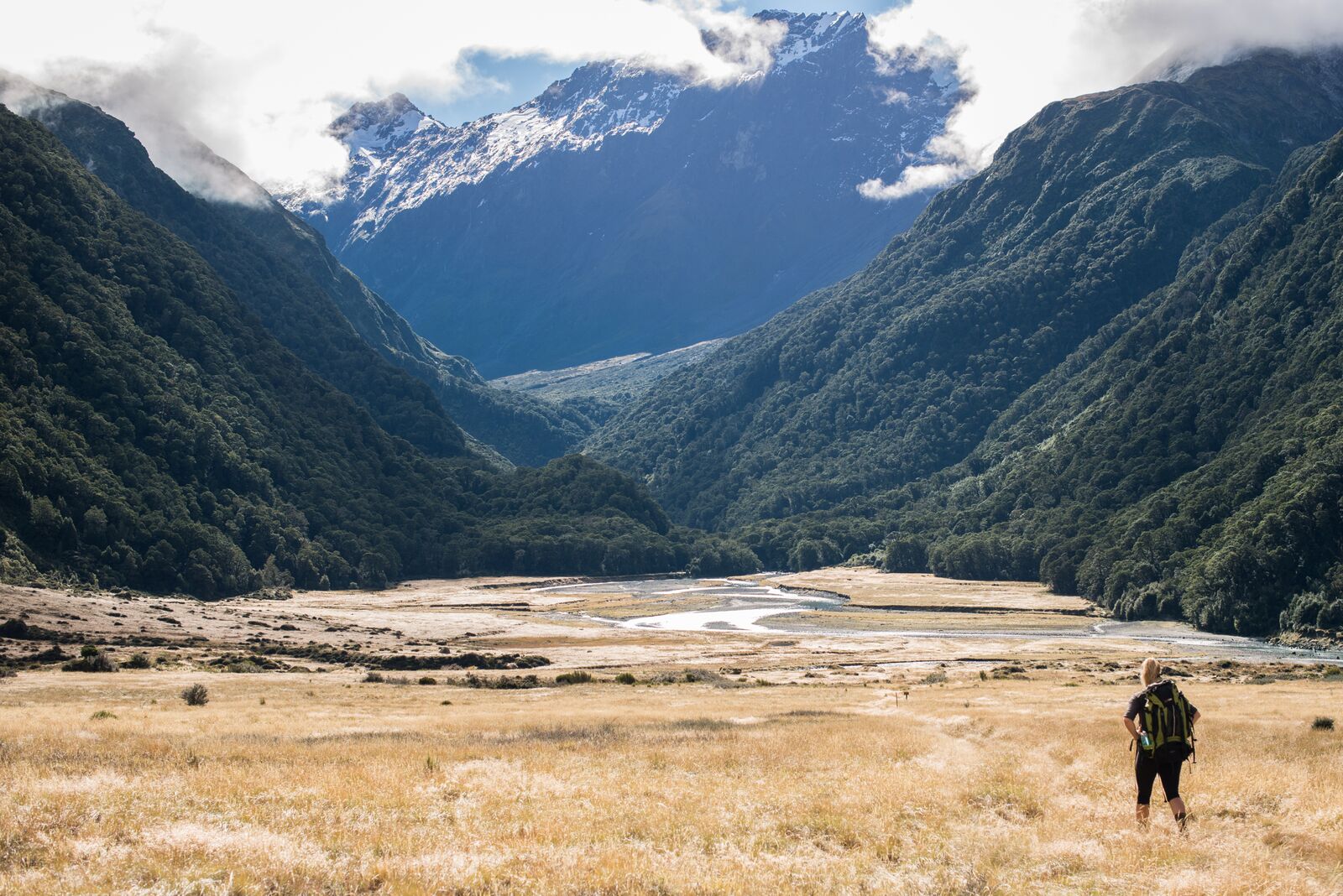 Day 7 (29th Nov) Hike Out from Mt Aspiring Hut Via Rob Roy Glacier - Drive Back To Queenstown For Trip Departure.
Depart from Mt Aspiring Hut and walk back on the return trail via Rob Roy Glacier where we stop for lunch and incredible views of the glacier before returning to the shuttle. We then get prepared for the journey back to Queenstown, laughing, singing and looking forward to a nice hot shower back at the groups individual accommodation. We meet up again (optional) for a farewell dinner our in Queenstown.
Hiking: Hike out from Aspiring Hut – 4 hours // 6km via Rob Roy Glacier
Graded: Moderate
Shuttle Time: 3 hours – Wanaka To Queenstown
Accommodation: Groups own cost. We will drop you at one central point in Queenstown (usually the Information Centre) which is central to most accommodations. Ladies make their own way to their accommodation.
Meals: Includes breakfast, Lunch and farewell dinner at groups own cost
---
We supply (for days 2-7 only)
Emergency first aid kit + PLB

Plates, cutlery, mugs, pots, etc.

Backpack liner (plastic bag) Please bring a dry bag if you own one

Safety equipment

Maps

Tents

Spare sleeping mats if needed

Spare sleeping bags if needed
Packing list: Ladies MUST pack all items on this list.
Backpack (at least 60 litres capacity)

Small daypack

Hiking boots

Sleeping bag (3 season)

Flashlight/headlamp

Drink bottle – 1 litre

Sunscreen, hat and sunglasses

Insect repellent

Personal toiletries, medication and first aid

Walking Poles (optional)

Gaiters (optional)
Clothing - one set for walking, one set for evenings
Walking clothes: New Zealand's weather is changeable and we can experience extremely cold weather at any time of year, especially in the mountains. Our huts/camps vary in altitude from sea level to over 1000 metres. It is necessary to have warm clothing. Jeans are not suitable for hiking and you MUST pack everything on this list.
Raincoat (Goretex or similar) Must be waterproof (Essential!)
Hiking boots (or hiking shoes) (Essential)

Spare lightweight shoes or sandals

Spare joggers or other shoes

Shorts or lightweight trousers (preferably quick-dry)

Waterproof hiking long pants (Essential!)

Short-sleeved shirt x 2 (quick-dry, polypropylene or merino wool)

Warm fleece/wool jersey (not cotton) (Essential)

Socks (we suggest 3 pairs of merino)

Togs (swimming costume for the keen!)

Thermal tops (Essential!)
Thermal long bottoms (Essential)

Warm beanie (best to get a wool merino beanie)

Head scarf for wind protection around your neck

Warm gloves/ preferably waterproof

Towel (lightweight travel towel)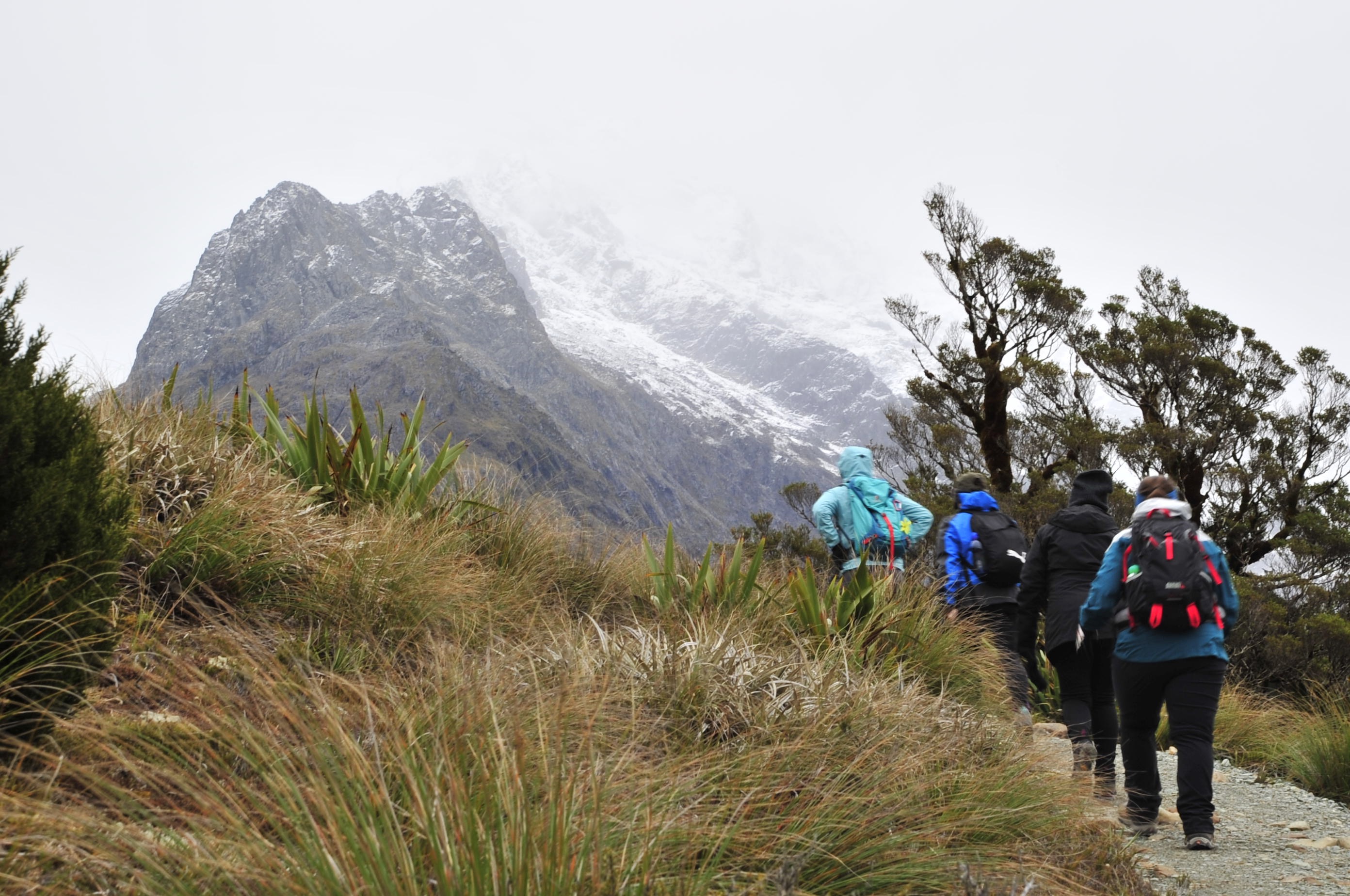 Spare clothing: Comfortable clothes for non-hiking days. Spare clothing can be left in the secure trailer when we are away on the hikes, so don't worry about the extra weight – ensure you have enough warm items. Note: there are only limited opportunities to do laundry during a tour, so quick drying clothing is an advantage. Weather can change rapidly in the locations we hike so layers of clothing is ideal.
Fitness for the trip: The hikes into Green Lake Hut and Mt Aspiring Hut are Graded D+. This means they have uneven terrain, you may need to walk in puddles, tussock and up inclines. Women attending must be in good physical fitness to complete these hikes. If we end up with women our guide thinks are unable to complete the hike they would need to be accommodated at their own cost.
If you walk 2-3 times per week at home and are confident for walking for period over 4-5 hours you are suitable for this trip. With two leaders, we can cater for varying fitness levels. What helps the most, is knowing you may be walking in the rain or wind. It's an adventure and a great one!
Food on the trip:
Breakfast options: Includes, toast, porridge, yogurt, Gluten free bread and muesli, eggs, tea + coffee and fruit. We have options for soy, along and rice milk + herbal tea.
Lunch options: We make wraps and sandwiches to bring with us in kayaks or our overnight packs. These are a mixture of salad wraps with falafel, ham or chicken. Gluten free wraps available.
Dinner options: Dinners range from curries, pasta and veggies, risotto and vegetarian meals. We make sure we cater for everyone and include as many vegetables as possible.
Snacks: We provide nut bars, mixed nut options, seeds, lollies, chocolate, biscuits for tea and more. Each day you will be provided with zip lock bags to top up your snack bag! We also hang around applies and other fruits to carry.
Wine: Women Want Wine… it's optional to bring wine and we don't provide this on the trip. We do make stops at the supermarket and you are welcome to bring some with you.
Note: *we cater for vegetarians, lactose and gluten free. You won't go hungry on this trip. We do advise, if you have personal snacks you prefer that you bring these from home.
---
FAQ's
How old do I need to be to attend this trip?
Women Want Adventure Trips are for women only and over the age of 18 years. Most ladies who attend are between 25-65 years old.
What is the weather like in November?
Mid 12-20 during the day and cold at night. It can still snow at this time of year and you MUST pack your thermals, Merino clothing and wet weather gear to keep you warm and prepare you for all walking conditions.
What if I get sick while on the trip?
If you are not feeling well on one of the walking days. You are able to stay in the accommodation, shuttle or a base we set for out. If in emergency, we have a satellite phone, to either call an ambulance or helicopter.
I have a gluten free diet, do you cater for me? You are required to inform us of your dietary requirements prior to departure. We will then be able to cater for you.
What is the average age of women attending? Women in their 30- late 60's
What kind of food will we be eating? We are staying in huts and accommodation. It will be very simple foods. High protein & carbohydrates. Oats and hot beans for breakfast, fruit and bars for snacks, wraps for lunch and stir-fry's for dinner. We will also be going out and will choose the best location on the night.
Can I bring my own snacks? Yes. We will stop via the shops to pick up supplies if you prefer your own.
Are our Guides male or female? Female Guides only.

I don't have hiking boots. Do I have to get some? We highly recommend purchasing hiking boots. The terrain is uneven and we want you to support your feet.

How many ladies will be on the trip with me? 10 ladies + your female Guides.
Is there transport pick up from Queenstown Airport on the 23rd? Transport is not included from the airport. Roughly $23.

What if I book and then I can't attend? Please read our Terms and Conditions upon booking and notify us in writing as soon as possible. Cancellation fees will apply and deposit is non-refundable.
Is there a Facebook Female group for this trip? Yes. All our trips include a friendly private Facebook group to connect women before they leave.

Who can I contact who is organising this event for additional questions? Please make sure you read carefully the itinerary and FAQ. You can contact Trip Leader Monique Farmer via email at womenwantadventure@outlook.com.