Description
The Ningaloo Reef in Western Australia is unparalleled in wild and natural beauty.
The area provides adventurers like us at Women Want Adventure with an unlimited array of wild landscapes and underwater reef systems. From camping under the stars to snorkelling daily on the reef with an abundance of fishes, this trip truly is a dream.
After we finish with the wilder side of the first part of the trip, we stay in luxury 4.5 resort and swim with the Humpback Whales and Manta Rays.
Just recently we made the decision to put out this Expression Of Interest as our "whale shark" trip sold out in May 2020. Both trips are without a doubt the most magical experiences you can have in a very unique part of the world.
Please register your interest so we know who and how many women wish to spend a week kayaking, camping, snorkelling and with the humpbacks. We will email you shortly when the trip is open for bookings.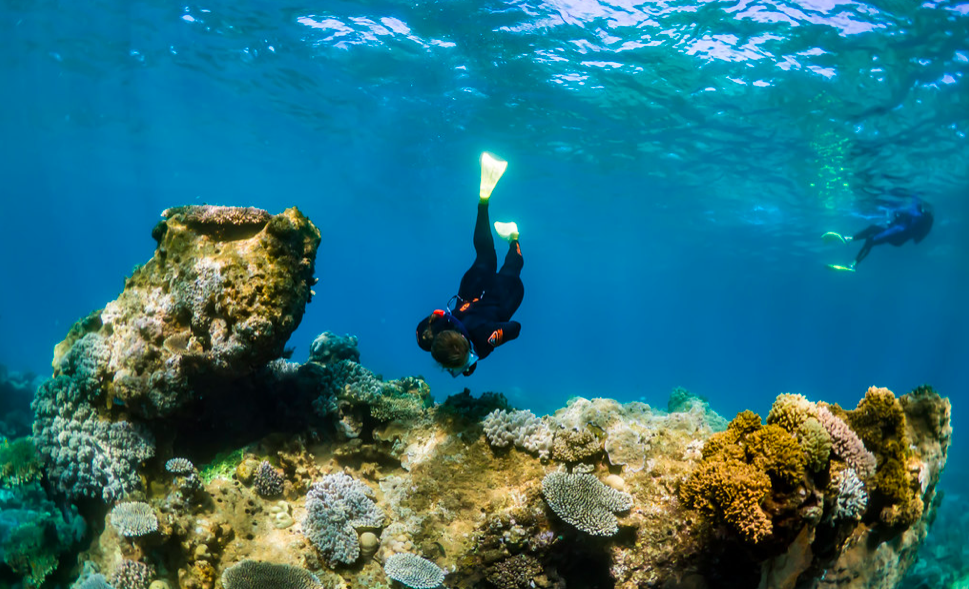 DETAILS:
Trip Duration: 8 day / 7 nights
Grade: Easy – Suitable for beginners and first time kayakers
Start Location: Perth airport, Western Australia
Activities:Kayaking, Humpback Whale swimming, snorkelling, camping and hiking
Accommodation: Swag or tent camping + two nights at Manta Rays 4.5 Star Resort in Exmouth
Included: All items itemised in itinerary including accommodation, airport transfers, meals, kayaking/camping equipment, humpback swimming tour and more
Group size:8 women
Dates: 13th -20th September 2020
Price: $3,890 inc GST


SUMMARY:
On this trip our team is putting you face to face with humpback whales in Western Australia. We are taking you camping, kayaking and snorkelling and hiking in Australia's best adventure marine location - Ningaloo Reef.
Western Australia's Women's Ningaloo Reef Sea Kayaking Adventure and Humpback Whale Expedition is one of our best trips. Incorporating a 5 night Base Camp in the Cape Range National Park West of Exmouth and a full day of snorkelling with Humpbacks on Ningaloo Reef, we have packaged up a deal that ensures we experience the best of this incredible area - adventure style.
Our Adventure begins in Exmouth which is the optimum viewing place for Humpback Whales and the waters of Ningaloo Reef are in absolute abundance. Quality sea kayaking, snorkelling at every opportunity and some great inland gorge walks in ancient river canyons makes this adventure the trip of a lifetime.
THE TRIP:
Women's Western Australia's Ningaloo Reef Sea Kayaking Adventure - 5 Days of Sea Kayaking on West Australia's Ningaloo Marine Park. This important coastal zone protects one of Australia's most important tracts of reef - the Ningaloo Reef. It is one of the longest fringing reef systems in the world and only one of two coral reefs in the world that have formed on the western side of a continent. The Ningaloo Marine Park stretches from Bundegi Beach near Exmouth for 260 km along the West Coast to Amherst Point south of Coral Bay. The name 'Ningaloo' comes from the local Aboriginal people and means a 'promontory' or 'point' of high land jutting into the sea.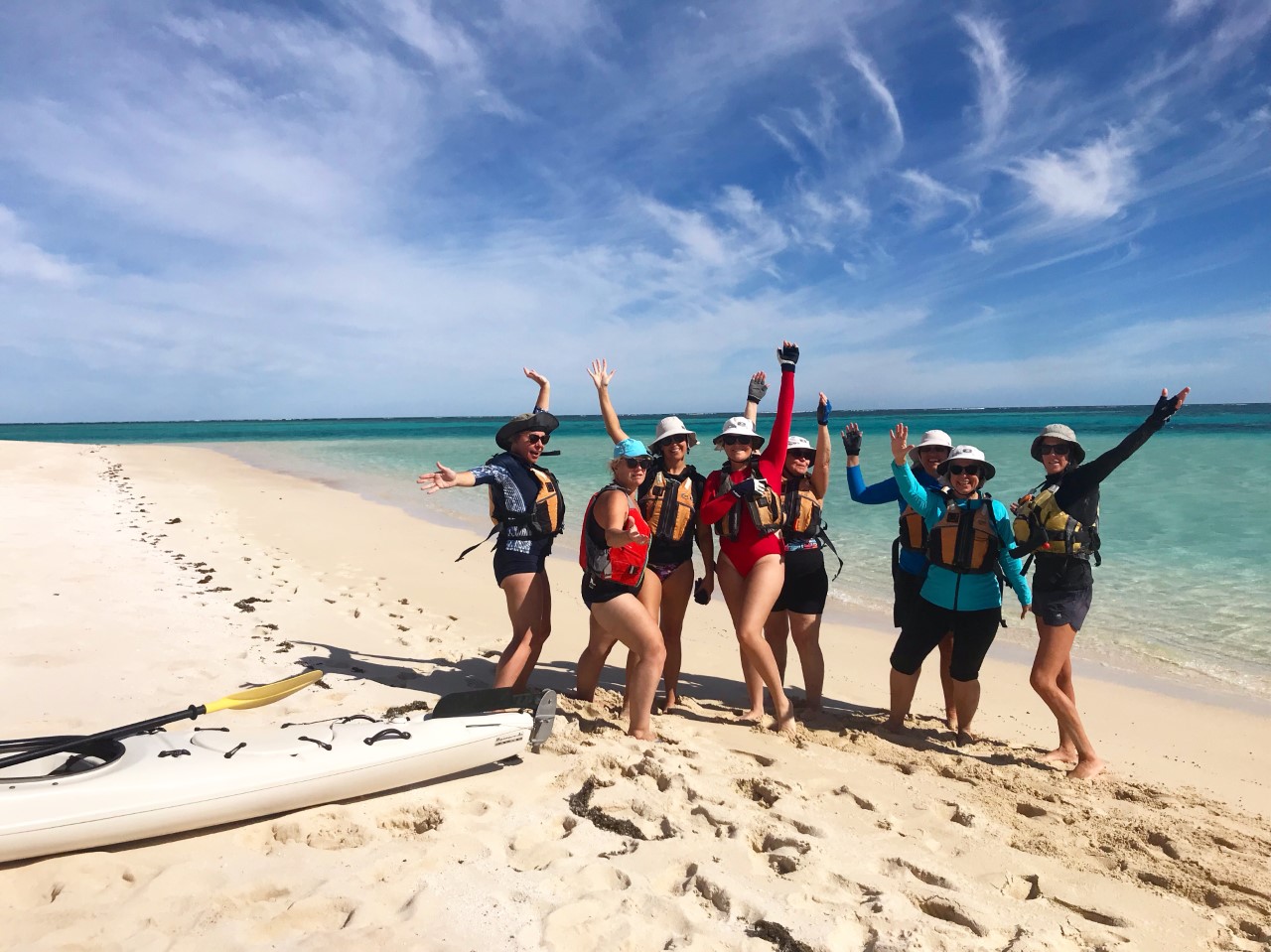 TRIP HIGHLIGHTS:
Swimming with Humpback Whales

Snorkelling daily

Kayaking daily to explore coral reefs and swimming

Experienced female leader with knowledge of the reef and best snorkelling locations

Experience Ningaloo Reef with likeminded and supportive women

Short walks inland to spectacular views at Yardi Creek

Camping and sleeping in swags under the stars

Enjoy delicious healthy meals
TRIP SUMMARY:
Day 1: Fly to Perth and onto Exmouth. Transfer to private bush base camp
Day 2-5: Sea Kayaking snorkelling adventure in the Ningaloo Reef lagoon
Day 6: Head to the Manta Rays Resort for a 2-night luxury 4.5 star stay
Day 7: Humpback Whale Expedition and swimming (whole day) and farewell dinner
Day 8: Depart Exmouth for return to Perth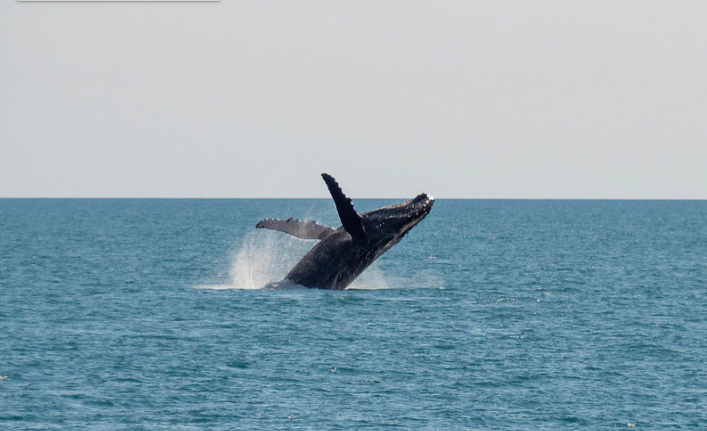 INCLUDED:
8 day / 7 nights

WWA Leader Services

2 Nights Luxury Accommodation at the 4.5 Star Manta Rays Ningaloo Resort Exmouth

Transfers to and from Exmouth airport

Humpback Whale Expedition With Spotter Planes and ample snorkelling

5 Nights / 6 Day Base camp accommodation sleeping under the stars in Cape Range National Park

All meals whilst on kayaking expedition

Camping Gear including sleeping bags, tents, swags, pillows and sheets

Kayaking Equipment

Swags or tents for the ultimate outback experience

All snorkelling gear (you can bring your own if you prefer)

Return transfers from Exmouth to Cape Range National Park
EXCLUDED:
Return flights to Exmouth (you must book the same flight as the group) *There is only 1 flight per day.

Travel Insurance (everyone must purchase before departure)

Items of personal nature – alcohol, coffee purchases etc

Dinner on the 2ndlast night in town (at groups own cost)

Breakfast on the last day
Day 1: Fly to Perth and onto Exmouth. Transfer to private bush base camp
Meet at Perth Airport for our Flight to Exmouth. Upon arrival the group will stop at the base house for a gear fit out. After gear fit out, we'll stop in town for any last minute supplies, including alcohol. Then drive 55kms into our campsite in Cape Range National Park at Bungelup. After a campsite orientation, weprepare dinner and enjoy a glass of byo wine or beer watching the sunset and enjoy each other's company and conversation. Your leaders will update the group on conditions and plans for the week.
Tonight, enjoy the fabulous desert night sky and stars, stars, stars!
Accommodation: Swag/tent camping at Cape Range National Park
Meals: Dinner
Day 2: Sea Kayaking Snorkelling Adventure in the Ningaloo Reef Lagoon
Please note that weather and water conditions may cause our plans to change. If the prevailing wind is forecast to be northerly, the trip will be undertaken in reverse.
After a nourishing breakfast, the group will travel to Yardie Creek, and getting set up in your kayaks and a safety briefing, we paddle north to Osprey Bay, 10kms. Your kayaks are double Barracuda Duos. Snorkel offshore, which involves jumping out of the kayaks (which are anchored) and enjoy your first look at the Reef. It has a shallow sandy bottom with coral bombies and heaps of fish. Lunch will be on an un-named beach before we kayak northward. Another highlight will be snorkelling the amazing offshore Osprey Sanctuary Zone sites. These have two specifically sited kayak moorings we can attach to, before exploring these beautiful "pools within the reef". Back to base for dinner.
Accommodation: Swag/tent camping at Cape Range National Park
Meals: Breakfast, lunch, dinner + snacks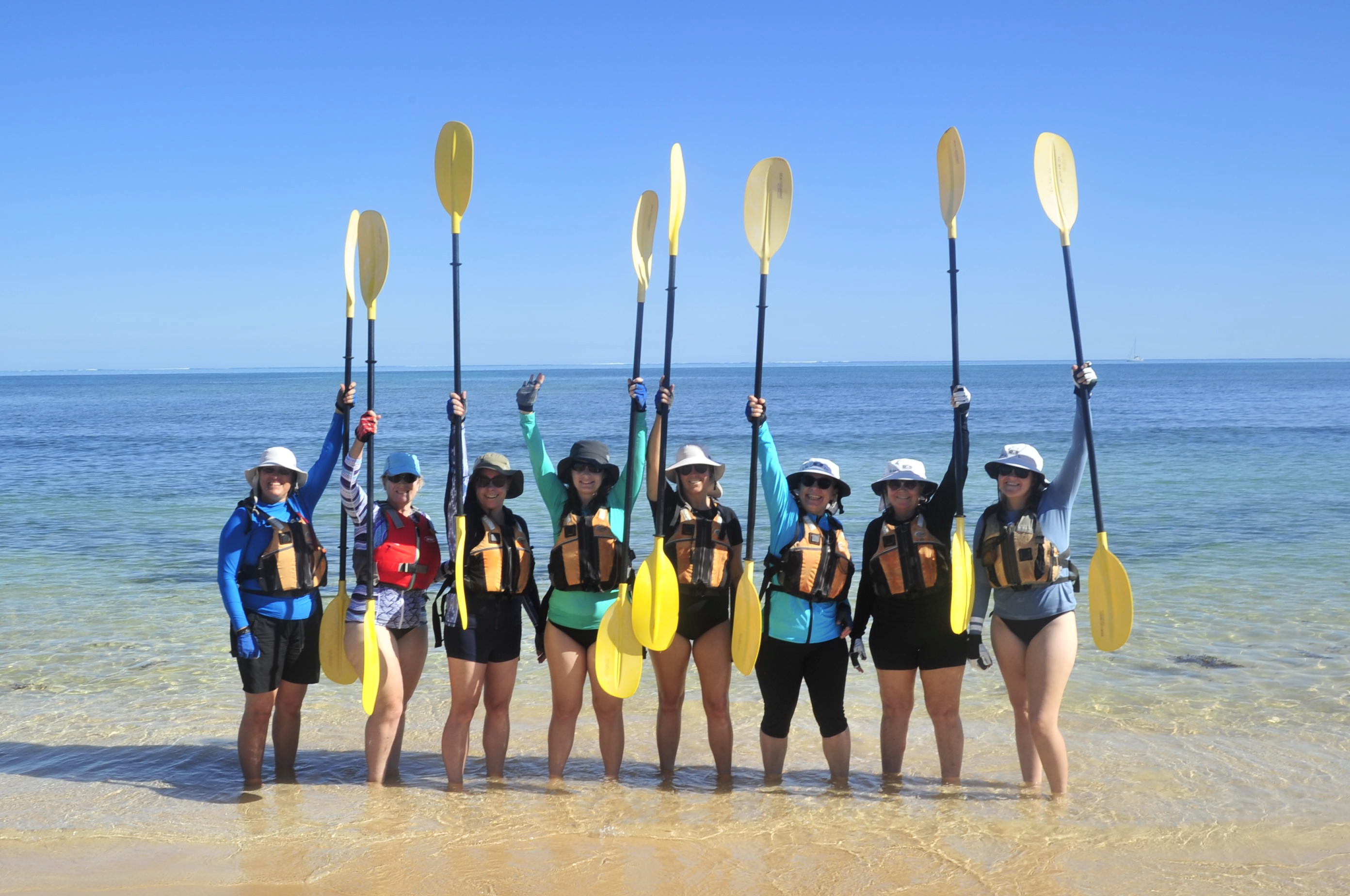 Day 3: Sea Kayaking Snorkelling Adventure in the Ningaloo Reef Lagoon
Today we will kayak from Osprey Bay to South Mandu, 9.5kms. Kayak across Sandy Bay, you'll be amazed at the stunning turquoise lagoon and crystal-clear water. Turtles are common in this area, and you may also spot rays resting in the shallows. The next snorkel site is Pilgrammuna bombies which is an easy swim straight off the beach. Other snorkel options are the world class Blue Lagoon which is inside the lagoon about 700 meters offshore.
Accommodation: Swag/tent camping at Cape Range National Park
Meals: Breakfast, lunch, dinner + snacks
Day 4: Sea Kayaking Snorkelling Adventure in the Ningaloo Reef Lagoon + Hike Yardie Creek Gorge
Our kayak route for today will take us from South Mandu to Tulki, approx 7kms, stopping along the way for some great shore based snorkels - the South Mandu drift, Oyster Stacks drift and Turquoise Bay - there are loads of options. Oyster Stacks and Turquoise Bay are the most popular 'shore-based' snorkel sites in the area, and for good reason, you'll discover an amazing array of corals and fishes at these sites, mere metres from the beach.
This afternoon, we may take the opportunity to travel back to Yardie Gorge, to enjoy a sunset walk along the edge of this beautiful water-filled gorge, the only permanent water source in all of Cape Range National Park. Look for black-footed rock wallabies as they leave the safety of the gorge to feed at dusk, and the massive Osprey nest tucked into the gorge wall.
Accommodation: Swag/tent camping at Cape Range National Park
Meals: Breakfast, lunch, dinner + snacks
Day 5: Sea Kayaking Snorkelling Adventure in the Ningaloo Reef Lagoon
We plan to do the Mandu Mandu Gorge walk in morning, straight after breakfast before it gets too warm. It takes about an hour and a half. We will follow the ancient river bed, spotting black-footed rock wallabies in the sheer gorge walls, before the path takes us up on top of Cape Range where there are fantastic views over the coastal plain, lagoons, fringing reef, surf and the big blue ocean.
Following our walk, we'll head to the Milyering Visitor Centre, where there are various interesting interpretive displays, as well as the opportunity to purchase some souvenirs, and perhaps an ice-cream. This afternoon we kayak from Tulki to Lakeside, an enjoyable afternoon paddle of 4km. Snorkel options include the amazing Tulki hole, one of the best offshore sites, before heading north to Lakeside, a favourite shore based snorkel, just before our end point for the day. This area is where we are most likely to sight Dugong if we are lucky.
Accommodation: Swag/tent camping at Cape Range National Park
Meals: Breakfast, lunch, dinner + snacks
Day 6: Head to the Manta Rays Resort for a 2-night luxury 4.5 star stay
We pack up our Bungelup base camp and head off to kayak the last section of the Park. We paddle from Lakeside to Ned's Camp, 5kms, or possibly (if tide and conditions allow) Mangrove Bay, an amazing shallow bay full of rays, turtles and small sharks, 8 kms. Following the conclusion of our trip we load the kayaks on the trailer and drive back to Exmouth town. Depending on how things go, we expect to drop you off at the Manta Rays Ningaloo Resort around 3-4pmto have a nice hot shower and get ready for dinner and drinks.
Accommodation: Manta Rays 4.5 Resort – twin share
Meals: Breakfast, lunch. (Dinner at groups own cost)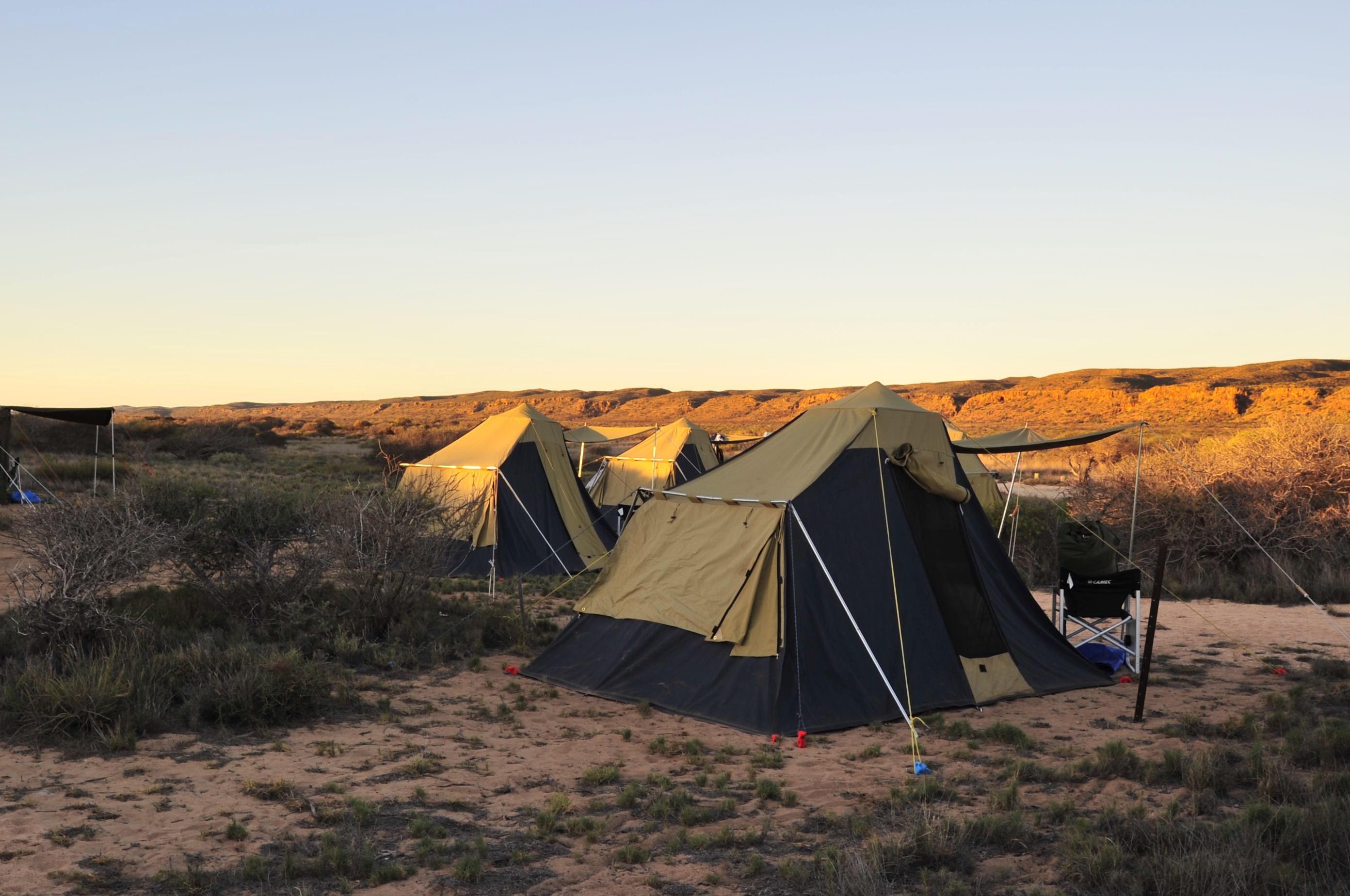 Day 7: SWIMMING WITH HUMPBACK WHALES (FULL DAY )
Humpback Whale Expedition! This is a once in a lifetime adventure swimming and snorkelling with these incredible creatures. Protected in Australia, the Humpbacks cruise the Ningaloo Reef slowly, the perfect interaction for us to get up close and personal to these unbelievable whale. A full day of adventure including return transfers from Exmouth, breakfast snacks and lunch.
Accommodation: Manta Rays 4.5 Resort
Meals: Breakfast, lunch and afternoon tea on board the boat and farewell dinner (drinks not included)
Day 8: Depart Exmouth
Depart Exmouth for return to Perth. Airport transfers are provided and will collect ladies departing on this date at the required time at the resort. Feel free to relax by the pool or head into town to pick up some souvenirs before leaving.
Meals: Breakfast (usually we head into town) – at groups own cost.
GRADING:
Easy:This trip is suitable for women who are beginners and don't have any previous kayaking experience. Our leaders will teach you all kayaking technique and safety. We do recommend ladies have a base level of fitness and good swimming ability. This means women are willing to be active all day in outdoor environments and can swim 100m.
Please don't forget to register! We will be in contact with you shortly. Ladies who register will get first notification when this trip opens for bookings.
Team Women Want Adventure
www.womenwantadventure.com.au
0403918346