Description
We're back to the stunning Blue Mountains! If you have been following Women Want Adventure for some time, our communities favourite weekend away is to Megalong Valley. This weekend is a combination of two great hikes, wine around the fire, bush cabin accommodation (with no reception) and plenty of laughs and relaxation.
Hidden away in Megalong Valley are the Bush Cabins for our accomodation on Saturday post hike. All healthy and delicious meals are prepared for you, the inside wooden fire will be on and the outside fire ready for marshmallow toasting in our ugg boots and beanies.
But let's not forget the hiking. We will experience the beautiful trails and views of Govetts Leap, explore the ridge track to Pulpit Rock and cross the Six Foot Track 'Cox River Swing Bridge' on Sunday.
Each hike offers a variety of breathtaking views and is a great challenge to build fitness and develop hiking confidence. This is a beautiful weekend getaway filled with adventure, fitness and opportunity to meet like minded hiking friends.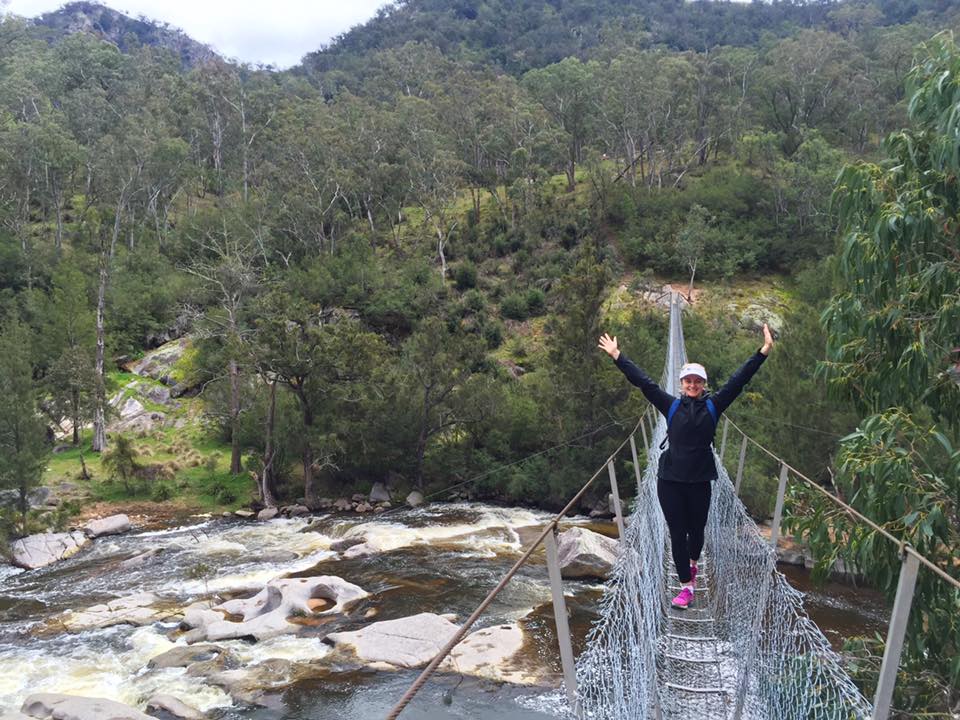 DEATILS:
Duration: 2 Days, 1 Night
Location: Blue Mountains, NSW. Roughly 3 hour drive from Sydney.
Accommodation: Megalong Valley Bush Cabins - We arrive here after the hike on Saturday. Monique will provide directions after the hike

Starting time: Meeting 10.45am, Govetts Leaps Car Park for 11am departure
Level: Moderate: Steps and stairs involved - 'For women who walk regularly'. This trip is suitable for beginners, however there are some sections with hills. We always wait and support everyone and no woman ever feels like they are letting the group down

Numbers: 15 women maxium. These trips sell out very quickly, if you want to book with a friend please notify them as soon as possible so they don't miss a spot.
Adventure Leader: Monique Farmer and Sue Thody (0403918346)
INCLUDES:
2 guided Blue Mountains

day hikes

1 nights' accommodation

at Megalong Valley Bush Cabins

Dinner, snacks and dessert (We home prepare and cook all our meals! It's what makes our trips special. We love healthy and tastey food)
Breakfast on Sunday morning
Cabin snacks
Tea and coffee
(You are most welcome to bring your personal cabin snacks if you prefer. We do not provide wine so please bring your own. We encourage ladies on this weekend to get active and eat healthy)
HIKING INFORMATION:
Saturday Hike: This classic clipp top track starts at Govetts Leaps car park and then continues north-east along the escarpment, offering continuous views of the Grose Valley. The track is graded easy and will take 3hr 30 minutes return. The distance is 8km return. We will be stopping for lunch at Pulpit Rock.

Sunday Hike: Megalong Valley Road to Cox River (Swing Bridge) - 12.6km return (5.3 hrs) Steps and steep elevation involved. Crossing the Swing Bridge at the Cox River. This hike is part of the Six Foot Track. Moderate fitness required.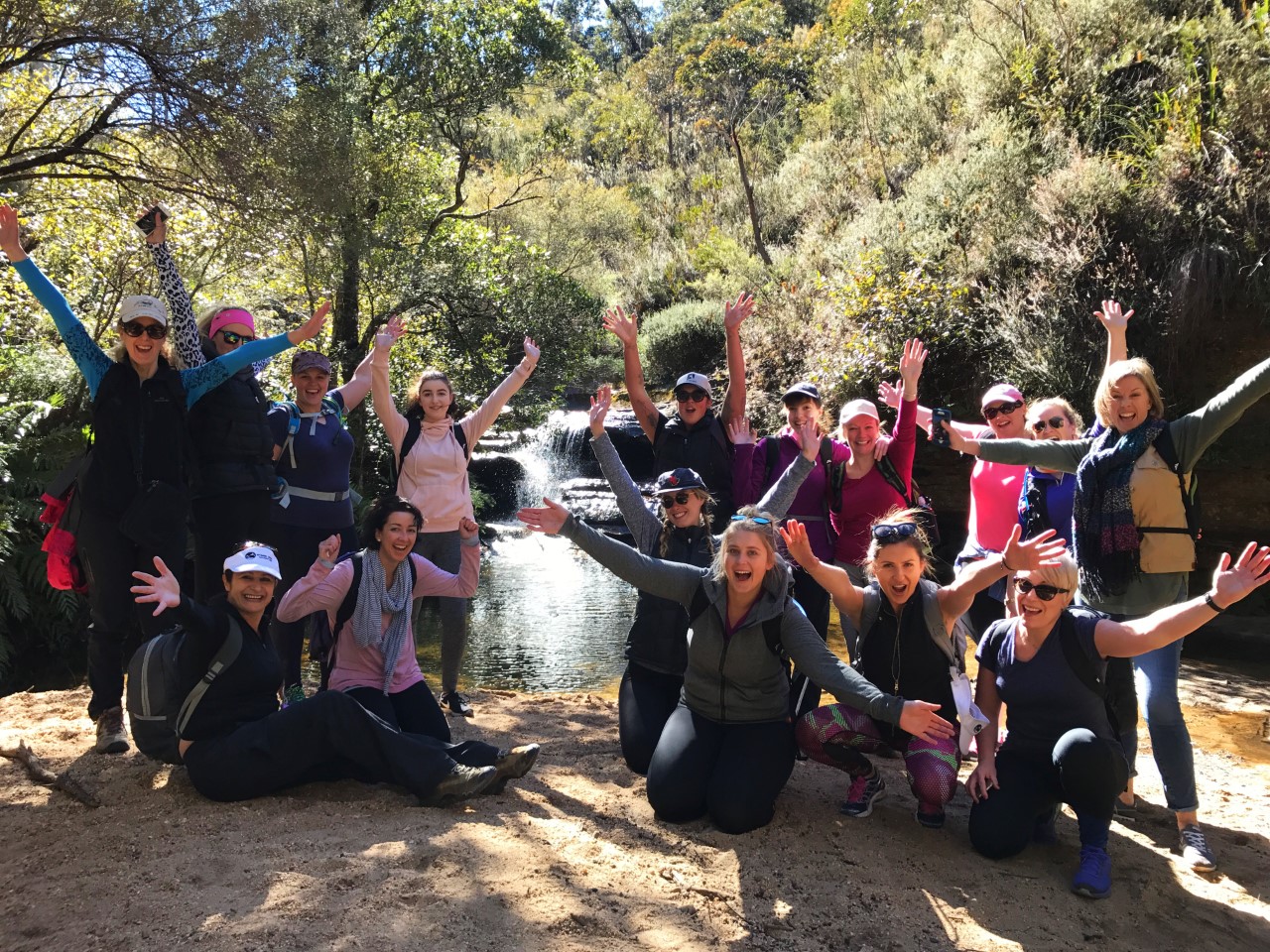 GEAR REQUIREMENTS:
Walking shoes/boots. Sandshoes are fine for both walks.

Wet weather gear. You must pack a waterproof jacket.

Hat

Water bottle (3-4L)

Day pack

Sunscreen

Snacks for rest breaks

Light fleece t-shirt
ACCOMODATION:
Directions to the Cabins: Women Want Adventure will provide instructions on Saturday for directions to Megalong Valley Cabins as the group will travel there together, post hike. For reference, take the first right off Megalong Valley Road after the Tea Rooms. The entry to the Cabins is 600m on your right up the dirt road. We will be entering private property. Accomdation is SHARED in two bedrooms cabins. If you're booking with a friend and would like to share a double bed, please notify us in your booking form. The other room has 4 bunk beds.
A fully equipped kitchen, oven and fridge

Kettle for cups of tea/coffee

Inside fire place

Inside fireplace (wood chopped)

1 bathroom with a shower + bath

2 rooms. (1 room has 4 bunk beds and the other a double bed)
WHAT TO BRING:
Please bring your own pillow, although there are spares in the cabins (most ladies prefer their own)

)

Your own blanket/sleeping bag. (

there

are blankets provided, you may still wish to bring your own)

Sheets. The cabins are basic and we prefer to ask ladies to bring their own under and over sheets

Bath towel

Toiletries

Warm clothing to sit around the fire

Clothes to get changed into post hikes and for relaxing Saturday night and Sunday

Ugg

boots! These are an adventure

friends

best friend post hike. Great for around the fire
Day one – Saturday 28th April
Meeting Location:
Govetts
Leap Lookout Carpark.
To get to
Gove
t
t's
leap, turn right at Blackheath lights and follow the road all the way to the end. Please
leave plenty of time to get there
.
There are toilets at the top
of
Govetts
Leap.
Meeting Time:
10.30am for an 11am departure from Govetts Leap to Pulpit Rock.
Please bring your own lunch to eat on this hike.
Saturday afternoon/night:
Shower, relax your legs by the fire and enjoy a nice cup of tea/coffee and snacks. Dinner will be served from 7pm followed by relaxing, laughs and
dessert by the
fire.
Day two – Sunday 29th April
Morning:
7
.30
am rise for a home cooked breakfast. Please be ready to leave for the hike at 8.45am.
About the hike:
12.6km (5.3hours return MAX)
The
group will drive to the end of Megalong Rd. This will be the starting point for the hike. The hike to Cox River (swing Bridge) is part of the Six Foot Track trail and weaves it's way through some farm land before leaving to explore a more dense forest and granite boulders at
Coxs
River. This is a great opportunity to explore the river up close or cross the Swing Bridge above. Snacks will need to be carried on this hike with
plenty
of water (2L per person).
If you have any questions upon booking please call us.
We look forward to spending the weekend with you.
The Women Want Adventure Team0403918346womenwantadventure@outlook.com

FAQ'sWhat are the age requirments? Women Want Adventure trips are for women over the age of 18 years. Majority of our women are in their mid 20's to late 60's.
What's the accommodation like? The cabins are small beautiful bush cabins located on a local Farmers property in Megalong Valley. They accommodate basic bedding needs and sleep up to five in each cabin. Parking is secure for all cabins on the property.
What are the room/sleeping arrangements? There are 3 cabins booked for this event. You will be sharing a cabin with 5 ladies in each cabin.
Is there phone service at the cabins? Phone service is very limited. Be prepared to have little to no signal. (adds to the experience)
What if it's raining? Women Want Adventure trips still go ahead in all types of weather, unless electric storms. Monique will be in contact with you in case of a change in plans. Please bring your wet weather gear as we hike in raining weather.
How old do I need to be to attend? Women Want Adventure trips are for women over the age of 18 years.
Cancellation Policy:We hope you do not need to cancel your trip, however if cancellation takes place the following will apply:
More than 30 days before the trip there is no charge

29-15 days before the scheduled trip there is a 20% administration fee

14 days or less before the scheduled trip the full fee will be charged (100% of the participant cost).
Please be aware that if a participant cancels their trip once it commences or they do not show they also forfeit their full trip cost. Late arrival of a participant or participants on the day may also forfeit the full trip cost. Women Want Adventure may reduce, transfer or waive the loss of fee for any reason at their sole discretion. In the event of adverse weather conditions, Women Want Adventure reserves the right to change, alter or cancel this trip in the interests of client safety. Women Want Adventure will notify all participants as soon as possible on the day.
Cancelation due to weather:Participants will hear from us if we need to cancel the day due to the weather. Participants must assume the day is going ahead if they do not hear from Women Want Adventures otherwise. If participants cancel their trip on the basis of weather (and we have not cancelled it ourselves) no refund will be given. If weather conditions cause us to cancel the trip we will offer alternative dates however if this option is not possible for participants refer to the Women Want Adventure Credit and Refund Policy.