Description
Women's Evan's Lookout to Blue Gum Forest (return via Govett's Leap) – 2 day hike
Leave the bustle of the city behind on this two day women's hike that will take you past crashing waterfalls, rainforests and the beautiful Blue Gum Forrest.
Trip Highlights:
Camping out under the stars
Creek swimming
Exploring Blue Gum Forrest
Stunning waterfalls
IMPORTANT NOTE: This trip is suitable for women who are fit and willing to hike up and down steep steps. We recommend you train or get out walking before this trip. Please do not book if you have sore knees or back issues.
Details:
Meeting time: 9.00am Saturday
Meeting location: Govett's Leap Lookout
Finish time: Between 3-3.30pm Sunday
Numbers: Maximum 6 women
Leader: Monique Farmer - 0403918346
Saturday Hike:
Hike Plan: Evan's Lookout - The Grand Canyon Trail - Acacia Flat Campground (Blue Gum Forrest)
Distance:12.4km (mostly downhill)
Meals: Afternoon tea, dinner, dessert
We begin the trip meeting at Govett's Leap Lookout Car Park at 9.00am. After a quick rearrangement of gear (we share the load of cooking items) we leave our cars at Govett's Leap and jump in the leaders car for the 5 minute trip to Evan's Lookout to commence our hike.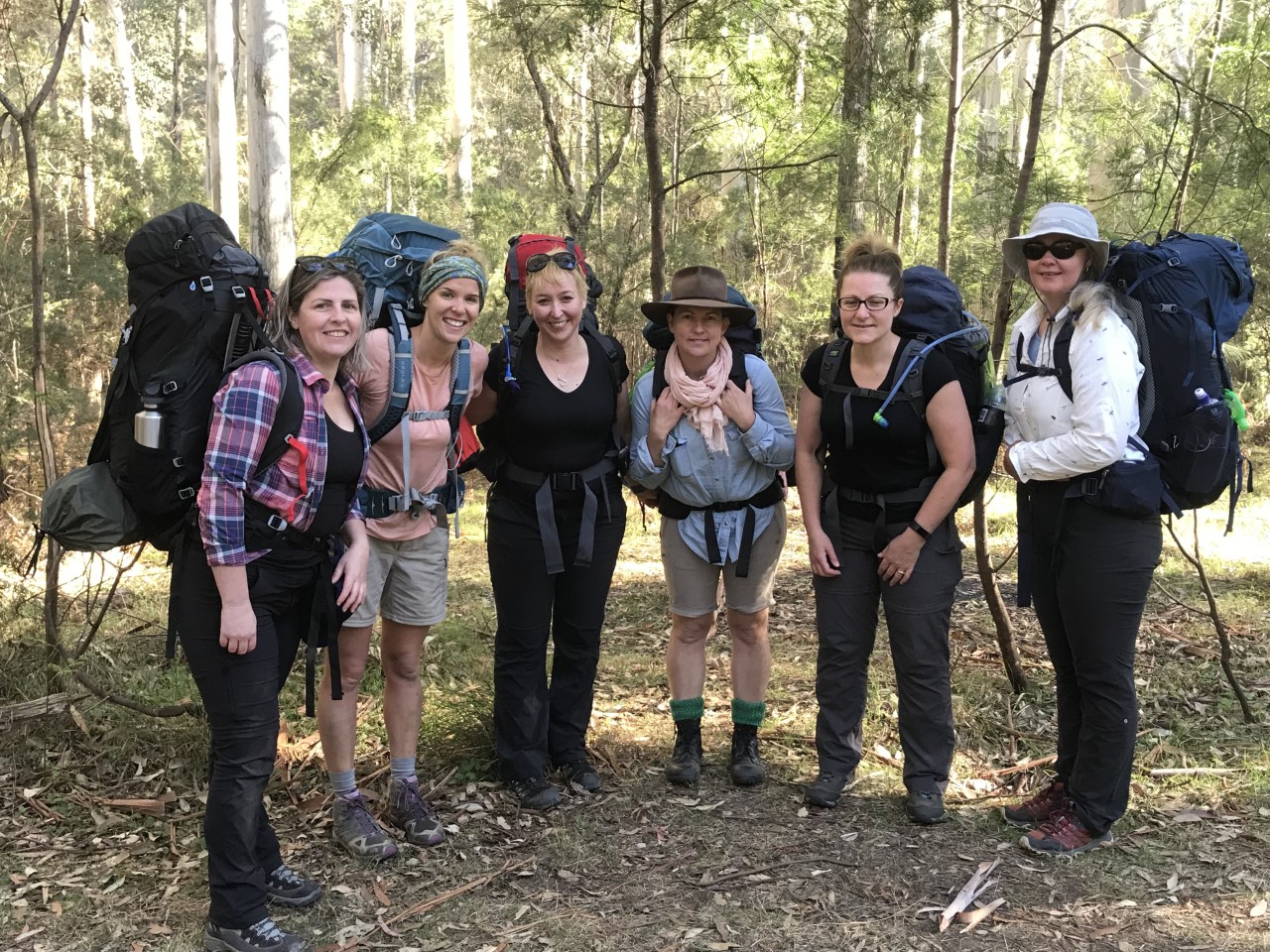 From Evan's Lookout the trail has a steep descent into the Grand Canyon. The trail quickly turns into the Rodriguez Walking Track where we can make a side trip to Beauchamp Falls, a perfect place for a cup of tea and rest as we soak up the sun.
Say good-bye to your mobile phone reception; you won't be able to text anyone until you climb out of the valley tomorrow afternoon – it's a hike and digital detox rolled into one.
From our rest break, the trail begins to level out as we have reached the lower part of the valley floor. We follow the creek on the right as it winds its way towards our campsite. Down in the valley, there is a very remote feeling as you can look back at the sandstone cliffs you were standing atop not all that long ago now tower overhead.
Once we reach Acacia Flat Campground, your leader will help you set up camp in a quiet corner. There are compost toilets here too. Luxury!
There is no drinking water at camp, so you can re-fill at the creek. Your leader will talk to you about sterilising your water and we will be carrying enough water in our packs to be safe.
After we set up our tents, it's a short walk north from the campground to explore Blue Gum Forrest. A must-see stunning area of the Rose Valley. There are towering blue gums and it's a great place for photos and to relax with a book.
At night we relax with a camp dinner, good chats and plenty of laughter!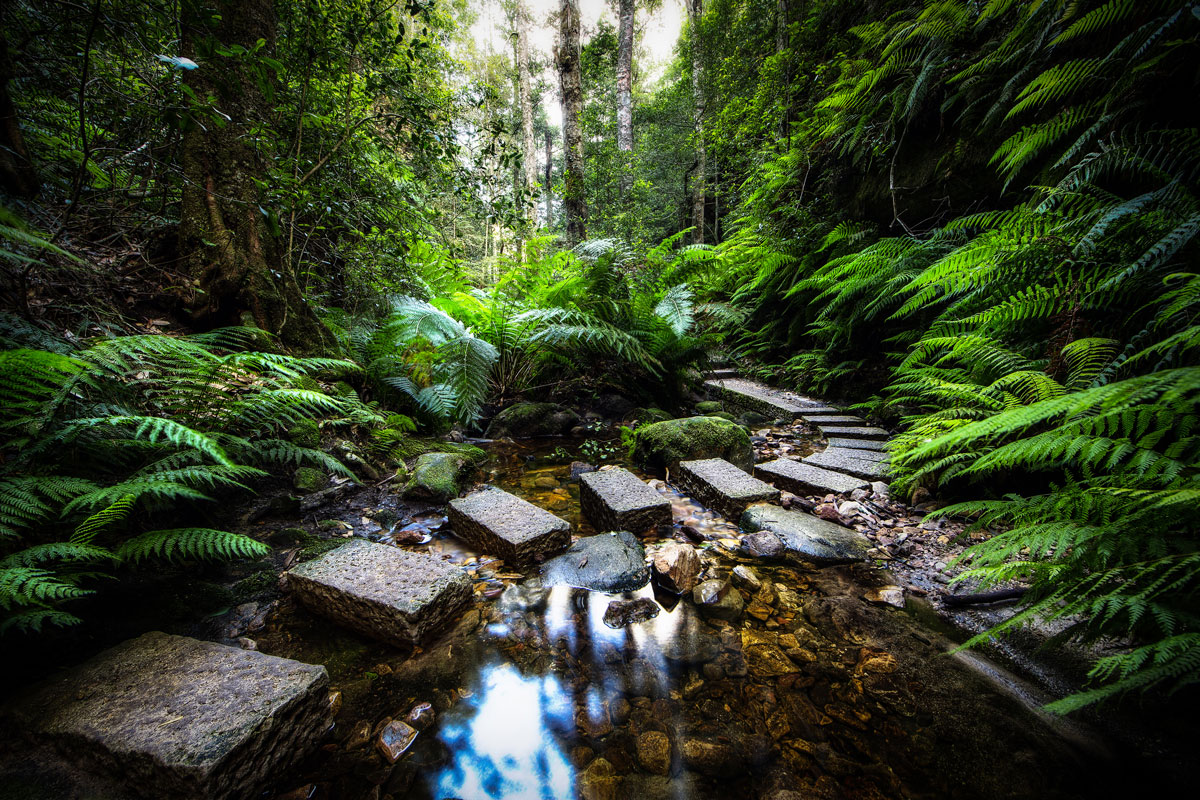 Sunday Hike:
Hike Plan: Acacia Flat Campground - Govett's Leap
Distance: 9.3km (mostly uphill with very steep steps)
Meals: Breakfast, lunch, snacks
We wake early for a coffee/tea, breakfast and jump in the creek before packing up our tents ready for the return journey.
Our route back will take us via Junction Rock and then following the path uphill towards Govett's Leap. We will pass through Bridal Vail Falls as it tumbles down into the valley before we take the steps up to the viewing point. After a quick stop, the path levels out from Govett's Leap back to Evan's Lookout with a 3 hour hike on the Cliff Top Track.
Placing one foot in front of the other, we eventually reach our cars to unpack and reflect over the valley we just covered in the last two days.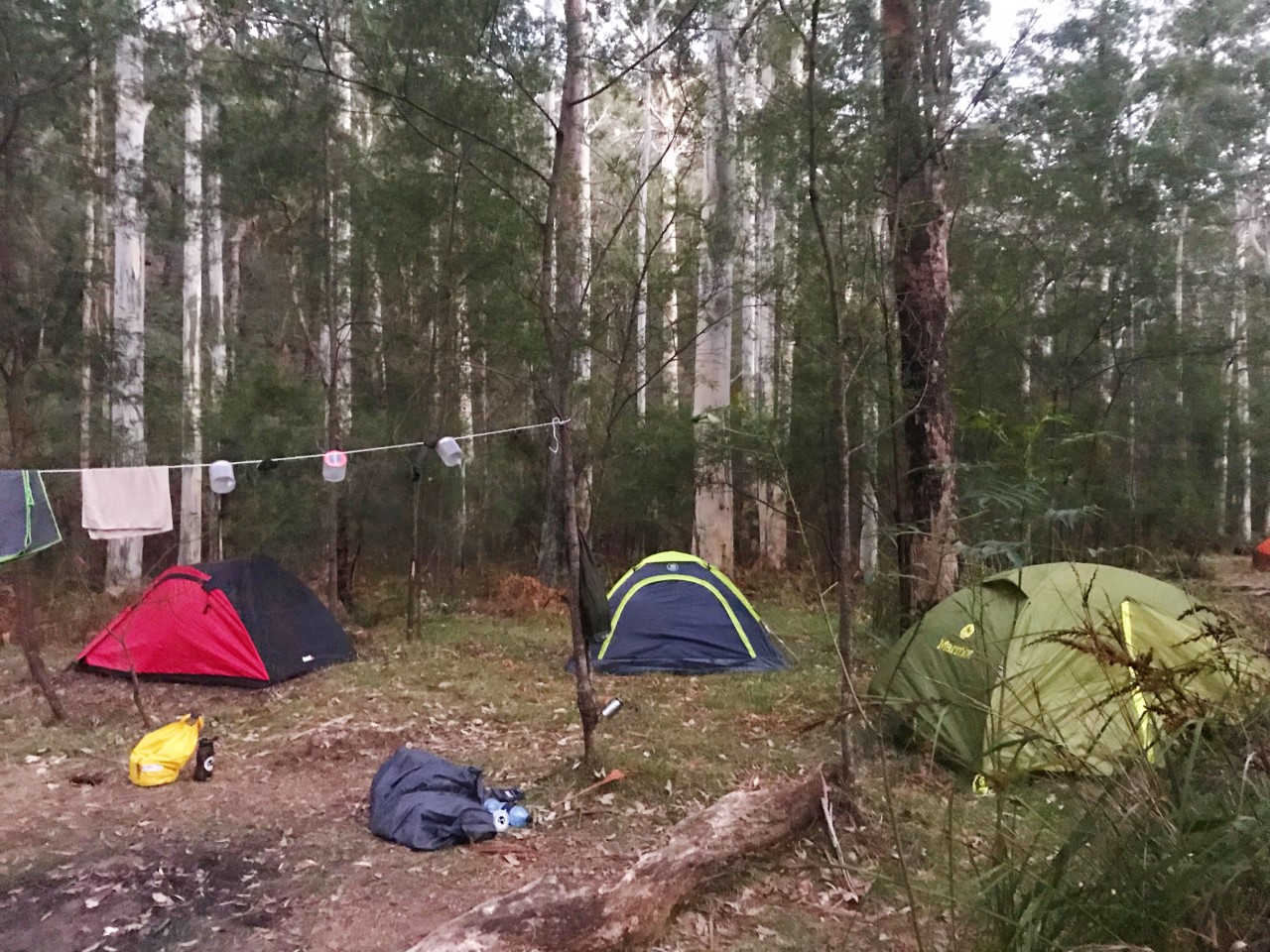 Packing List:
Lightweight camping tent (please outline when booking if you're booking with a friend. We need to know who may be able to share tent) We have tents for you if you don't own a tent.
Hiking back pack (60-70L capacity)
Sleeping mat
Sleeping bag
Water — we will each be carrying 2L
Lunch for Saturday
Head torch with new batteries
Walking boots
Hiking socks x 2
Camera
Personal medication
Sunscreen
Hat
Bug spray
Warm clothes for the night
Waterproof and wind jacket
Beanie
Swimmers
Wet wipes
Small towel
Ear plugs
What's Included On Your Trip:
Group camping equipment included: stove, pots, tarp, etc.

Cups/plates/bowels and utensils
Meals (outlined in itinerary)
Snacks, hot drinks and coffee on the trail
First Aid
Emergency communication and first aid
NSW National Park Eco Pass Licensing and permits


Skill Level:
Challenging: There are challenging sections of this hike, mainly on Sunday as we are walking up 902 steep steps to reach Govett's Leap and the ascent can be hard going, especially with an overnight pack. We hike SLOW and work as a team. We recommend this trip for women who are regular walkers who are comfortable with hills/steps.
Pack Weight:
Between 15-20kg. We share cooking gear and carrying food. Your lead will allocate items when you meet at Evan's Lookout Car Park.
Price:
$370 per person inc GST
Contact:
We hope you will be able to join this fantastic weekend to reach Blue Gum Forrest. Please contact our team at womenwantadventure@outlook.com with any questions. You can also check out the latest trips at www.womenwantadventure.com.au
---
FAQs
How old do I need to be to attend this trip?
Women Want Adventure Trips are for women only, and over the age of 18 years. The average age of ladies who attend our trips is 45 years.
How physically fit do I need to be to attend this trip, I'm afraid I'll hold the group back. This trip is suited for women who enjoy walking and are comfortable with hills and steps. We don't recommend this trip if you have knee or back injuries.
I have a gluten free diet/vegetarian and other requirements. Do you cater for me? Yes. We cater for dietary requirements. Please make sure you clearly indicate when booking. We may ask you questions before departure to make sure we have the best options for you. We also pride ourselves on cooking delicious and healthy meals on all our trips. It's supervises what we can come up with in our bush kitchens!
Can I bring my own snacks? Yes of course. You leader will also have additional supplies. No-one ever complained about too much chocolate!
What type of toilet facilities will there be? There are compost toilets at the campground. Please bring a roll of paper with you (just incase).
What if I book and then I can't attend? Please read our Terms and Conditions upon booking and notify us in writing as soon as possible, cancellation fees apply. You can transfer a ticket to a friend if you know someone who can attend.
I didn't get a spot on this trip as it sold out. Will there be another one? Yes. Keep an eye on new trips via our website at www.womenwantadventure.com.au.
Cancellation Policy:
We hope you do not need to cancel your trip, however if cancellation takes place the following will apply:
More than 30 days before the trip there is no charge

29-15 days before the scheduled trip there is a 20% administration fee

14 days or less before the scheduled trip the full fee will be charged (100% of the participant cost).
Please be aware that if a participant cancels their trip once it commences or they do not show they also forfeit their full trip cost. Late arrival of a participant or participants on the day may also forfeit the full trip cost. Women Want Adventure may reduce, transfer or waive the loss of fee for any reason at their sole discretion.
In the event of adverse weather conditions, Women Want Adventure reserves the right to change, alter or cancel this trip in the interests of client safety. Women Want Adventure will notify all participants as soon as possible on the day.
Cancelation due to weather:
Participants will hear from us if we need to cancel the day due to the weather. Participants must assume the day is going ahead if they do not hear from Women Want Adventures otherwise. If participants cancel their trip on the basis of weather (and we have not cancelled it ourselves) no refund will be given. If weather conditions cause us to cancel the trip we will offer alternative dates however if this option is not possible for participants refer to the Women Want Adventure Credit and Refund Policy.