There is great power when Women gather together with purpose.
About this event
WOMEN WEAVING WISDOM
Due to the crazy times we are in, we are postponing our full day workshop and are holding an online gathering for connection and healing. We will also be touching on the below themes:
Women Weaving Wisdom 12.2.2022
Deeply connecting individually
Deep connection collectively
Grounding connection with nature
Strengthening our life's threads
Alignment with our self-belief
Strong Hearted in self-love connection
Let's clear the static in the field and access the energy to combine our knowledge and experiences to weave a beautiful tapestry of Heart Wisdom together whilst having some well deserved fun! We look forward to gathering with you!
About your facilitator Cindi!
Cindi is:
an educator of healing and wellbeing practices
a Reiki Master
a Maori Body work practitioner
a life coach and
a professional resilience facilitator.
Cindi has a wealth of knowledge and wisdom to impart and a fierce, wise, loving, warm and strengthening energy!
Come and join the fun and contribute to a powerful and wise gathering.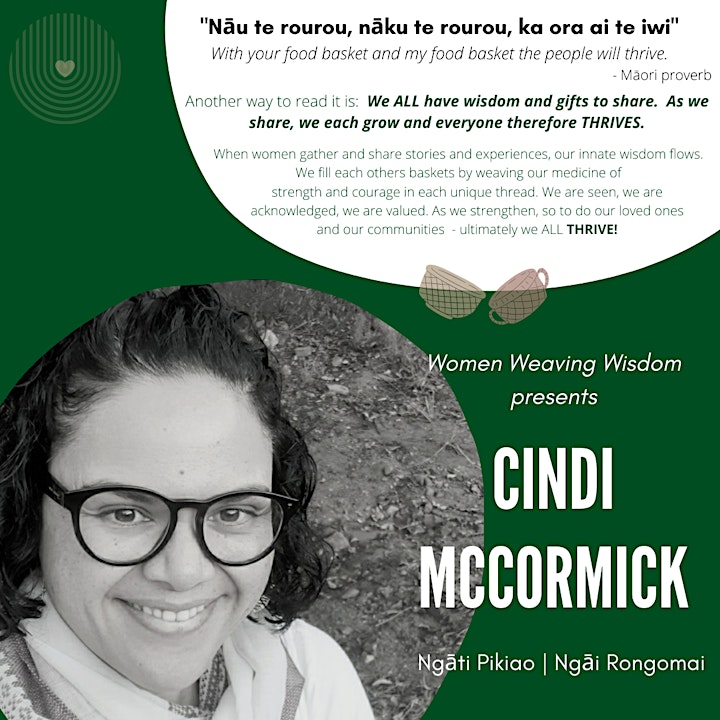 About your facilitator Terina!
Terina:
is a corporate professional
is a trained Remedial Massage Therapist
uses Maori techniques and practices in her healing space
a healing facilitator and space holder
works directly with Our ancestors.
Terina is creative, loving, fun and a powerful healer!
Come and join the fun and contribute to a powerful and wise gathering.