Description
Women in STEAM panel discussion with Q&A
Followed by RIBIT Speed Networking event
Panel discussion: 12.30-2.00 pm
Speed Networking: 2.00-3.00 pm
Register for speed networking: https://app.ribit.net/events/20181101_the_studio
Our Speakers are:
MC - Claire Marshall - UTS, Researcher & Curator and Coordinator, The Greenhouse Sessions WWF

Kate Armstrong-Smith - Co-Founder and Development Producer for Entertainment sector, TWG

Melody Ha - Producer, THE PULSE

Felicity Coonan - Art Director, Animal Logic

Jara Bockx - CSIRO Data61's Ribit Communication Coordinator and recent UTS graduate

Inga Pflaumer - Junior System Analyst, SMG Studio

Katy Andrews - APAC Brand Manager COD, Activision
We want to support diversity and close the gender gap for women in STEAM.
The speakers at this event have paved the way to innovation and they will continue to inspire our future generations of young women who one day will be looking for female role models in STEAM fields.

Inspiring Women in STEAM will each talk about their experience working as in STEAM:
How did they get started?

How did they manage to stay in the field?

What are they working on?

What do they have to say to you, the audience, and decision makers in STEAM fields as to how to include diversity and close the gender gap in STEAM?
Searching for women students with science, tech, engineering, maths, arts & design?
In collaboration with The Studio's Women in STEAM event, we have partnered with Ribit.net - the free student jobs matching platform from CSIRO's Data61 - to host a special speed networking event connecting you to women students in science, tech, engineering, maths, arts, and design. These students are eager to meet you to talk about creative and media-tech roles and mentorship opportunities.

If your business is proactive about supporting women in STEAM and you are looking for some of the talents across Sydney's tertiary Institutions to support your growth, don't miss this special session proceeding straight after panel session.

Thursday 1 November, 2:00 PM - 3:00 PM on Level 1.
Ribit sources and matches students to attend the event based on the skills and attributes you identify you need or would like to meet. Around 80 - 100 students typically attend our events.

You'll have the chance to meet a dozen or more students in our fun and productive 75 minute speed dating session.

Link to register is at top of this page.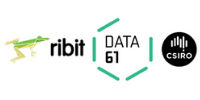 =================
You may be photographed or videoed while attending this event: please approach the organiser if you have questions, concerns, or do not wish this to happen.
The event organisers may add you to a mailing list so they can follow up, and you can receive updates about their activities: this mailing list will have an easy-to-find unsubscribe button.
This event is part of Spark Festival and upholds the Spark Code of Conduct.