Description
Women in Focus invites you to join us at a breakfast to celebrate International Women's Day.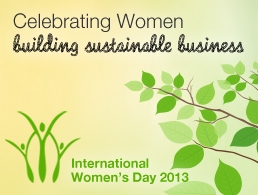 Throughout our national series we will share the stories of women who are changing the world through business and discuss how we can create sustainable business models to support and empower our future generations.
At our annual Brisbane event we will hear the stories of three local business women committed to building a brighter future.
All proceeds from this event will be donated to a local charity.
Agenda
7:00am Guests arrive and network
7:30am Opening Remarks - Women in Focus
Katie Mihell, Head of Women in Focus, Commonwealth Bank
7:40am Plated breakfast served
8:00am Panel discussion – Building sustainable business
Mara Bun, CEO, Green Cross
Megan Houghton, CEO, City Smart
Deborah Wray, Founder, Wray Organics
More to be confirmed!
8:55am Summary and closing remarks
9:00am Event close

Megan Houghton
As the CEO of CitySmart Pty Ltd, Megan has brought a fresh approach to the environmental agenda by using commercial principles to deliver environmental outcomes and has grown the company to deliver over $25m in projects that deliver greater sustainability outcomes for Brisbane. Megan has extensive experience in the energy and water sector through previous roles as Director at PricewaterhouseCoopers and head of strategy for Energex. In 2010 Megan was named Telstra Queensland Business Woman of the Year and in October 2012 was named in the Australian Financial Review and Westpac's 'Australia's 100 Women of Influence' award. Megan was also selected as one of two Australian's at the US Department of State's Visiting Leaders program focusing on climate change and renewable energy and is a non-executive director of UnityWater.
Mara Bun
Mara is the founding CEO of Green Cross Australia an organization set up in 1993 by Mikhail Gorbachev to create a new approach to solving the world's most pressing environmental challenges. Previously, Mara has worked for The Wilderness Society, Greenpeace Australia, Choice, the CSIRO and a number of financial organisations, including as a director of Allen Consulting Group.
Deborah Wray
Deborah Wray first became interested in organic food 12 years ago when her son became unwell. A doctor suggested to 'eat organic wherever possible'. This was not easy and so Deborah decided one day she would open a one-stop organic shop "because there must be other people out there looking for clean nutritious food, without shopping in 5 different locations". Wray Organic Market & Café was born. There are now 8 stores located throughout South East Queensland and the best news is that her son recovered his health.