Women in Design & Construction VIC "Road to Leadership " Networking Event!
About this Event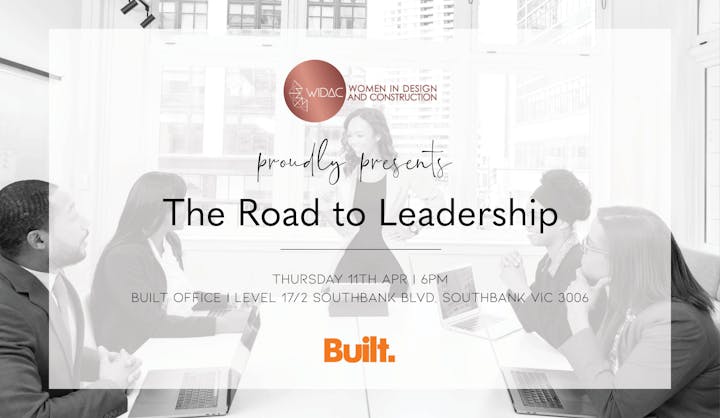 Please join us...
At Women in Design and Construction's "Road to Leadership" Networking Event for an evening of lively discussions, canapés and drinks hosted by our Event Partner Built at their stunning offices from 6pm.

The evening will explore the topic of 'The Road to Leadership' and the various pathways we can take to achieve our goals. Our speakers will share with our community their different journeys and how they have progressed through their careers to become the inspirational leaders they are today. We will also hear expert advice on how to lead by empowering people and creating a positive culture as well as some handy tools to help develop yourself into a great future leader.
As always, we will include live and interactive polling, a presentation from our Event Partner Built, discussion tables, lucky door prizes & more!
Please bring a copy of your ticket on your phone or a hard copy to assist with easy check in at the event.
As always this event promises to be an excellent opportunity to network with other women within the design, construction and related industries. Not only will you gain industry related knowledge, you will share experiences and enjoy presentations from industry leading professionals.
We encourage you to bring along a friend, colleague or client who you believe would enjoy our networking group. For any queries or to get in touch, please click here.
We look forward to seeing you there!
The Women in Design and Construction Melbourne Team x
NOTE: NO tickets will be available at the door. You must have registered via Eventbrite to gain access to this event, there will be no exceptions on the night so please ensure you have booked in advance to avoid disappointment.
A reminder that memberships have launched, so be sure to sign up to gain free access to our networking events! Follow the links below to purchase your WIDAC membership and RSVP to the event! www.widac.com.au/membership
For details on the Women in Design and Construction Networking Group, please visit us via the links below:
https://www.facebook.com/widacmelbourne