Join us for the launch of We Rise Networking Geelong event with an incredible speaker, virtual prizes and heaps more!
About this event
We Rise Networking – Geelong are so happy to bring you our launch event Wednesday 13th October at 7pm
This is a donation event to support breast cancer awareness month
When women come together incredible things happen. We have lined up an incredible speaker to help you continue 2021 with a bang!
Introducing Chrissie Stobs…..
Chrissie's passion lies in supporting others through major life changes; taking control of their situation to live fully with purpose and clarity. After a fun but demanding career managing Corporate Travel offices in London, she recognised the 'burn-out' signs and trained as a Reflexologist in 2011. This fulfilled her natural inclination to support others dealing with stress in their life in a nurturing, relaxing environment. Chrissie first turned to NLP, Hypnosis and Time Line Therapy® to work through personal challenges that arose after her son's diagnosis with Duchenne Muscular Dystrophy - a degenerative condition with no cure .
This news threw her family onto a new path, dramatically different to the one they had planned. Trying to deal with overwhelming emotions of anger, sadness and guilt, she felt lost and confused for some time. Chrissie sought strategies to cope, focus and move forward and as a result became an EFT Practitioner and began studying with the Tad James Company.
With the realisation of how powerful these techniques are, she decided to continue through Practitioner, Master and Trainer levels of Time Line Therapy and completed her Diploma of NLP & Hypnotherapy with a firm desire to support others in the same way. Now, through coaching, workshops, and retreats, Chrissie's vision to empower others to live life on purpose is expanding to include a collaboration to train others to become certified Practitioners and Coaches too.
Are you speaking their language?
Learn a fun language hack to enhance your connection with your clients, colleagues and family.
Ever noticed that sometimes you can speak to someone and they just 'get it' – while another person is still not clear on your message?
Whether you are selling to a client, presenting an idea in a meeting, or inspiring an audience from a stage, there are many ways to use your words, so everyone feels like you are 'speaking their language'.
Join Chrissie as she will explain…
Why we think and say the things we do.
What happens inside our head while we are communicating.
An easy strategy to understand how others prefer to receive information.
Learn to listen on a whole new level and communicate clearly with everyone around you.
Chrissie is a Master Coach & Trainer of NLP, Time Line Therapy® & Hypnotherapy, EFT Practitioner and Reflexologist.
Over the years, personal challenges have steered her towards helping others overcome events from their past; by understanding the unconscious programming that drives us, letting go of emotional baggage we are still carrying from the past and having a clear path forward towards the future you desire.
After closing her reflexology clinic due to Covid, Chrissie co-founded The Collective Coaching Academy and stepped up to the role as a trainer of Practitioners to have a greater ripple effect on the world by teaching others how to become coaches and bring about as much positive change for as many people as possible.
"One of my favourite things to teach is how to listen to the way people talk – you can take clues from this information and present details back to them in a way they are receptive to and understand better." Perfect for understanding your team at work, increasing your sales or just understanding your family at home – every tip to create clearer communication is worthwhile implementing in my book!!
ccanlp.com
Tickets $22 - All profits 100% donated to love your sister https://www.loveyoursister.org/
What your ticket includes...
- Weekly admin approved post in the main networking group every week in October (buy your ticket early to make the most of this)
- Opportunity to be a sponsor of the event and showcase your business by donating a door prize to a lucky attendee
- Opportunity to have your business be featured on our social media platforms
- Your chance to win EPIC prizes
I am so excited for this!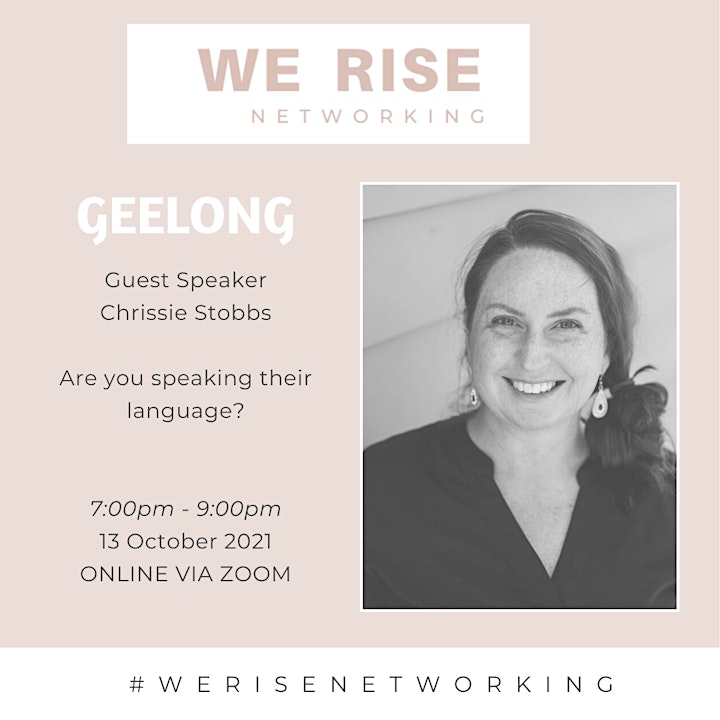 Organiser of Women in Business ' Online Connection Event Geelong October