Join us for our We Rise Networking Redlands event with an incredible speaker, door prizes and heaps more!
About this event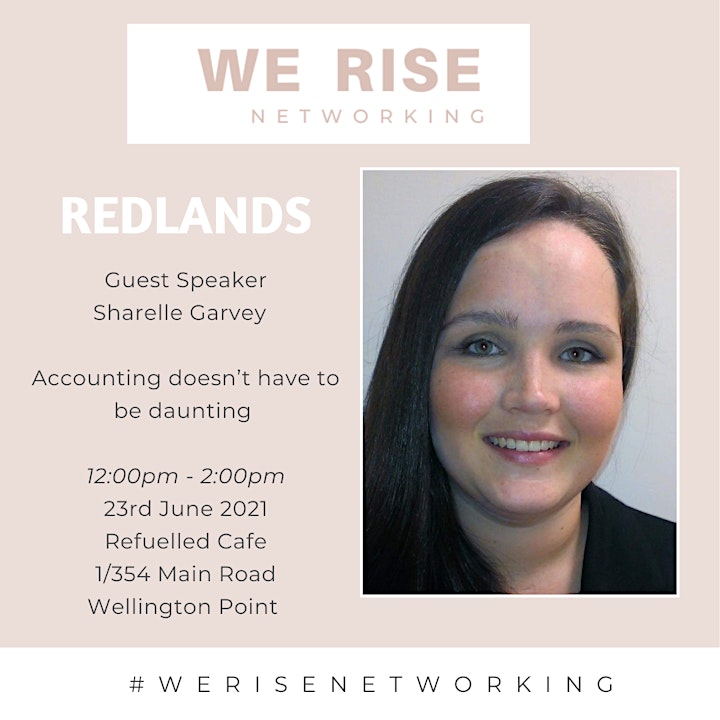 We Rise Networking – Redlands launched in late March and we are so happy to bring you our next event Wednesday 23rd June at 12pm
When women come together incredible things happen. We have lined up an incredible speaker to help you continue 2021 with a bang.....
Introducing Sharelle Garvey......
Hi! My name is Sharelle! I started Garvey Accounting because I want to work with businesses on a more personal level. My husband and I own a café, so I am aware of the many and varied needs of a small business. I look after the accounting needs of other small businesses here in the Redlands and as far afield as Victoria and Western Australia. Wherever you are in Australia, through the magic of the internet, I can look after your personal income tax returns and your business accounting needs. I have also advised people on the requirements of starting a small business. I can tutor you in accounting software to enable you to do the everyday accounts of your business and am available for ongoing questions and help. I've been in accounting since 2014. I'm detail oriented, driven, and focused on making sure you get the best results for your business and personal tax returns.
Accounting doesn't have to be Daunting
With tax time right around the corner We Rise Redlands is excited for our next event and guest speaker - Sharelle Garvey of Garvey Accounting!
Sharelle is excited to present to our beautiful members of We Rise with some exciting information in the lead up to tax time, all from her locally owned cafe Refuelled!
At this event you will walk away with knowledge on:
- Australian tax and when you need to be GST registered
- different types of business entities (e.g. and how they work with taxation and protection. Company, trust, sole trader, partnership)
- what needs to be on an invoice
Then go over how accounting packages like Xero help with:
- saving time
- getting paid faster
- staying compliant
- data security
Find Sharelle here: https://garveyaccounting.com.au
Mark it in your diaries and get your tickets ladies! Coffee, Tea and Catering available for purchase from the cafe 😊
Tickets $27 - get in quick as they will sell out!
What your ticket includes...
- Weekly admin approved post in the main networking group every week in June (buy your ticket early to make the most of this)
- Opportunity to be a sponsor of the event and showcase your business by donating a door prize to a lucky attendee
- Opportunity to have your business be featured on our social media platforms
- Your chance to win EPIC prizes
I am so excited for this!