Join us for the We Rise Networking sunshine Coast event with an incredible speaker, door prizes and heaps more!
About this event
We Rise Networking – Sunshine Coast launched in late November 2020 and we are so happy to bring you our next event Friday 24th September at 10am
When women come together incredible things happen. We have lined up an incredible speaker to help you continue 2021 with a bang.....
Introducing........Genine Howard
Genine Howard is a former magazine publisher turned transformational leader who teaches business-building from a combination of deep inner feminine wisdom and smart masculine strategy. Her work in the world is to teach women to reconnect and embody their inner soul wisdom to create impactful, abundant feminine empires with ease, grace (and style!).
Genine has helped many women build multiple 6-figure empires, attract soul-aligned clients with ease and create lives that are on-purpose and grounded, all in her signature style and energetic presence. Now heading up 'Femmpire Collective' of transformational leaders, products and services, Genine is leading the way in the 'new' way of building business empires.
Revolutionise The Way You Live & Work
Event Topic Brief: How to truly create a business that gives your freedom, choice and abundance using feminine principles
A REVOLUTION IS COMING...
Well, for Genine's clients, the revolution is already here.
A revolution in how they do business that breaks every rule in the marketing 101 book.
No webinars, no launches, no 4-part video series opt ins and no hustle.
And this revolution in the way they are doing business is the rocket-fuel they didn't know they needed. Yet it is the way in which our clients are building their businesses with the greatest amount of ease and abundance than they could ever have imagined.
A REVOLUTIONARY WAY OF DOING BUSINESS TO WHAT YOU HAVE BEEN TOLD YOU HAVE TO DO.
If you are looking to do business the REVOLUTIONARY way, then this masterclass is for you.
Having been an award-winning entrepreneur for nearly 12 years, Genine has been through her share of challenges in business. However these days She has mastered the art of ditching the hustle for good. In fact she works only a couple of days a week AND even have an entire week off each month to hang out with the kids or have 'me time'.
I AM NO LONGER AVAILABLE FOR HUSTLE AND HAVE MASTERED THE ART OF CALLING CLIENTS WITH SIMPLE STRATEGIES AND HIGH LEVEL FREQUENCY.
https://instagram.com/genine_howard?utm_medium=copy_link
Tickets $27 - get in quick as they will sell out!
What your ticket includes...
- A weekly admin approved post in the main networking group in the lead up to the event
(buy your ticket early to make the most of this)
- Opportunity to be a sponsor of the event and showcase your business by donating a door prize to a lucky attendee
- Opportunity to have your business be featured on our social media platforms
- Your chance to win EPIC prizes
I am so excited for this!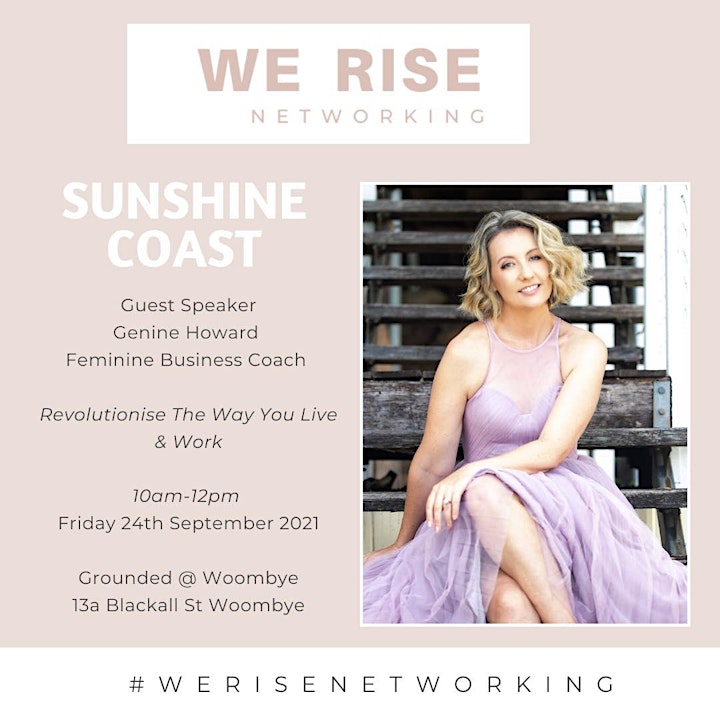 Organiser of Women in Biz Sunshine Coast Sept "Revolutionise The Way You Live & Work"