Join us for the We Rise Networking sunshine Coast event with an incredible speaker, door prizes and heaps more!
About this event
We Rise Networking – Sunshine Coast launched in late November 2020 and we are so happy to bring you our next event Tuesday 16th November at 10am
When women come together incredible things happen. We have lined up an incredible speaker to help you continue 2021 with a bang.....
Introducing.......Sarah Hermann
Sarah is the Owner and Alternative Health Therapist at The Transformed Mind. She specialises in holistic care to address mental and physical health. She utilises the unconscious mind and energy around us to teach and guide people with chronic health conditions as well as people who want to get, be & feel better. She does this by utilising her nursing and evidence based practice skills which allow you to achieve quick desired outcomes through an individualised approach. Modalities such as Hypnotherapy, Tapping, NLP, Reiki and more are combined to empower and heal yourself from the inside out. This approach is a wonderful complementary therapy if you're already receiving treatment but can also be used as a single healing method. Sarah works both with adults and children.
This presentation will enable you to fully understand and embrace all aspects of yourself. It allows you to get clear on what is holding you back and who you truely are, on a core level. We are going to dig deep and learn how we can overcome hurdles to finally let our empowered self rise to the surface and shine.
www.thetransformedmind.com.au
https://m.facebook.com/thetransformedmind1
@the.transformed.mind
Tickets $27 - get in quick as they will sell out!
What your ticket includes...
- A weekly admin approved post in the main networking group in the lead up to the event
(buy your ticket early to make the most of this)
- Opportunity to be a sponsor of the event and showcase your business by donating a door prize to a lucky attendee
- Opportunity to have your business be featured on our social media platforms
- Your chance to win EPIC prizes
I am so excited for this!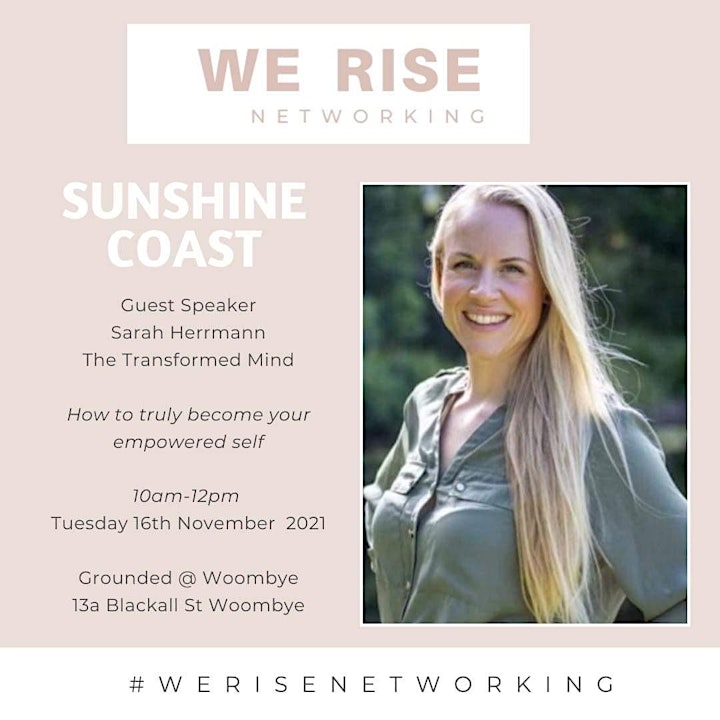 Organiser of Women in Biz Sunshine Coast Sept "How to truly become your empowered self"