Location
Microsoft Reactor Sydney
11 York Street
#Level 10
Sydney, NSW 2000
Australia
Women in Big Data (WiBD) - Sydney Chapter Launch
About this event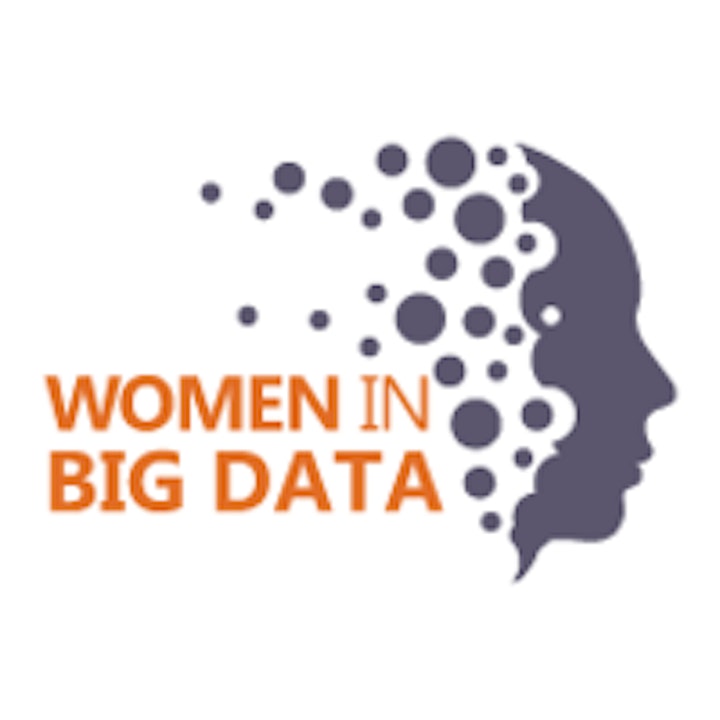 About Women in Big Data Sydney
Join us for the launch of Women in Big Data Sydney Meetup on the 12th March which is the sister to Women in Big Data Canberra which commenced in March 2018 by Australian Founder Jane Alexander.
Goals
The goal of the Women in Big Data Forum is to strengthen the diversity in the big data field. As part of this initiative, we would like to encourage and attract more female talent to the big data & analytics field and help them connect, engage and grow.
Purpose and our Mission
* To inspire, connect, grow, and champion success of women in Big Data
* To grow women representation in Big Data field > 25% by 2023
Women in Big Data Sydney Launch - 12 March
6:00 pm REFRESHMENTS AND NETWORKING
6:15 pm WELCOME
Wendy Wong, Masters of Data Science and Innovation candidate at UTS and WiBD Sydney Chapter Lead
6:30 pm KEYNOTE SPEAKER
Hema Prasad, Director - Data and Analytics, KPMG
7:00 pm LIGHTNING TALK
Zoe Higgins, Cloud Engineer, Kasna
7:15 pm LIGHTNING TALK
Grace Halim, Co-Founder, Kozai
7:30 pm PANEL DISCUSSION
MODERATOR
Lavinia Kanagandran, Software Engineer, Rokt
PANELLISTS
Hema Prasad, Director - Data and Analytics, KPMG
Zoe Higgins, Cloud Engineer, Kasna
Grace Halim, Co-Founder, Kozai
7:45 pm MENTORING, OUTREACH AND COMMUNITY
Arti Agrawal, Associate Professor and Director, Women in Engineering and IT at UTS
8:00 pm CLOSE AND NETWORKING
About the Speakers
Hema Prasad, Director- Data and Analytics, KPMG
Data is her calling!!! Hema has delivered large-scale data and analytics programs assisting businesses in building and enhancing their data & digital landscapes. With a career spanning two decades in the US, India and Australia, she draws on vast experience leading cross-functional teams across multiple shores for Fortune-100 clients in BFS, health, Government, automobiles, supply-chain, aviation and pharma sectors.
Hema relocated to Australia six years ago and is currently the Director of Data & Analytics in KPMG's Digital Delta practice. Specialising in agile delivery, analytics, data platform modernization, data architecture, governance and data security, she continues her career journey by building data strategies, services and platforms for clients in ANZ.
Hema holds degrees in Electronics and Computer Applications majoring in Data and Digital Architecture and is quite passionate about mentoring and promoting women in data. She tutors school and university students on STEM subjects. She is a hands-on mother actively supporting the cricketing pursuits of her two teen boys.
Arti Agrawal, Associate Professor and Director of Women in Engineering and IT, University of Technology, Sydney
Dr. Agrawal joined UTS in January 2018 with time evenly split between roles of Associate Professor in the School of Electrical and Data Engineering within the Faculty of Engineering and IT, and Director of the Women in Engineering and IT programme. In this role she is responsible for policy, strategy and implementation to increase female participation in engineering and IT at UTS.
Dr. Agrawal's research interests lie in predicting and controlling the flow of light: modelling of photonic components such as solar cells, optical fibers, sensors, lasers etc. She is an expert on numerical methods for optics including the Finite Element Method (FEM). She is a Senior Member of the IEEE, OSA and Fellow of the Australian Institute of Physics. She has published journals and books in photonics modelling.
In addition to her work at UTS she is also involved heavily with the IEEE, as Associate Vice President for Diversity and Inclusion for IEEE Photonics Society. She has overseen the female membership of the society rise from 6 to more than 16% in 4 years. Part of the Board of Directors of the Optical Society (OSA), she led a root and branch review of every aspect of the society's functioning with regards to gender equality. This also led to the OSA Board instating a 50-50 gender balanced target for the Board. She contributed significantly to OSA's revised policy on code of conduct at meetings etc. as well as bringing out a survey (with SPIE) to discover more about sexual harassment.
Dr. Agrawal is the New South Wales representative for Australia's newly expanded national Queers in STEM initiative. Dr. Agrawal was also co-chair for the Gay Women's Network (UK) and founded the Gay Women's Network Multicultural for LGBTQIA women from culturally and ethnically diverse backgrounds. https://www.gwn.org.uk/gwnm/
Zoe Higgins, Cloud Engineer, Kasna
Zoe Higgins is an arts student turned computer science graduate at Monash University, and is trail-blazing as the first woman Cloud Engineer in her company, Kasna. Zoe can usually be found learning new data structures, working on workshops to have more women migrate to cloud and DevOps engineering and spending far too much money on mechanical keyboards. Her goal for 2020 is to no longer use a mouse to navigate her machine, which is proving difficult to do with a Mac (see minimising desktop windows). Zoe was not always technically-inclined and, in consequence, is a strong advocate for women trying new technologies and immersing themselves into new experiences. She hopes to see a day where more women are moving into specialised areas in tech.
Grace Halim, Co-Founder, Kozai
Grace is a co-founder of Kozai - a modern data science platform and a senior data consultant at Eliiza - a machine learning company. She has 6 years product development experience where she spent the last 3 years specialising in using artificial intelligence and machine learning to solve business and customer problems. Grace has worked in a variety of roles and industries including share and derivative trading, psychometric assessments, financial services, utilities, and consulting. When she's not learning about new tech and psychology, Grace enjoys spending time with her greyhound and playing computer and board games.
What will you learn in 2020?
We would like to increase diversity and the participation of outstanding women in the field of big data and build an inclusive and diverse community together by offering:
Practical workshops for your career
e.g presentation skills, career resilience, impostor syndrome, time management, interview technique, mindfulness
Provide opportunities to grow your professional network
Guest Speakers
Technical workshops
Internship programs
Graduate Programs
Mentoring programs
Conferences
Job announcements
Datathon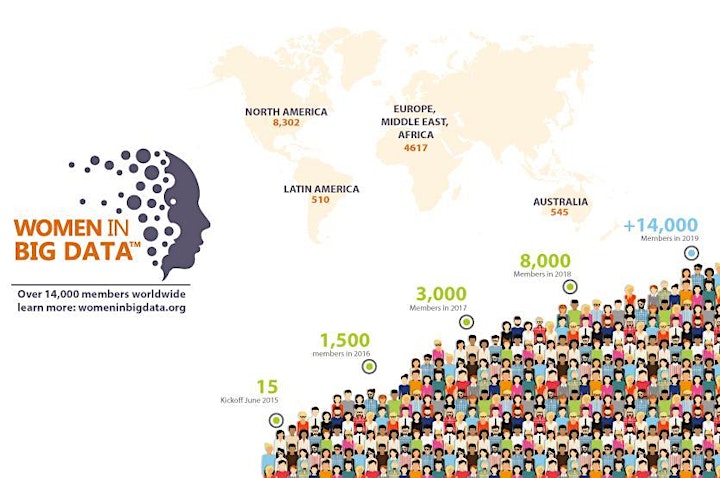 If you are visiting Sydney, you may also find us on Meetup.com:
https://www.meetup.com/Women-in-Big-Data-WiBD-Sydney/members/
Thanks to our Global Community
Website: https://www.womeninbigdata.org/
LinkedIn: https://www.linkedin.com/company/women-in-big-data/
YouTube: https://www.youtube.com/channel/UCOaMT7A9SVkeBdvYNxiITVA
Canberra meetup: https://www.meetup.com/WIBD-Canberra/
Sydney meetup: https://www.meetup.com/Women-in-Big-Data-WiBD-Sydney/
Twitter: @DataWomen
Thank you to our Sponsors
Australian National University and Microsoft