Description
Women helping women
Join us at the upcoming 'solutions' event, an event for the everyday (but amazing) woman. A fun filled evening for all ages; bring your girlfriends, your daughters, your mums and learn personal make-up, styling and self-love tips plus tools on how to restore and maintain balance in your life.
Help find your space of courage and discover more about you and how to present yourself to the world, with greater confidence and purpose.
A jam-packed night full of personal 'solutions'. With only limited seats available, the night will be relaxed, intimate and allow for plenty of time for questions and chit chat with the inspiring, entrepreneurial female speakers who have dedicated their lives to seeing other women thrive.
Guests will enjoy some scrumptious food, drinks on arrival and will also walk away with a gift bag, plenty of inspiring tips and tricks and with greater conviction and belief in themselves. VIP tickets are available.
Your ticket and attendance will help lead to a 'solution' for others. All proceeds from the event go directly to changing the lives of women and communities suffering from hunger and poverty.
Women helping women - in the most beautiful, transformative way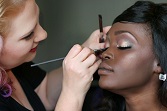 Peta-Gai McLaughlin, founder Iridis Cosmetics
Peta-Gai, an escapee from the corporate grind of 17 years, founded Iridis Cosmetics in 2008, with the primary purpose of teaching women how to apply their makeup, using her cruelty-free makeup range – Iridis Cosmetics. Peta-Gai's mission and purpose is to make clients feel gorgeous, worthy, pretty and fabulous – just as they are. A celebrity Hair & Makeup Artist with over 25 years experience in makeup, Peta-Gai makes learning makeup easy, with her professional tips to building a beautiful face of makeup to suit each woman's personal style.
Peta-Gai will choose a volunteer from the audience, on whom she will demonstrate a quick and easy makeup routine for a polished and elegant day-time look, using all the secrets that have made her a sought after Makeup Artist. Peppered throughout this makeup demonstration will be Peta-Gai's humorous and insightful techniques to start loving your reflection, raise your self-esteem and remind yourself that you are beautiful.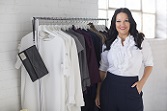 Kirsty Milligan, Stylist
Kirsty is a passionate executive image stylist, key note speaker, author, wife and Mum. As a panel discussion leader for Business Women Australia, MC and runway producer of the Perth Hair & Makeup Artist Awards, Guest Speaker and Guest Stylist at boutique events, Kirsty thrives on speaking with intimate and diverse groups, sharing her styling secrets and challenging the common concepts of fashion and image.
Kirsty will show you how your personality drives your fashion habits; using a method she has developed to help people better understand how their self-worth and self-expression is weaved intrinsically through their outfits. Your clothes are the first thing you put on every day to tell people who you are, learn how to identify 'Your Own Authentic Style' - the one you were born with, and the one that suits your purpose and vision.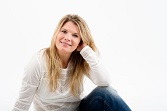 Deanne Matthews, founder Self Love Woman
Born into a life of difficultly and dysfunction, Deanne has taken the long and winding road to self-acceptance and love. A teacher, healer and mentor with a passion for working with women, Deanne has slowly integrated the darker parts of self, and moved into a space of wholeness, living and teaching self-love in a way that is different to how it's usually perceived.
Today, Deanne experiences a rich and fulfilling life that she genuinely enjoys living and belives regardless of your life circumstances, you can too. Deanne will share ways to practically apply self love in your life and to prioritise yourself, fully and unconditionally.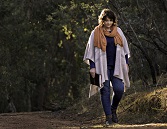 Rochelle, founder 'Solutions'
Author, Speaker, Workshop Facilitator, founder of the 'Banyan Method' and Banyan Tree Alchemy Oil, Rochelle has always focused on learning, living and loving towards a better version of herself and helping others to do the same.
In February 2018 Rochelle is joining The Hunger Project Immersion and Leadership Program. Traveling to Senegal, a poverty and hunger stricken community in Africa. Rochelle and the other participants will work by mentoring and supporting women in the community to unlock their capacity, creativity and leadership - so they can end their own hunger.
Rochelle will share with you how your attendance and the proceeds from the event will go on to help create 'Solutions' for other women.

Date and Time
Location
Refund Policy