Description
Join us at Stone & Chalk as we celebrate Women's Entrepreneurship Day Organization*. You will have the opportunity to hear from five highly successful entrepreneurs and impact change makers who are joining our panel discussion to speak & debate on key subjects of:
- Encouraging greater entrepreneurship by women
- Building significant brands
- Creating scalable organizations
- Initiatives/grants/support women entrepreneurs from all industries should be aware of
This year there is a specific focus on:
"The impact of Artificial Intelligence, Fintech, disruptive technologies such as Blockchain and the important, pivotal role women play in the global transition to a new economic paradigm"
You will also hear from Theme Rains, a wellness industry and skincare entrepreneur recently appointed by New York-based WEDO founder Wendy Diamond to serve as this year's Australian Ambassador.
*Women's Entrepreneurship Day (WED) is the world's largest entrepreneurial and financial empowerment initiative dedicated to celebrating, supporting and empowering women worldwide. Women's Entrepreneurship Day Organisation (WEDO) encourages 4 billion women worldwide to pursue their entrepreneurial dreams with the goal of bringing hope and alleviating poverty.
Moderators:
Paridhi Jain, Program Manager (Academy) | Stone & Chalk; SkilledSmart | Money & Wealth Education

The event will commence with light breakfast at 8:00 am with an 8:30 am start, followed by a one-hour panel session and Q&A to conclude.
Panellists: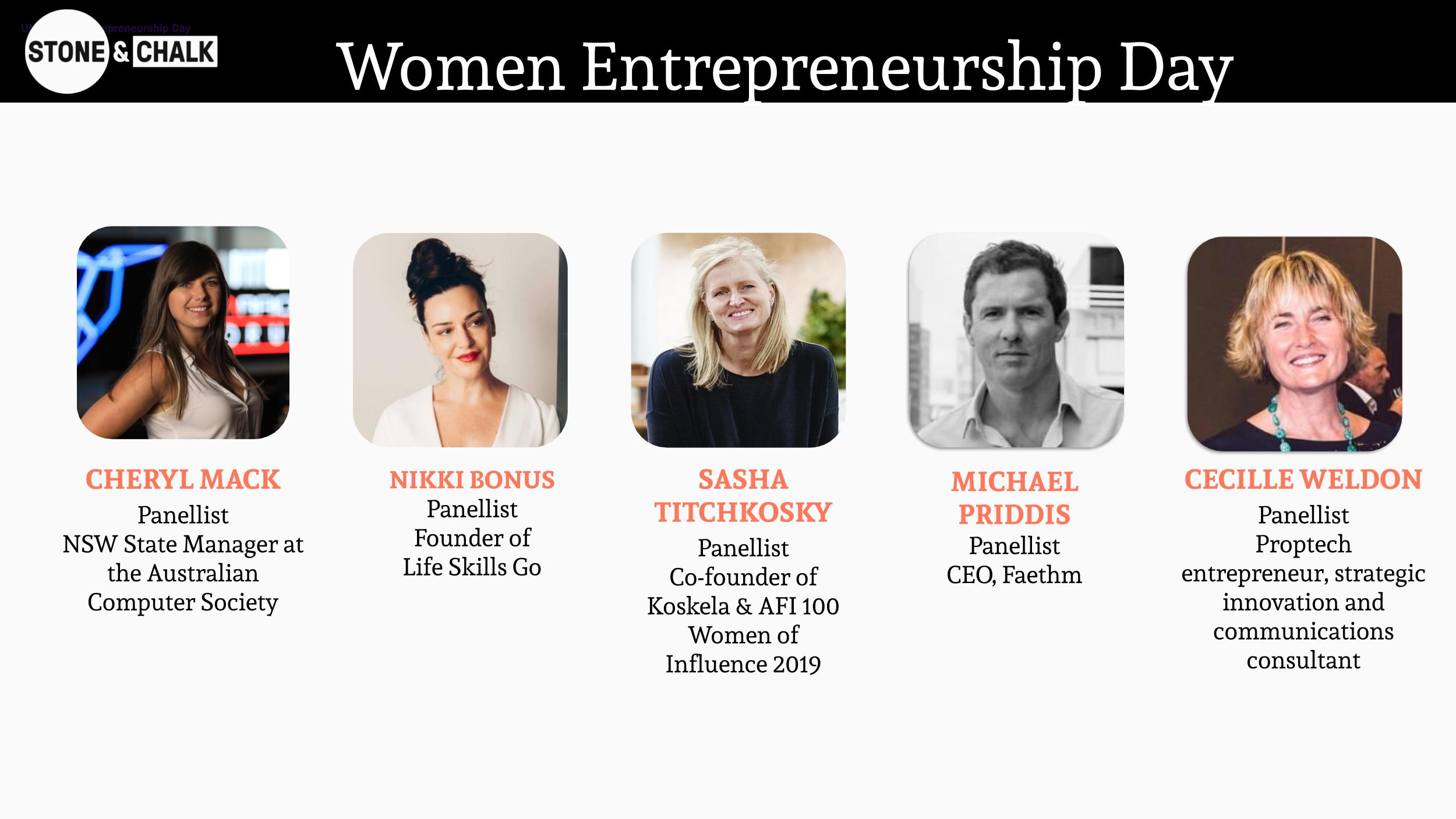 Everyone who attends will also receive a gift bag to take home, so we hope you can make it!
Regards,
The Stone & Chalk Team
Organiser of Women Entrepreneurship Day Organization - Breakfast Panel