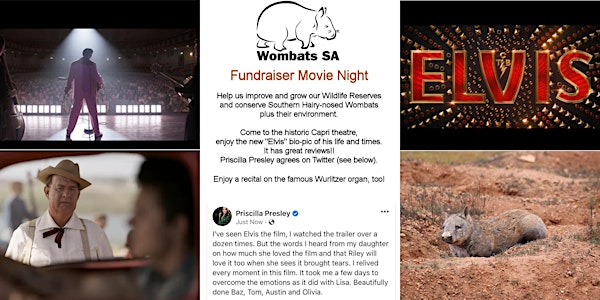 Wombats SA Fundraiser Movie Night - Elvis - movie of his life and times.
Location
Capri Theatre
141 Goodwood Road
Goodwood, SA 5034
Australia
Enjoy a great movie + help Wombats SA do more to preserve/protect our SA Fauna Emblem: Southern Hairy-nosed Wombat + our Wildlife Reserves
About this event
Wombats SA
Fundraiser Movie Night - Elvis!
Wombats SA / Natural History Society of SA preserve and protect an estimated 2000+ wombats and other native flora and fauna on our reserves. We aim to to purchase more land and make all our reserves better so we can conserve more of the Southern Hairy-nosed Wombat's environment. They deserve a chance to live out their natural lives without competition from farm animals and threats by human activity.
SHN Wombats are the Fauna Emblem of SA! Raising awareness and money with this movie fund-raiser will allow us to expand our reserves and continue our very important research and on-going conservation work.
Learn more about Wombats SA / NHSSA
Your attendance will be greatly appreciated and you will see the epic, big-screen spectacle movie about the life and times of Elvis, created by Baz Luhrmann, starring Tom Hanks and Austin Butler, made in Australia. (Movie shows 7:00-9:50pm at the Capri Theatre, Goodwood)
There will be an opportunity to participate in other activities on the night to help with our work. (5:30pm-6:45pm)
50's - 60's Rock n Roll band THE SHAKERS will entertain you while you chat and check the Wombats displays and promotional items, etc
Plus you can enjoy a recital on the famous Capri Wurlitzer Organ! (6:45-7:00pm)
Tickets this year can include candy bar items so Wombats SA makes a little more profit from your movie attendance. If you buy candy bar items direct on the day we don't benefit.
We have added a Donation "Ticket" for those who can't attend and would like to help us anyway, or for attendees to help with an extra donation to support our work.
Elvis movie - Information
From Oscar-nominated visionary filmmaker Baz Luhrmann comes Warner Bros. Pictures' drama "Elvis," starring Austin Butler and Oscar winner Tom Hanks.
The film explores the life and music of Elvis Presley (Butler), seen through the prism of his complicated relationship with his enigmatic manager, Colonel Tom Parker (Hanks). The story delves into the complex dynamic between Presley and Parker spanning over 20 years, from Presley's rise to fame to his unprecedented stardom, against the backdrop of the evolving cultural landscape and loss of innocence in America. Central to that journey is one of the most significant and influential people in Elvis's life, Priscilla Presley (Olivia DeJonge).
Principal photography on "Elvis" took place in Queensland. Rated PG 13+
Visit the Elvis Movie Website for more details
Find out more about The Shakers rock and roll band
Learn About the Historic Capri Theatre: