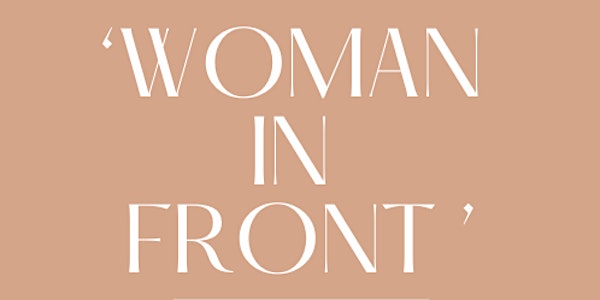 WOMAN IN FRONT EVENT 'WIF'
Location
Sandstone Point Hotel
1800 Bribie Island Road
Sandstone Point, QLD 4511
Australia
Sales Have Ended
Ticket sales have ended
Unfortunately ticket sales have now closed. We hope to see you at our next event. Lyla and the WIF team x
Bottomless bubbles. Endless empowerment. Laughter & luminescence. Celebrating fierce women & upping the ante for newcomers.
About this event
Welcome, to Woman In Front. A collective appreciation of women in business.
We invite you to come and celebrate with us as we highlight and high-five the baddest bunch of babes this side of the solar system.
Come with us, and revel in something that exists solely to celebrate women. Their businesses, stories, strengths and success - however that looks for them!
This platform is a collective constructed solely to elevate your business game, your understanding of other businesses and have you walking away feeling connection, inspiration, solidarity & even friendship.
Tears in your eyes, a fire in your belly. The WIF are here to shake shit up. For the wallflowers amongst us (you know who you are), this is an opportunity to be seen and heard. Step up, step out and lean into the discomfort that comes outside of your comfort zone.
Come solo, with a wingwoman or book on a table of 8. This event is unlike any other business event and prior events have built a community stronger than steel. We have weathered loss, shared laughter and held each other's hands through rough times.
Shoulder to shoulder; with a whole room of fierce females, delish petit morsels of nibbles, bubbly beverages and the most diverse, all-encompassing network of the most inspirational and multi-faceted women in business.
Guest Speakers
Lyla Tuwhangai
- Owner/Founder Mamako Haircare and 'Woman In Front'
- Former multiple salon owner
- Entrepreneur and all round lover of connecting people together.
Nicola Murray
- Owner/Founder She creates co.
- Interior designer
- Photographer
- All round female entrepreneur and business builder
Zoe Taylor
- 6 years successful salon owner
- Vivid colour expert
- Staff managment and policies
- Client and Staff retention
- This boss you can not miss
Corinne Mulhullond
- 15 years experience in all things government
- Marketing
- Strategy
- Corrine knows what it takes to be a succseful woman within the patriarchy
Caitlyn Menzel
- Salon, Beauty and Barber Coach
- Ex multiple salon owner
- Young woman of the year
- Young entrepreneur of the year
- Author, Speaker
More guest speakers TBA