Description
An evening of beauty, blooms, bubbles & reflecting on our personal passions
Local emerging Maitland mixed media artist Deborah Rogers creates under the name of Wolfe & Browne.
After eighteen months of developing, exploring and refining a diversity of techniques, mediums and styles she has created a collection that simply celebrates the beauty of blossoms.
She has grown her fascination with flowers into her first solo exhibition:
'Efflorescence'
5% of Art Sales from this Exhibition will be donated to the Maitland Black & White Committee for Vision Australia Hunter Division
Exhibition runs from 20 NOV - 2 DEC 2018...and after the first week of 'blooming', we celebrate in style at the official:
OPENING NIGHT SOIREE - FRIDAY 23 NOV, 2018
5.30PM - 8PM
Official Opening & Presentation at 6PM

You are warmly invited to join us at the official unveiling of 'Efflorescence'...grab your tickets via Eventbrite
Be Treated...
Featuring live music by Maitland's Matt Petherbridge, a garden and art inspired grazing spread by Up Your Ally, local treats, and evocative, captivating, beautiful and colourful art by Wolfe & Browne set in one of Maitland's newest galleries The Levee Art Gallery & Studios.

So Join Us If You Are...
a lover of art;
an admirer of blooms;
fancy a night out in Maitland's cultural precinct;
or just love a glass of bubbles, music, grazing and looking at beautiful things,
we want you to bring your partner, bestie or just be yourself and join us for an evening that's colourful, evocative and a little bit lovely.
Your RSVP to this free event is essential for catering purposes ...make sure your name is on the list!

Follow @wolfeandbrowne on Instagram for updates about the event ...don't miss our amazing competition!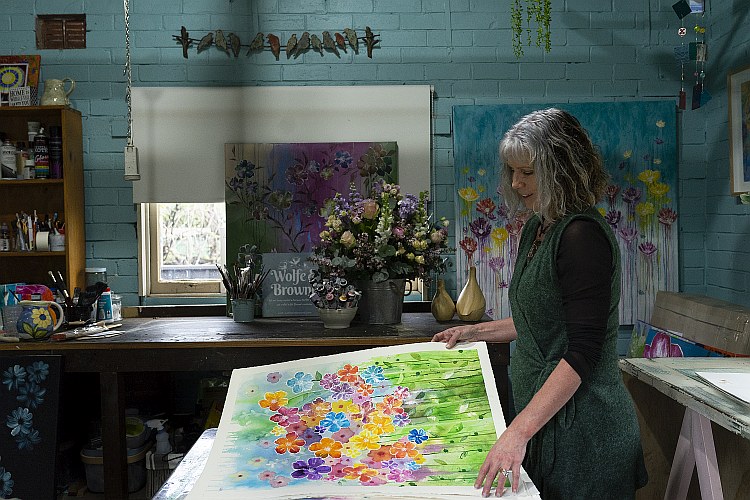 Organiser of Wolfe & Browne unveils 'efflorescence'
Mixed Media Artist Deborah Rogers 'Wolfe & Browne'

Art and design created in the home that Mr Wolfe built and crafted in Mr Browne's workshop

CREATIVE ENTHUSIAST  |  GARDEN LOVER  |  HISTORY SENTIMENTALIST
A country girl at heart who loves to get messy with paints and brushes and to be creative.  I'm not good with white walls, give me colour + personality + radiance.  
I love imperfections that create character, beautiful flowers, perfumed gardens, turning old things into new and making our house a home to share with friends and family. 
I am fascinated by old buildings with all of the charm and past glory that goes with them, intrigued by history, and adore discovering the world one place at a time with my husband.
I believe that life should be full of simple pleasures and spending time with people you truly love and respect; that everyone has a story worth telling and that it is absolutely worth listening to; that art has the power to transcend boundaries to bring us beauty + joy + meaning.