Winter Wellbeing - a workshop on how to keep healthy this winter. Supportin...
Description
We welcome you to our Winter Wellbeing Workshop to make the most of this winter!
Are you a busy mum? Tired of putting everybody else first before yourself? The impact this can have on our bodies is much more than we realise leading to potential anxiety, exhaustion and adrenal fatigue, not to mention resentment issues.
Learn from our team of experienced women's health practitioners on how to keep healthy this winter. This workshop will support the whole family for as we know when the woman is down, the whole house goes down!
This workshop is all about you nurturing YOU.
Our Presenters:

Michelle Crowe, Complementary Therapies Practitioner and Counsellor from The Wellbeing Sphere will be discussing the effects of food and sleep on our moods and energy levels, and how our daily rhythm can support the body to deal with interrupted sleep and or exhaustion and fatigue.

Naimah Abdat, the new naturopath on the block, will be discussing what factors contribute to getting sick and how the use of nutrients, herbs and oils can support us to stay well.
Alexis Stewart, an experienced Yoga Teacher, will present the yoga segment, in which we will be supported to feel that true yoga is the simple process of re-connecting back to ourselves through the body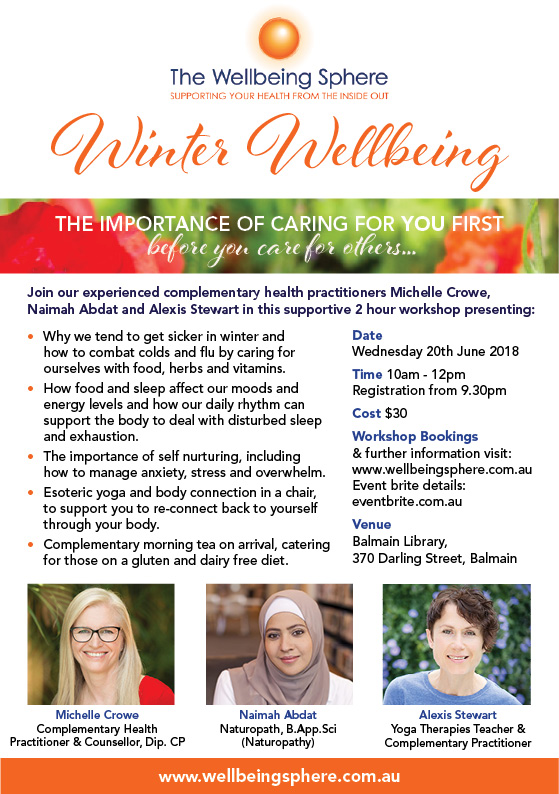 Organiser of Winter Wellbeing - a workshop on how to keep healthy this winter. Supporting your health from the Inside Out.
The Wellbeing Sphere Clinics are committed to supporting your health from the inside out. We offer services that are respectful of and complementary to conventional medicine. Our health practitioners are highly experienced and qualified and support people from all walks of life with their health, vitality, relationships and wellbeing.