Winter Solstice (Yule) Women's Circle in the Moon Lodge
Description
NOTE: This event has SOLD OUT. Please register for a second circle that has been created to celebrate Yule via this link:
https://yulewomenscirclesunday.eventbrite.com.au
The Moon Lodge is a space provided for the gathering of women as we weave the threads of our life. It is a place where we can come and laugh, cry, sing, celebrate, and hold each other as we flow with the tides of our life.
Its where we can relax, and allow the waves of oxytocin and the feelings of interconnectedness between us to be experienced. Where we can experience the in-breath and the out-breath, and the space in-between; and be reminded of the sacred things in our life – our connection to Self, our children, our lovers, our sisters, our families, and our Mother Earth. It's a simple place where we can return to the heart of community and be present for each other and share our ocean of life experience…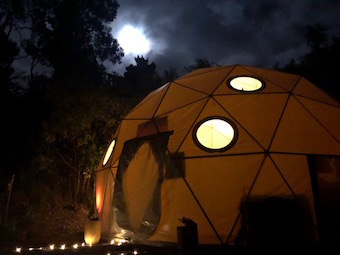 This evening we will celebrate Yule, or Winter Solstice, with Artemis WildSnake of Your Body Your Temple.
Yule is the celebration of the longest night and the shortest, darkest day of the year. We celebrate this time as a recognition that we have traveled to this deep dark day, and that the longer days and increasing light are now in front of us. Traditionally it is celebrated as Winter has come to its midpoint, and survival is now more promising as the days are increasing in length.
This seasonal depiction of mid-Winter is not about the temperature of our weather. It is more about the natural rhythms of our Great Mother Earth and her cycle of birth, growth, full bloom, harvest, decay, and death in a continuous cycle. This same cycle follows the seasons, the moon, our menstrual cycle, and our lives as women - and how we move through the stages of Maiden, Mother, Maga, and Crone.
As Yule is the celebration of death, the void, and birth, we will be exploring themes in our lives of what we need to let go of, what lies in the void, and what seeds in our lives are gestating now over Winter?
We will be using the Circle as Shaman, to bear witness to each other, share and hold space. The magic of this medium allows a gentle unfolding and connections to be made between each woman over the course of the evening. We will also be doing a drum journey, an exercise in experiencing the void and making a symbolic lantern to carry us through these dark days.
If weather permits we will be using the outdoor circle space and fire pit on my land in Aldgate.
All women over 18 years old are welcome to attend.
Please bring a dish of vegetarian or vegan food to share. There will be further information in the confirmation email.
Please ensure that you arrive at 5.30 pm for a prompt start. This is important.
Please note, there are only 8 places for this circle to align with the current Covid-19 restrictions.