Sales Have Ended
Registrations are closed
This event has reached capacity. Please contact EPLearningEvents@industry.gov.au for more information on future events
Event Information
Location
Please see description box
Australia
Sales Have Ended
Registrations are closed
This event has reached capacity. Please contact EPLearningEvents@industry.gov.au for more information on future events
Description
Small and medium METS companies can bring benefits to both mining and global METS companies, however getting your ideas and services past the gate keepers and implemented on real projects is a significant challenge. Gaining entry to the supply chain can be a lengthy, frustrating and confusing process for newcomers to the industry. This workshop is designed to help demystify procurement and enable METS companies to de-risk their offering to make them a more attractive business proposition for mining companies and buyers.
The Winning more business masterclass will provide access to people experienced in the METS sector procurement and supply chain processes. Also joining these experts are innovation specialists who work with companies daily helping them to take their products and services to global markets. This workshop will be combined with practical information to help you leverage your business and take advantage of the opportunities in the sector. You will leave the workshop with an action plan designed to help you attract and win more work.
Key topics for the day will include:
Your business, the METS sector, and METS clusters
Procurement and the role of Risk
the METS value chain
Collaboration
During the workshop practical examples drawn from real experience will help to reinforce concepts and highlight and demonstrate achievable outcomes.
Content for the Masterclass includes:
Understand where you sit in the METS value chain
Use design thinking to understand the value of your product or service to the METS market
Learn about the changing face of innovation in METS and how to harness this
The role collaboration can play in achieving successful procurement outcomes
How collaborating with the research sector can improve your risk profile in the procurement process
Learn the difference between domestic and global risk profiles and how to de-risk your activity, both for the buyer and your company
Identify growth and development opportunities from government programs
Identified your quick wins and outcomes and developed an action plan to achieve them
Who should attend?
This masterclass is designed for company leaders and senior executives and all employees involved in business development, product development and design and marketing

---
Locations
For all events: Registrations open at 8:30am for a 9:00 start - 4:00pm

Melbourne VIC - VENUE CHANGE
Wednesday, 15 August 2018
Monash University - Clayton
Room AG16
7 Innovation Walk
Clayton VIC 3800
Adelaide, SA
Thursday, 16 August 2018
The Conservatory
Training Rooms 3-4
Level 9, 131 Grenfell Street
Adelaide SA 5000
Perth, WA
Tuesday, 21 August 2018
Technology Park Bentley
Seminar Room 3, 2 Brodie Hall Drive
Bentley WA 6000
Kalgoorlie, WA
Thursday, 23 August 2018
WA School of Mines
WMC Room 5, Building 703
95 Egan Street
Kalgoorlie WA 6430
Newcastle, NSW
Thursday, 30 August 2018
Newcastle Institute for Energy and Resources (NIER)
Conference Room, Level 5, A Block
70 Vale Street
Shortland NSW 2307
Wollongong, NSW
Friday, 31 August 2018
University of Wollongong
Room 116, Innovation Campus (ITAMS)
Squires Way
North Wollongong NSW 2522
Townsville, QLD
Tuesday, 4 September 2018
Townsville RSL
Board Room
139 Charters Towers Road
Hyde Park QLD 4812
Brisbane, QLD
Friday, 7 September 2018
Training Room 1
HATCH
61 Petrie Terrace
Brisbane QLD 4000
---
About the Presenters
The masterclass will be facilitated using a combination of METS industry experts and Innovation facilitators.
Darren Thornton
Darren has 30 years of experience in applied research and commercialisation in diverse fields. He has a degree in Mathematics and Physics from the University of Queensland and started his career with the Australian Defence Science and Technology Organisation (DSTO), primarily in the fields of explosive demolition, ordnance disposal techniques, explosive entry into various structures and damage to ships from underwater explosions.
Sujata Karandikar
Sujata has 10+ years of experience working within procurement functions of multinational and national companies, including Rio Tinto, Anglo American and Origin Energy, with extensive experience in business analysis and process improvement within supply chains.
Cameron Johns
Cameron has over 20 years of experience working within companies and assisting others to grow their businesses into globally competitive organisations. He develops strategies for meeting the rapidly changing business environment and is an execution and realignment specialist who assists companies to capitalise on new markets or ideas.
Cherie van Wensveen
Cherie brings to this project more than 20 years' experience working in the mining and resources sector, including seven years' experience in innovation and commercialisation management. Working closely with key clients, she designs systems through alignment of the innovation strategy with desired business outcomes.
Kellie Dyer
Kellie has more than 17 years' experience working with large infrastructure, engineering-based organisations. This experience allowed Kellie to work with Rio-Tinto, BHP, Fortescue Metals Group and rail focussed operations from around the world to deliver collaborative research-based projects
---
This is a free event hosted by the Department of Industry, Innovation and Science Entrepreneurs' Programme in collaboration with METS Ignited.
This event is designed to benefit small and medium Australian businesses from the METS industry sector.
If you have any questions about this event or any future events, please contact EPLearningEvents@industry.gov.au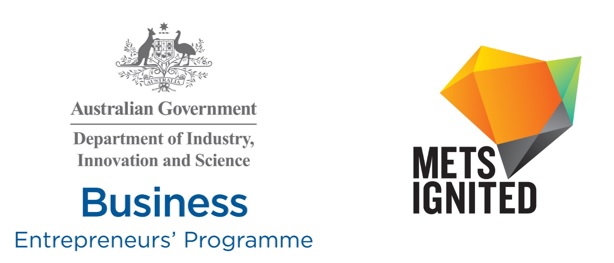 Location
Please see description box
Australia